COSMOPOLITAN CHAUSSÉE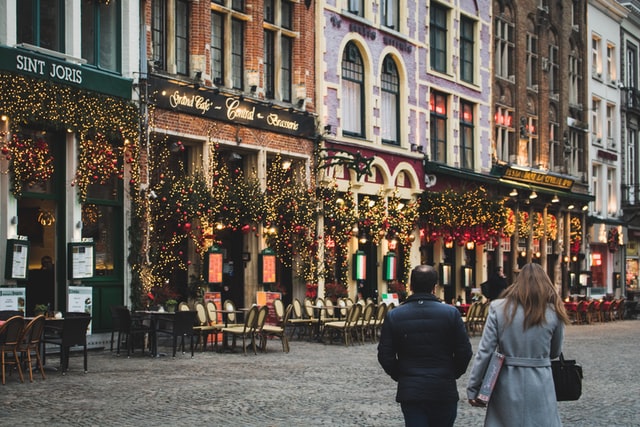 Moroccan bakeries, Ukrainian delis, Italian bars and Turkish grocers… Brussels' Chaussée d'Alsemberg is a celebration of cultures and cuisine. Join Lucy Mallows on a stroll along one of Belgium's most cosmopolitan streets
The art nouveau-tinged district of Saint-Gilles, in southern Brussels, has a buzzing, Mediterranean atmosphere. The vibrant outdoor markets on the parvis (Church Square) and Place Van Meenen, in front of the imposing orange and white chateau-esque Town Hall, have stalls offering fresh pasta, cheeses and hams from Italy, olives from Morocco, Indonesian snacks and seasonal local produce. However, there is one street that encapsulates perfectly the cosmopolitan nature of Saint-Gilles: the Chaussée d'Alsemberg.
This colourful street leads all the way from the Barrière de Saint-Gilles in southern Brussels to the small Brabant town of Alsemberg, 9 kilometres south of the Belgian capital. Covering less than 1 kilometre of this, the stretch leading from the Barrière roundabout up a gentle hill as far as Place Albert boasts an exciting plethora of shops and restaurants from all over the globe. There's a Chinese snack bar with endless varieties of noodle dishes, or you can pick up pistachios and pulses in the Pamukkale Turkish corner shop. Meanwhile, hairdressers at Omega Coiffure Africaine are well-versed in styles favoured in West Africa, while Portuguese and Central European expatriates longing for home cooking will find consolation and good grub along this lively avenue.
The Barrière exudes a chaotic atmosphere reminiscent of Naples, enhanced by the heavy traffic that rattles around the cobble-stoned roundabout serving as a hub for seven radiating roads. The central fountain gushes thin beaded jets of water while the statue The Little Water Carrier, created in 1898 by Julien Dillens, stands in the middle of the commotion, giving the effect of an Italian piazza.
This particular stretch of the Chaussée begins and ends with royalty – the Queen's Bar presides over the chaotic Barrière from its huge, royal blue window frames, while the traditional brasserie at the top of the hill bears the name Albert I. He was, of course, the king of the Belgians from 1909 to 1934, and grandfather of the present King Albert II.
But back to the bottom of the hill, where the bar-restaurant, Le Verre d'Eau, carries the watery image along from the Barrière's statue and Italian owner Olga reveals: "We've been offering those eponymous glasses of water – as well as stronger drinks – from behind our art nouveau portals since 1986." In celebration of the huge Polish community in the area, Olga holds Polish sing-a-longs on Sunday evenings.
A few shops along you'll find the Chinese Chen Guang snack bar and the Pamukkale Turkish grocer's, where you're greeted by the enticing aroma of fresh mint, coriander, basil and parsley stacked in huge bunches by the door.
Across the road at Au Vieux Pétrin, Moroccan master baker Abderrahim Foufa makes delicious quiches and fruit tarts as well as Moroccan tajine bread and confectionery so sugary you can feel your teeth tingle. A well-thumbed visitors' book reveals praise from Arab, Russian and Polish cake lovers. A welcoming touch for dog owners is the bowl outside labelled: 'For all thirsty dogs of the neighbourhood.'
That's not the only treat in store for unkempt pooches. A short trot up the street will take you to the Dog Palace – a wonderfully camp pink parlour with stuffed toy pups in the window and a selection of decorative collars, leads, coats and even fluffy pink kennels. Combined with the grooming area, it has everything any well-dressed mutt could ever wish for.
Back down by Au Vieux Pétrin, the Portuguese shop Alambique has a superb selection of wines and olive oils. On Sunday afternoons an extended family, which includes passers-by, gathers for an impromptu wine and olive tasting session.
Further up the hill, Romana Vus, proprietor of the Délices Ukrainiens, prides herself on having "the first, and I think only, Ukrainian shop in Brussels". Inside it's an Aladdin's cave of Central European delicacies. Many of the perishable items are made using traditional Ukrainian recipes but imported from German factories, although the pickled gherkins, cabbage, mushrooms and delicious aubergine salad straight from Kiev.
Hungarian lawyer Anna Barath says: "I was so happy to find gherkins in a much sweeter, tastier vinegar than the Belgian variety." Russians call this liquid rassol and drink it as a hangover cure the morning after an evening sipping vodka and eating pickles. Kefir is another delicacy to purchase here. It's a sort of fizzy yoghurt drink, originally from the Caucasus, that is frequently credited with helping the mountain-dwelling locals grow to a ripe old age. Although it can be found in big supermarkets, the brand sold here – Gorka Moya – is much creamier and cheaper.
It was this cultural diversity and the easy-going, artistic vibe of the area, created by young artists and the fantastic art nouveau architecture, that drew Sophie Bouden and her husband to the Chaussée d'Alsemberg seven years ago. "I love the cosmopolitan blend of artists and locals here," she says. Bouden owns the Tartines café. Offering good karma and divine quiches, the bright orange façade of this café makes it easy to find.
Former strip cartoonist turned mushroom maniac Pierre Lefèvre was also attracted to the street's art nouveau and art deco architecture.
"I loved La Buvette wine bar. It is a unique example of late art deco. Most in Brussels have been either demolished or reconstructed,"
he says. In 1999 he filled the funky retro-style, beige-tiled premises with dried mushrooms, strings of chilli peppers and dangling sausages and set it up as a pre-dinner aperitif venue as well as a place to buy mushrooms and other accoutrements – before moving across the road to the much-lauded Café des Spores.
Fungi fans come from London, Paris, all parts of Belgium and even further afield to delight in his imaginative takes on classic mushroom dishes. He describes his cooking as "cuisine that is ruled by nature". The menu changes according to the weather, the season or what he finds on foraging trips. His Mont d'Or cheese and mushroom fondue seems to be a particular favourite.
As the sun starts to dip on the Chaussée, people fill the sun-soaked terrace of the Albert I brasserie and wind down in the cool night air under wrought-iron art deco chandeliers.
Laurent Boriau, one of the waiters, explains how drinkers come in all shapes and sizes to enjoy the mussels in season and extensive range of beers on tap. "The crowd is international," he says. Just like the Chaussée d'Alsemberg.
La Chaussée Cosmopolite
Pâtisseries marocaines, spécialités culinaires ukrainiennes, bars italiens et épiceries turques… La Chaussée d'Alsemberg est une célébration des cultures et des cuisines du monde. Arpentez en compagnie de Lucy Mallows l'une des avenues les plus cosmopolites de Belgique
Le quartier de Saint-Gilles, au sud de Bruxelles, témoin de l'architecture art nouveau se caractérise par son animation et son atmosphère méditerranéenne trépidante. Sur les étals de ses fameux marchés extérieurs, du parvis (place de l'Eglise) et de la Place Van Meenen, qui fait face à l'imposant hôtel de ville blanc et orange aux allures de château, on trouve des pâtes fraîches, des fromages et des jambons d'Italie, des olives du Maroc, des snacks et des produits saisonniers d'Indonésie. Mais ce n'est rien à côté de la rue qui recense à elle seule la nature éminemment cosmopolite de Saint-Gilles: la Chaussée d'Alsemberg.
Cette longue avenue colorée serpente inlassablement depuis la Barrière, dans le sud de Bruxelles jusqu'à la petite ville d'Alsemberg dans le Brabant, à 9 kilomètres au sud de la capitale belge. Sur moins d' 1 kilomètre, là où la chaussée prend son envol de la Barrière pour remonter vers la Place Albert, on découvre une pléthore affriolante de magasins et de restaurants venus de l'ensemble du globe. Un snack chinois sert une variété infinie de plats de nouilles. Vous pouvez choisir des pistaches et des légumes secs chez Pamukkale, le magasin turc du coin. Des coiffeurs africains du salon Omega Coiffure Africaine maîtrisent tous les styles en vogue en Afrique de l'Ouest, tandis que des expatriés portugais et d'Europe centrale en mal de cuisine de leur pays, trouvent de quoi se consoler dans cette rue tumultueuse.
On se croirait dans le chaos de Naples, avec cette circulation infernale qui tourne autour du rond-point pavé, véritable hub au centre de sept routes étoilées. Au centre, une fontaine lance de fins jets d'eaux, et la statue La Porteuse d'Eau, créée en 1898 par Julien Dillens, trône au milieu de cette confusion. Du plus pur effet d'une place italienne!
Cette partie de la Chaussée commence et finit de façon royale; le bar Queen's domine la Barrière chaotique depuis ses larges baies vitrées d'un bleu royal tandis qu'à l'autre bout, au sommet de la colline, la brasserie traditionnelle s'appelle Albert I. C'était, on s'en souvient, le Roi de Belgique de 1909 à 1934 et le grand-père de l'actuel roi Albert II.
Mais faisons un rapide retour en arrière, au bar-restaurant Le Verre d'Eau qui porte l'image aqueuse de la statue de la Barrière. Olga, la propriétaire italienne nous confie "que le bar sert des verres d'eau éponymes mais aussi des boissons plus fortes, depuis 1986, derrière ses portes décoratives art nouveau." Pour divertir l'énorme communauté polonaise des environs, Olga organise des soirées de chansons polonaises les dimanches.
Quelques magasins plus loin vous amènent au Snack bar chinois Chen Guang et chez l'épicier turc Pamukkale d'où émanent des arômes tenaces de menthe fraîche, de coriandre, de basilique et de persil, disposés dans de grands pots, à la devanture.
De l'autre côté de l'avenue, Au Vieux Pétrin, le maîtreboulanger marocain Abderrahim Foufa prépare de délicieuses quiches et des tartes aux fruits ainsi que du pain tajine marocain. Ses pâtisseries sont si douces que vous pouvez sentir crisser les perles de sucre sous vos dents. Le livre d'or des visiteurs ne tarit pas d'éloges, exprimés par les amateurs de gâteaux arabes, russes et polonais. Une petite attention est réservée aux propriétaires de chiens, un bol à l'extérieur portant l'indication : "pour tous les chiens assoiffés du quartier". Un peu plus loin, ces animaux domestiques ont droit à encore d'autres égards, au Dog Palace – une merveilleuse vitrine rose bourrée de jouets pour chiots et une grande collection de colliers décorés, de fabuleux manteaux et même de niches d'un rose éclatant. Dans le quartier affairé, ce magasin a tout ce dont un toutou bien élevé peut désirer.
Légèrement en contrebas du 'Vieux Pétrin', le magasin portugais Alambique offre une magnifique collection de vins et d'huiles d'olive. Le dimanche après-midi, il n'est pas rare de voir une grande famille ainsi que quelques passants du quartier, se rassembler pour un verre de vin improvisé et une séance de dégustation d'olives.
En remontant, Romana Vus, propriétaire du magasin les Délices Ukrainiens, se félicite d'être "le premier et je pense, le seul magasin ukrainien à Bruxelles". L'intérieur est une véritable Cave d'Aladdin des spécialités gastronomiques d'Europe centrale. La plupart des mets de type 'traiteur' sont préparés selon des recettes traditionnelles de l'Ukraine mais importés d'entreprises allemandes, bien que les gherkins au vinaigre (cornichons), les choux, les champignons et la sublime salade d'aubergine viennent en direct de Kiev.
L'avocate hongroise Anna Barath confirme "j'étais tellement heureuse de trouver des gherkins dans un vinaigre beaucoup plus doux et savoureux que celui que l'on trouve d'habitude en Belgique." Les Russes appellent ce liquide rassol, et ils le boivent les lendemains de cuite à la vodka pour soigner leur gueule de bois. Le Kefir fait également partie des raffinements que l'on trouve sur place. C'est un genre de boisson à base de yaourt un peu pétillante, originaire du Caucase et à laquelle on attribue fréquemment l'âge avancé des populations des montagnes qui en consomment. On peut bien entendu trouver du kefir dans les supermarchés mais la marque Gorka Moya vendue ici, est beaucoup plus crémeuse et bon marché.
C'est sans doute cette diversité culturelle et la vibration artistique de ce quartier agréable à vivre présent dans les innombrables superbes bâtiments art nouveau, qui ont attiré Sophie Bouden et son mari dans la Chaussée d'Alsemberg il y a 7 ans. "J'adore ce mélange d'artistes et de populations locales," confie-t-elle. Bouden a l'établissement Tartines café, qui sert de bons karmas et des quiches divines. On ne peut pas rater ce café dont la façade orange pétant se voit de loin.
Pierre Lefèvre, un ancien dessinateur de bande dessinée est devenu fou de champignons, et il a été immédiatement happé par l'avenue quand il a vu la façade d'un magasin dans la plus pure tradition art déco, à l'origine une charcuterie chevaline. En 1999, il remplit cette boutique de style funky retro, aux étals beiges avec des champignons séchés ainsi que des ficelles au bout desquelles se balancent des poivrons et des saucisses. Son espace devient un lieu pour prendre l'apéritif et pour acheter des champignons et autres accessoires, avant de déménager en face de la rue vers le très prisé Café des Spores.
Là encore c'est le design original art déco qui a attiré Lefèvre vers ce nouveau lieu. "J'adorais le bar à vins de style buvette. Ce lieu est un exemple unique de l'art déco tardif, la plupart de ces bâtiments à Bruxelles ont été soit démolis soit reconstruits" dit-il.
Les fans de fungi viennent de Londres, de Paris, de tous les coins de Belgique et même de plus loin encore pour ces purs délices de l'imagination appliqués à des plats de champignons – il décrit sa cuisine comme "dictée par la nature". Le menu change selon les saisons, ou selon ce qu'il trouve lors de ses repérages-découvertes. Sa fondue de champignon au fromage Mont d'Or se place au top des plats les plus appréciés.
Lorsque le soleil commence à disparaître dans le bas de la Chaussée, les gens remplissent la terrasse toujours illuminée de la brasserie Albert I, ils sortent s'aérer dans la fraîcheur du soir sous les lampadaires en fer massif art nouveau.
Laurent Boriau l'un des serveurs explique qu'une clientèle très variée apprécie les moules en saison et la grande diversité de bières à la pression. "La foule est internationale," affirme-t-il. Normal, nous sommes dans la Chaussée d'Alsemberg.
Kosmopolitische steenweg
Uiterlijk flirt Sint-Gillis met de art nouveau, maar eigenlijk is deze Zuid-Brusselse gemeente bruisend mediterraan. Een straat belichaamt met zijn rijkdom aan culturen en keukens perfect de kosmopolitische ziel van SintGillis: de Alsembergse steenweg.
Over een afstand van ongeveer 1 kilometer – van aan de rotonde van de Bareel tot het Albertplein – volgen winkels en restaurants uit alle werelddelen elkaar in sneltempo op.
Elke zondag organiseert de Italiaanse Olga van café-restaurant Le Verre D'eau een Poolse zangavond ter ere van de Poolse gemeenschap in de buurt. Enkele huizen verder kan u kennismaken met het Verre Oosten in de Chinese Guang Snackbar of genieten van Turkse delicatessen bij kruidenier Pamukkale.
In Au Vieux Petrin, aan de overkant, maakt Marokkaans meester-bakker Abderrahim Foufa heerlijke quiches en fruittaarten, maar ook tajines. De Portugese winkel Alambique ernaast heeft dan weer een uitgelezen aanbod wijnen en olijfolies. Zondagnamiddag kunt u er terecht voor wat informele wijnproeverij.
Spring verder op de heuvel zeker binnen bij Delices Ukrainiens voor lekkers uit Centraal-Europa of geniet van een luchtige lunch in Tartines Café.
Liefhebbers van paddenstoelen moeten zeker eens een bezoekje brengen aan het Café des Spores van voormalig striptekenaar Pierre Lefèvre, een zwamliefhebber die viel voor de art-decogebouwen in de straat.
En wanneer de zon begint onder te gaan over de steenweg, stromen de mensen naar het terras van café Albert I om te genieten van de laatste zonnestralen en om vervolgens in de koele avondlucht tot rust te komen onder de gietijzeren kroonluchters in art-nouveaustijl.
Need to know | Informations utiles
Alambique
Portuguese wine shop on corner, avenue des Villas 5
Magasin de vin portugais au coin, Avenue des Villas 5
Albert I
Chaussée d'Alsemberg 172. Open Monday to Friday, 8am– midnight, Saturday–Sunday 9am–midnight. Kitchen open daily 11.30am–11pm.
172 Chaussée d'Alsemberg. Ouvert du lundi au vendredi
08.00 à 24.00, samedi et dimanche 09.00 à 24.00. Cuisine ouverte 11.30 à 23.00
Café des Spores
Chaussée d'Alsemberg 103, Tel: 02 534 13 03.
Open Tuesday–Friday noon–2pm, Monday–Saturday 7pm–midnight
Chaussée d'Alsemberg 103, Tel: 02 534 13 03. Ouvert mardi au vendredi 12.00 à 14.00, lundi au samedi 19.00 á 24.00
Café des Spores Buvette
Opposite, Chaussée d'Alsemberg 104
En face du 104 Chaussée d'Alsemberg
Chen Guang Snack
Chaussée d'Alsemberg 25a
Délices Ukrainiens
Chaussée d'Alsemberg 81
Dog Palace
Chaussée d'Alsemberg 105. Open Tuesday–Saturday 10am–6.30pm
Chaussée d'Alsemberg 105. Ouvert du mardi au samedi 10.00 à 18.30
Le Verre d'Eau
Bar-restaurant, Chaussée d'Alsemberg 5
Au Vieux Pétrin
Chaussée d'Alsemberg 57, Open 7am–7pm, closed on Mondays
Chaussée d'Alsemberg 57. Ouvert 07.00 à 19.00, fermé le lundi
Omega Coiffure Africaine
Chaussée d'Alsemberg 113, Tel: 0478 621 663
Pamukkale
Chaussée d'Alsemberg 27
Tartines
Café, Chaussée D'Alsemberg 148. Open daily 8am–4pm
Café, Chaussée d'Alsemberg 148. Ouvert tous les jours 08.00 à 16.00
The Queen's Bar, Chaussée
D'Alsemberg 2, on the Barrière de Saint-Gilles
Chaussée d'Alsemberg 2, sur la Barrière de Saint-Gilles