Christmas Markets, Rhinos & Cocktails: Our Pre-Xmas Guide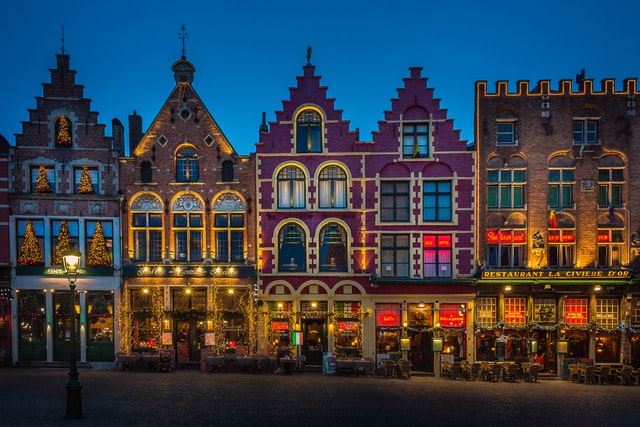 Cocktail chic…
In the Mist
at the recently opened Kampala Serena Hotel, Kintu Road is the latest addition to the Ugandan capital's bar scene. Already a popular haunt for Kampala's glitterati, the bar has been named after Dian Fossey's biography and film Gorillas In The Mist. It certainly evokes the mountain gorilla habitat with views across a lake through strands of lush-green bamboo. Don't leave without trying the house special, Yellow Mist – a refreshing blend of Uganda Waragi spirit, banana liqueur and fresh pineapple juice.
le mist
au Kampala Serena Hotel, Kintu Road, ouvert récemment est le dernier venu sur la scène des bars de la capitale ougandaise. Lieu de sortie branché des noctambules de Kampala, le bar a été nommé Mist d'après la biographie de Dian Fossey et le fi lm Gorillas In The Mist. Le lieu évoque l'habitat des gorilles de montagne avec ses vues sur le lac, à travers des rideaux de bambous verdoyants. Ne partez pas sans avoir goûté le cocktail maison, Yellow Mist – un mélange rafraîchissant d'alcool Uganda Waragi, de la la liqueur de banane et du jus d'ananas frais.
in the mist
(in het recent geopende Kampala Serena Hotel, Kintu Road) is de laatste nieuwe bar in de Oegandese hoofdstad en nu al een erg populaire stek voor de beau monde van Kampala. De naam verwijst naar Gorillas In The Mist, de biografi e en fi lm over Dian Fossey. Een knipoog naar de habitat van de berggorilla met zicht over een meer en frisgroene bamboebossen. Probeer er zeker de huiscocktail Yellow Mist – een verfrissende mix van Uganda Waragi (soort gin), bananenlikeur en vers ananassap.
Don't miss
Cameroon Douala's Ngondo, or 'People of the Water Festival (16 November to 2 December) is an annual event that celebrates the 'water spirits' and culminates in a ceremony on Wouri Bay.
Senegal Taking water as a source of life as its theme, the Water Festival Eco Arts in Dakar (9-12 December) offers visitors a chance to see traditional fi shing practices, watch international dance troupes and take part in workshops.
Moscow Held in Moscow's Hermitage Gardens, the International Folklore Festival (until 15 December) features ethnic music and dance by internationally renowned musicians and dance troupes from Russia, Bulgaria, France, the UK, Armenia, Germany and Italy.
A Ne pas Rater
Cameroun Douala's Ngondo, ou 'Festival des peuples de l'Eau' (16 novembre au 2 décembre) est un événement annuel qui célèbre les 'esprits de l'eau', avec en apothéose une cérémonie à Wouri Bay.
Sénégal Prenant le thème de l'eau comme source de vie, le Water Festival Eco Arts à Dakar (9-12 décembre) offre aux visiteurs la chance de découvrir des formes de pêche traditionnelle, des troupes de danse internationales et de participer à des ateliers.
Moscou Le Festival International du Folklore, qui se tiendra dans les Jardins de l' Hermitage à Moscou (jusqu'au 15 décembre) présente de la musique ethnique et de la danse, interprétés par des musiciens de renom et des troupes de Russie, Bulgarie, France, UK, Arménie, Allemagne et Italie.
Niet te Missen
Kameroen Douala's Ngondo of 'Watergeestenfestival' (16 november tot 2 december) is een jaarlijks evenement ter ere van de 'watergeesten' dat wordt afgesloten met een ceremonie in Wouri Bay.
Senegal Met als thema 'water is de bron van leven' biedt het Water Festival Eco Arts in Dakar (9-12 december) de bezoekers de kans om traditionele vistechnieken te ontdekken, internationale dansgroepen te bewonderen en deel te nemen aan workshops.
Moskou Het Internationaal Folklorefestival (tot 15 december), in de Hermitage-tuinen, schotelt u etnische muziek en dans voor met internationaal vermaarde musici en dansgezelschappen uit Rusland, Bulgarije, Frankrijk, Groot-Brittannië, Armenië, Duitsland en Italië.
country codes
Angola +244
Ivory Coast +225
Rwanda +250
Cameroon +237
Kenya +254
Senegal +221
DR Congo +243
Liberia +231
Sierra Leone +232
Guinea +224
Morocco +212
The Gambia +220
Israel +972
Russia +7
Uganda +256
Eating out / Où manger? / Uit eten
THE AVOCADO RESTAURANT
Coconut Residence, Kerr Serign, Serrekunda, The Gambia
Style of cuisine: International.
The menu: The menu offers many fusion dishes, as well as Gambian specialties such as lamb domada (lamb cooked with peanut purée and chili) and cuttlefish simmered with tomato, sweet potato and pepper.
Atmosphere: Understated elegance. Diners can choose to eat in the restaurant, the tropical gardens or even on the island within the main swimming pool.
Expect to pay: Expect to pay: €56 (3140 dalasi) for dinner for two, including drinks.
Style de Cuisine: internationale
Le menu: à la carte, de nombreux plats fusion, des spécialités comme le lamb domada (agneau cuit avec de la purée d'arachide et du chili) et la seiche mijotée avec des tomates, des patates douces et des poivrons.
Atmosphère: une élégance discrète. Les convives peuvent dîner dans le restaurant, dans les jardins tropicaux ou même sur l'île au milieu de la piscine principale.
Niveau de prix: €56 (3140 dalasi) pour deux, boissons comprises.
Keuken: internationaal
De kaart: vele fusiongerechten en Gambiaanse specialiteiten zoals lam domada (met pindapuree en chilipeper) en een stoofpotje van inktvis met tomaat, zoete aardappel en peper.
Sfeer: sobere elegantie, u kunt eten in het restaurant, de tropische tuinen of op het eilandje in het grote zwembad.
Wat kost het? €56 (3140 dalasi) voor twee personen, drank inbegrepen.
NGALA LODGE
54 Atlantic Boulevard, Farjara, The Gambia
Style of cuisine: International, but mainly French
The menu: To take advantage of its Atlantic-coast location, Belgian chef, Peter Vanstalle, devotes a large portion of the menu to a variety of fresh seafood platters with lobster, prawns and sole all popular options. But meat lovers are also well-catered for with dishes like Brazilian filet.
Atmosphere: The restaurant is situated on a cliff at the edge of the Atlantic and boasts a sophisticated ambiance. It's a great choice for a romantic dinner.
Expect to pay: €25 (1400 dalasi) for dinner for two, including drinks.
Style de Cuisine: internationale, mais à majorité française
Le menu: Peter Vanstalle, le chef belge, profi te pleinement de sa localisation sur la côté atlantique en dédiant une grande partie de son menu aux plateaux de fruits de mer composés de homards et de crustacés en différentes options. Pour ceux qui préfèrent la viande, on trouve aussi des plats bien fournis comme le fi let brésilien.
Atmosphère: le restaurant est situé sur une falaise au bord de l'Atlantique, ce qui lui donne une atmosphère raffi née. A recommander pour un dîner romantique.
Niveau de prix: €25 (1400 dalasi) pour deux, boissons comprises.
Keuken: internationaal, maar vooral Frans
De kaart: Met ligging aan de Atlantische kust pakt de Belgische chef, Peter Vanstalle, vooral uit met verse zeevruchtenschotels met kreeft, garnalen, en ook tong. Ook vleesliefhebbers komen aan hun trekken met gerechten als Braziliaanse steak.
Sfeer: Gelegen op een klif aan de rand van de Atlantische oceaan, geraffi neerd kader. De ideale keuze voor een romantisch etentje.
Wat kost het? €25 (1400 dalasi) voor twee personen, drank inbegrepen.
A walk on the wild side
CAMEROON
The World Conservation Union (IUCN) has announced that the West African black rhino appears to be extinct. In recent years, the subspecies had fallen from a population of 3,000 to just 10 and researchers in northern Cameroon, the rhino's last known habitat, were unable to fi nd any sign that they still inhabited the area. IUCN's Richard Emslie, a South African-based rhino expert, told reporters that the researchers systematically combed an area of 1,200 miles without success. "They looked for spoor (tracks or droppings) and they looked for the rhino's characteristic way of feeding, which has an effect like a pruning shear… but they didn't fi nd anything." One thing they did fi nd though, was evidence of poaching. The West African black rhino is often hunted for its horn, which is used in Yemen and China to help reduce fevers. Another sub-species almost extinct is the Northern white rhino; the African Rhino Specialist Group (AfRSG) estimates that there are just four animals left in the Democratic Republic of Congo's Garamba National Park. For more information visit http://www.iucn.org
Escapade Sauvage / In Het Wilde Weg
CAMEROUN Le World Conservation Union (IUCN) a confi rmé que le rhinocéros noir d'Afrique de l'Ouest était en voie d'extinction. Ces dernières années, cette sous-espèce a vu sa population tomber de 3 000 à 10, et les chercheurs du nord du Cameroun, le dernier habitat connu du rhino, n'ont pu trouver aucun signe de leur présence dans la région. Richard Emslie de l'IUCN's, un expert basé en Afrique du Sud, a signalé à la presse que les recherches s'étaient portées systématiquement sur un territoire de près de 2000 km sans succès. "Ils ont cherché des traces (empreintes ou déjections), la manière de s'alimenter de l'animal, qui laisse des indices comme des coups de cisaille… mais rien de tout cela." Une preuve de braconnage est la seule chose qu'ils aient trouvée. Le rhino noir d'Afrique de l'Ouest est souvent chassé pour ses cornes, appréciées en Chine et au Yémen comme aphrodisiaque. Le rhino blanc du Nord est une autre sous-espèce presque éradiquée; le Groupe de Spécialistes du Rhino Africain (AfRSG) estime que seuls quatre spécimens survivent dans le Parc National Garamba de la République Démocratique du Congo.
KAMEROEN De World Conservation Union (IUCN) heeft bekendgemaakt dat de West-Afrikaanse zwarte neushoorn uitgestorven lijkt. Recent was deze diersoort teruggevallen van 3.000 tot amper 10 en onderzoekers in Noord-Kameroen, de laatst bekende habitat van deze neushoorn, konden geen tekenen van hun aanwezigheid meer vinden. Richard Emslie van IUCN, een neushoornexpert uit Zuid-Afrika, meldde dat de onderzoekers systematisch een gebied van 1932 km uitkamden, maar zonder succes. "Ze waren op zoek naar sporen (pootafdrukken of uitwerpselen) en naar bewijs van de typische voedingswijze van de neushoorn (net een snoeischaar), maar vonden helemaal niets." Of toch: het bewijs van strooppraktijken. Er wordt vaak gejaagd op de West-Afrikaanse zwarte neushoorn om zijn hoorn, populair in Jemen en China als middel tegen koorts. Ook een andere diersoort is bijna uitgestorven: de noordelijke witte neushoorn. De African Rhino Specialist Group (AfRSG) raamt dat er slechts vier dieren overgebleven zijn in het Garamba National Park van de Democratische Republiek Congo.
Statistics: Number of mobile phone users / Nombre de telephones mobiles / Aantal gsm's
| | |
| --- | --- |
| 74.42m / 82.8m | RUSSIA (2004 / 2018) |
| 1 mln / 13mln | ANGOLA (2005 /2018) |
| 2.6 mln /36.5 mln | DR CONGO (2005/2018) |
| 2,5 mln /49.5 mln | KENYA (2004/2018) |
| 9,4 mln / 44.7 | MOROCCO (2004 /2018) |
| 47,300 / 2.6 mln | LIBERIA (2003 /2017) |
| 5.8 mln/6.4 mln | ISRAEL (2004/2018) |
| 2.259 mln / 19 mln | CAMEROON (2005/2018) |
| 2.19 mln / 33.8 | IVORY COAST (2005/2018) |
| 1.16m / 23.2 mln | UGANDA (2004/2018) |
| 1.1 mln / 16.5 | SENEGAL (2004/2017) |
| 111,500 / 12 mln | GUINEA (2003/2018) |
| 113,200 / 6.63 mln | SIERRA LEONE (2003 /2017) |
| 138,700 /9.7 mln | RWANDA (2004 /2018) |
| 175,000 /3.18 million | THE GAMBIA (2004/2018) |
Christmas markets / Marchés de Noël / Kerstmarkten
COPENHAGEN
11 November – 30 December
Tivoli Gardens, Copenhagen, https://www.tivoli.dk/en/
Europe's oldest amusement park, the Tivoli Gardens, will house 60 stalls and be illuminated with some 750,000 lights. Candied apples, spices, wooden Danish pixies and Royal Copenhagen porcelain are just some of the treats on sale here.
Le plus ancien parc d'attraction d'Europe, les Jardins de Tivoli, accueillera 60 échoppes et sera illuminé de plus de 750 000 lumières. Pommes caramélisées, épices, lutins danois en bois et porcelaine royale de Copenhagen sont juste quelques exemples des plaisirs en vente sur le lieu.
Het oudste pretpark van Europa, Tivoli, wordt bevolkt door 60 kraampjes en verlicht met zowat 750.000 lichtjes. Gekonfi jte appels, kruiden, houten Deense kabouters en Royal Copenhagen-porselein vormen slechts een greep uit het aanbod.
GRENOBLE
2-24 December
Place Victor Hugo, Grenoble
Pick up local delicacies such as foie gras, magret de canard (breast of fattened duck) and marzipan cakes, washed down with a glass or two of vin chaud (hot spiced wine) and peruse stalls selling jewellery, Christmas decorations and santons (clay figurines).
Goûtez à la gastronomie locale : foie gras, magret de canard et gâteaux au massepain, le tout arrosé avec un verre ou deux de vin chaud. Des échoppes ouvertes vendent des bijoux, des décorations de Noël et des santons (fi gurines en terre cuite).
Koop er lokale delicatessen, zoals foie gras, magret de canard (eendenborst) en marsepeincakes, met daarbij een glas warme kruidenwijn en snuister er rond in kraampjes met juwelen, kerstversiering en santons (fi guurtjes in klei).
BASEL
25 November – 23 December
Barfüsserplatz, Basel
One of the largest and most traditional in Europe, Basel's Christmas market will offer visitors the opportunity to stock up on wooden toys, minerals, fossils, linen, folk art and scented woods.
Le marché de Noël de Bâle est l'un des marchés les plus grands et les plus traditionnels d'Europe. Les visiteurs y trouveront une profusion de jouets en bois, des pierres, des fossiles, du linge de maison, de l'artisanat et des bois parfumés.
Op de kerstmarkt van Bazel, één van de grootste en meest traditionele van Europa, kan de bezoeker een voorraad indoen van houten speelgoed, mineralen, fossielen, linnen en geurhout.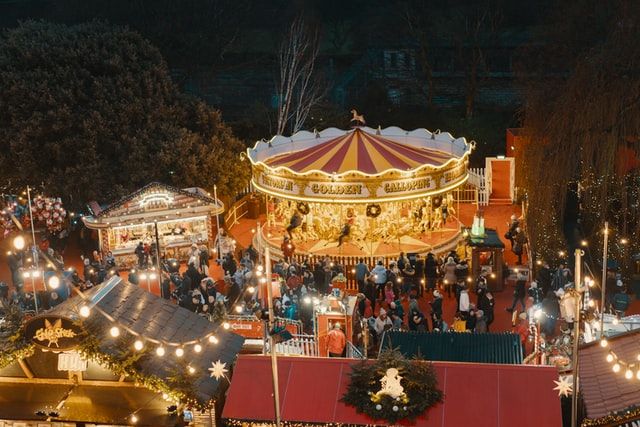 HAMBURG
22 November – 23 December
Townhall Square, Hamburg
Held in the shadow of Hamburg's town hall, visitors can buy anything from hotdogs and roast apples to hand-crafted ornaments from Erzgebirge and woodcarvings from Tyrol. This year's 'Nordic Lane' will pay tribute to Hamburg's close ties with Scandinavia and the Baltics.
Sous la stature de l'imposant Hôtel de Ville de Hambourg, les visiteurs peuvent tout acheter des hotdogs, des pommes rôties jusqu'aux ornements sculptés à la main de la région d'Erzgebirge et aux objets en bois sculptés du Tyrol. Et cette année, la 'Route Nordique' renforcera ses liens entre Hambourg, la Scandinavie et les pays baltes.
In de schaduw van het Hamburgse stadhuis kunnen bezoekers alles kopen, van hotdogs en geroosterde appels tot handgemaakte decoratie uit Erzgebirge en houtsnijwerk uit Tirol. Dit jaar brengt de 'Nordic Lane' hulde aan de nauwe banden tussen Hamburg, Scandinavië en de Baltische Staten.