What to See: Our Video Picks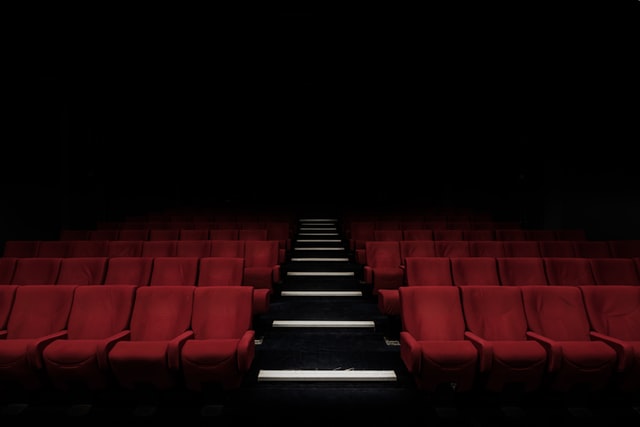 Stardust
Fantasy/Adventure 119 mins
Cert PG-13
Director Matthew Vaughn
Cast Claire Danes, Robert De Niro, Michelle Pfeiffer
Young villager Tristan hopes to win the heart of a beautiful but aloof girl by retrieving a fallen star. But he must vie with seven princes and an evil queen for the star – which has become a striking woman, Yvaine.
Le jeune villageois Tristan espère gagner le cœur d'une belle mais lointaine jeune fille en lui rapportant une étoile tombée du ciel. Mais pour tenir sa promesse, il doit lutter avec sept princes et une méchante reine, Yvaine, qui est devenue d'une beauté saisissante.
Ratatouille
Animation/Comedy 111 mins
Cert G
Director Brad Bird
Cast Patton Oswalt, Peter O'Toole, Janeane Garofalo
Remy, a country rat with a refined palate, leaves behind his garbage-eating origins and risks his life daily in a five-star Paris eatery. Here Remy finally gets the chance to prove his cooking smarts when he teams up with a hapless chef…
Remy, un rat des champs au palais très raffiné, veut oublier ses origines de mangeur d'égouts et chaque jour, à Paris, il risque sa vie en s'aventurant dans un restaurant ultra 5-étoiles. Là, Remy va finalement avoir sa chance de prouver ses capacités aux fourneaux, en faisant équipe avec un chef infortuné…
Father's Day
Comedy 93 mins
Cert PG-13
Director Ivan Reitman
Cast Billy Crystal, Robin Williams, Nastassja Kinski
When Colette's son Scott goes missing, she enlists the help of two former lovers. The two strangers, each convinced by Colette that he's the boy's father, team up in the madcap hunt for "their" runaway progeny.
Lorsque Scott, le fils de Colette vient à disparaître, elle demande de l'aide à ses deux anciens amants. Les deux, étrangers l'un pour l'autre, sont chacun convaincus d'être le père de l'enfant et ils font équipe dans une chasse insensée pour "leur" progéniture en fuite.
The Brave One
Crime/Drama 122 mins
Cert R
Director Neil Jordan
Cast Jodie Foster, Terrence Howard, Naveen Andrews
When New York radio host Erica Bain is brutally attacked and her fiancé slain, she begins prowling the streets to track down the killers. Her pursuit of justice sets the police on her trail and she must decide whether revenge is right after all.
Lorsque l'animatrice radio new-yorkaise Erica Bain est brutalement agressée en compagnie de son fiancé, elle commence à rôder dans les rues pour traquer les tueurs. Sa poursuite de justice met la police sur sa voie et elle doit décider si la vengeance est une décision justifiée, en définitive.
The Darjeeling Limited
Drama 91 mins
Cert R
Director Wes Anderson
Cast Owen Wilson, Adrien Brody, Jason Schwartzman
An emotional comedy about three brothers re-forging family bonds after the death of their father. The eldest son hopes to reconnect with his two younger siblings by taking them on a train trip across the vibrant landscape of India.
Une véritable aventure d'amitié et de fraternité. Trois frères renouent des liens familiaux après la mort de leur père. L'aîné espère retrouver ses deux frères plus jeunes en les emmenant dans un voyage en train à travers une odyssée époustouflante en Inde.
Cellular
Action/Thriller 91 mins
Cert PG-13
Director David R. Ellis
Cast Kim Basinger, Chris Evans, William H. Macy
Out of the blue, L.A. school teacher Jessica Martin is kidnapped. Thanks to an old phone in her attic cell, Jessica makes a random call – and enlists Ryan, a carefree beach bum with a fast-fading cell-phone, to help her.
Inopinément, une institutrice de L.A. Jessica Martin, est kidnappée. Un vieux téléphone dans le grenier où elle est séquestrée, permet à Jessica de passer un appel au hasard – et de tomber sur Ryan, flemmard, avec son portable sur la plage souvent défaillant. Ce dernier est résolu à l'aider.
Secondhand Lions
Comedy/Drama 109 mins
Cert PG
Director Tim McCanlies
Cast Michael Caine, Robert Duvall, Haley Joel Osment
Central Texas, 1962: 14-year-old Walter is dumped at the ranch of his ornery great-uncles for one extraordinary summer. A whimsical coming-of-age story starring Oscar-winners Caine and Duvall.
Central Texas, 1962 : Walter, 14 ans, est déposé au ranch de ses grands-oncles rouspéteurs, pour un été extraordinaire. Une histoire magique de passage à l'âge adulte interprétée par les nominés aux Oscar Caine et Duvall.
Superbad
Comedy 110 mins
Cert R
Director Greg Mottola
Cast Jonah Hill, Michael Cera, Seth Rogen
Two sex-obsessed high school seniors spend a wild night trying to score alcohol they hope will get two girls drunk enough to look at them. The resulting series of misadventures may just reverse their life-long losing streak.
Deux étudiants en fin d'études, obsédés par le sexe, passent une nuit folle de beuverie qui, l'espèrent-ils, leur permettra de soûler deux jeunes filles qui leur plaisent. S'ensuivent des mésaventures qui pourraient inverser le cours de leur vie, après une longue suite d'échecs.
Knocked Up
Comedy 128 mins
Cert R
Director Judd Apatow
Cast Seth Rogan, Leslie Mann, Katherine Heigl
Fun-loving slacker Ben Stone is shocked when Alison, a go-getting TV exec and his one-night stand of eight weeks ago, turns up on his doorstep – pregnant! A miracle of wit and perception: fresh, honest and smart.
Glandeur et débraillé, Ben Stone est sous le choc lorsque Alison, une assistante de production d'une chaîne télé hollywoodienne, avec qui il a passé une nuit sous la couette huit semaines auparavant, arrive à sa porte – enceinte! Un miracle d'esprit et de sensibilité: frais, honnête et intelligent.
In The Valley Of Elah
Drama/Thriller 118 mins
Cert R
Director Paul Haggis
Cast Tommy Lee Jones, Charlize Theron, Susan Sarandon
A career officer and his wife work with a police detective to uncover the truth behind their son's disappearance following his return from a tour of duty in Iraq. Tommy Lee Jones' scalding performance is riveting.
Avec l'aide d'une détective de la police, un officier de carrière et sa femme tentent de découvrir la vérité derrière la disparition de leur fils, survenue directement après son retour d'Irak en permission. Une histoire fascinante et à la fois engagée de Tommy Lee Jones.
The Jane Austen Book Club
Drama 105 mins
Cert PG-13
Director Robin Swicord
Cast Emily Blunt, Maria Bello, Marc Blucas
Six book club members, six Austen novels, and six story-lines are interwoven over six months in the busy modern setting of Sacramento, California, where city and suburban sprawl meet natural beauty.
Six membres d'un club de livres, six romans d'Austen, et des histoires entrelacées durant six mois dans la localisation moderne et animée de Sacramento, Californie… là où la ville et les faubourgs s'étendent et se rencontrent dans leur beauté naturelle.
Sunshine
Sci-fi/Thriller 107 mins
Cert R
Director Danny Boyle
Cast Cillian Murphy, Chris Evans, Michelle Yeoh
Fifty years into the future, and the sun is dying, spelling doom for mankind. To kick-start our star, a crew of eight pilot a space-ship towards the sun. But deep into their voyage, they receive a distress signal from a long-lost spaceship…
Le futur, dans 50 ans. Le soleil est en train de s'éteindre, menant l'humanité à sa perte. Pour réanimer notre étoile, une équipe de 8 volontaires s'embarquent dans un vaisseau destination soleil. Mais au cours du voyage, ils interceptent un signal de détresse d'un vaisseau dont on avait perdu la trace…
The Bourne Ultimatum
Action/Thriller 115 mins
Cert PG-13
Director Paul Greengrass
Cast Matt Damon, Julia Stiles, Joan Allen
In the trilogy finale, Jason Bourne hunts down the men who turned him into the ultimate assassin. He travels from Moscow and London to Tangier and New York on his quest to find the real Jason Bourne.
Dans la trilogie finale, Jason Bourne est sur la trace des hommes qui l'ont conditionné à devenir un exécuteur implacable. Il voyage de Moscou à Londres, Tanger et New York dans sa quête pour retrouver le vrai Jason Bourne.
Transformers
Action Sci-fi 130 mins
Cert PG-13
Director Michael Bay
Cast Shia LaBeouf, Megan Fox, Josh Duhamel
Two warring races of robots have chosen Earth for their final showdown. And the only person who can save the planet is Sam Whitwicky, a teenage boy. A new frontier in CGI animation that mixes mega action and cheeky humour.
Deux races guerrières de robots ont choisi la Terre pour leur affrontement final. Et la seule personne qui puisse sauver la planète est Sam Whitwicky, un jeune adolescent. Une nouvelle étape dans l'animation hautement technologique qui mélange la méga action et l'humour insolent.
Gone Baby Gone
Drama/Crime 113 mins
Cert R
Director Ben Affleck
Cast Casey Affleck, Michelle Monaghan, Morgan Freeman
While investigating a four-year-old girl's kidnapping, two detectives search through the seamiest side of Boston's underworld, prompting a professional and personal crisis. Poignant, compelling and controversial.
Au cours de leur enquête concernant le kidnapping d'une petite fille de quatre ans, deux détectives découvrent l'envers de la ville de Boston dans ce qu'elle a de plus sombre, déclenchant une crise professionnelle et personnelle. Poignant, prenant et qui suscite la controverse.
Mrs Doubtfire
Comedy 117 mins
Cert PG-13
Director Chris Columbus
Cast Robin Williams, Sally Field, Pierce Brosnan
When his wife files for divorce, devoted father Daniel Hillard loses custody of his children. In desperation, Daniel disguises himself as the matronly British nanny 'Mrs Doubtfire' and hires on to look after his three kids.
Lorsque son épouse demande le divorce, Daniel Hillard, un père dévoué perd la garde de ses enfants. Désespéré, Daniel se déguise en gouvernante matrone britannique 'Mrs Doubtfire' et se fait embaucher pour s'occuper de ses trois enfants.
Collateral Damage
Action 112 mins
Cert R
Director Andrew Davis
Cast Arnold Schwarzenegger, Elias Koteas, Francesca Neri
When he loses his wife and son in a bomb explosion, firefighter Gordy Brewer decides to track down the killer himself, a quest that leads him into war-torn Colombia. Soon he's on the trail of Claudio "The Wolf " Perrini.
Lorsqu'il perd sa femme et son fils dans un attentat à la bombe, Gordy Brewer décide de traquer le tueur, une quête qui le mène dans une Colombie déchirée par la guerre. Rapidement il retrouve la trace de Claudio "El lobo" Perrini.
Analyze That
Comedy 119 mins
Cert R
Director Harold Ramis
Cast Robert De Niro, Billy Crystal, Lisa Kudrow
When mobster Paul Vitti is released from prison into the care of his therapist, Ben Sobel, the kooky chaos that began in the box-office hit Analyze This continues! How can Sobel make Vitti go straight?
Le gangster Paul Vitti est relâché de prison pour être confié aux soins de son thérapeute, Ben Sobel. Après le film Analyze This, qui a cartonné au box-office, le chaos déjanté continue! Comment Sobel peut-il ramener Vitti dans le droit chemin?
The Beach
Drama/Thriller 119 mins
Cert R
Director Danny Boyle
Cast Leonardo DiCaprio, Tilda Swinton, Robert Carlyle
Richard, an American tourist in a Bangkok hostel, learns of an idyllic beach in a nature reserve. Armed with a map, Richard sets out for the island paradise. But weeks of sun-burnt bliss turn into a "Heart of Darkness" nightmare.
Richard, touriste américain à Bangkok, entend parler d'une plage idyllique dans une réserve naturelle. Une carte sous le bras, il part à destination de l'île paradisiaque. Mais ces semaines de béatitude sous le soleil vont se transformer en cauchemar au "Cœur des Ténèbres".
The Iron Giant
Animation/Family 86 mins
Cert PG
Director Brad Bird
Voices Eli Marienthal, Jennifer Aniston, Vin Diesel
Rockwell, Maine in the fifties: When nine-year-old Hogarth follows huge footsteps into the woods, he befriends a giant alien robot with a taste for metal! Together they must battle Cold War paranoia.
Rockwell, Maine dans les années 50: lorsque le petit Hogarth, 9 ans, suit les énormes traces de pas dans la forêt, il se lie d'amitié avec un robot géant, qui a un goût prononcé pour le métal! Ensuite ils doivent vaincre la paranoïa de la Guerre Froide.
Blood Work
Crime/Thriller 110 mins
Cert R
Director Clint Eastwood
Cast Clint Eastwood, Jeff Daniels, Wanda De Jesus
Terry McCaleb, one of the FBI's best profilers, is put out of action by a massive heart attack. Two years later, Graciella Rivers turns up and asks McCaleb to reopen the case of her sister's murder – who once saved McCaleb's life.
Terry McCaleb, l'un des meilleurs enquêteurs du FBI, est forcé de s'arrêter suite à une sérieuse attaque cardiaque. Deux années plus tard, Graciella Rivers vient trouver McCaleb pour lui demander de rouvrir le dossier du meurtre de sa sœur – qui, un jour, a sauvé la vie de McCaleb.