Our pick of restaurants, hotels and events from the cities of Belgium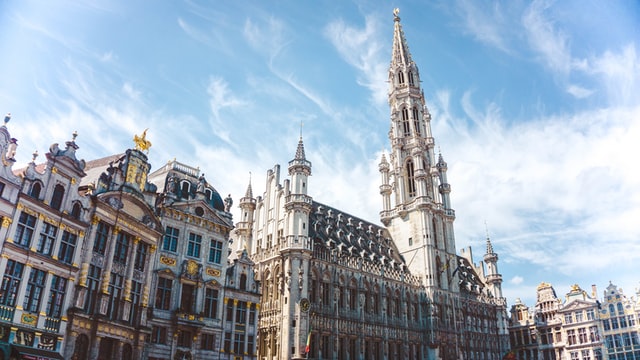 BED DOWN
The Pand Hotel
16 Pandreijte, Bruges
In this most romantic of Belgian cities it's hard to find a more appropriate place to stay than the Pand Hotel, a luxury boutique hotel in a renovated 18th-century carriage house. Canal views, lavish breakfasts, canopy beds, courtyard terrace – the Pand has it all. In fact, it's almost too much. Doubles cost from €180, or you can splurge on a sumptuous Junior Suite from €250.
Hotel Harmony
37 Kraanlei, Ghent
Nestled in Ghent's oldest neighborhood t'Patershol, the four-star Hotel Harmony consists of two 18th-century buildings linked by a patio garden that doubles as a breakfast room on sunny days. Like something straight out of a Zara Home catalogue, rooms are modern and sparsely furnished – though the in-wall fireplace-cum-heating units may not be to everyone's liking. Prices start at €96, with several packages available as well as bike rental.
Brussels Welcome Hotel
23 Quai au Bois à Brûler, Brussels
It boasts of being Brussels' smallest hotel and is indeed more like a guesthouse. There are 15 country-themed rooms (Egypt, India, etc.), all decorated to evoke more exotic climes. Regardless of whether you feel transported, it's undeniably one of the capital's best value for money (starting at €80), and in a prime location to boot.
EATING OUT
Jaloa
5/7 Place Sainte-Catherine, Brussels
A new magnet for the Saturday-night-date set, Jaloa out chi-chis many of its neighbours in Brussels' fish district. Décor and dishes are modern and classy minus the attitude, and chef Gaëtan Colin constantly surprises with crazy concoctions like warm foie gras with tamarind chutney. Try not to be too distracted by the continuous kitchen film footage shown on the wall. Weather permitting, opt for a spot on the courtyard terrace – a rarity in this area.
Belgium Taste in the Sky
Square de l'Atomium, Brussels
Easily the city's most unusual and highest-elevation dining venue, Belgium Taste in the Sky is housed in the top orb of the Atomium, built for the 1958 World's Fair. Led by Alexandre Masson, the kitchen showcases home-grown produce in dramatic flavour and texture pairings – from ginger-marinated scallops in a cherry-beer sauce to pesto-garnished chocolate mousse.
Den Gouden Harynck
25 Groeninge, Bruges
Tucked in a narrow street near the Groeninge Museum, 'The Golden Herring' is a one Michelin-starred restaurant that should be included in any visit to the Venice of the North. Housed in a 17th-century building that used to be a fish shop, this temple of haute cuisine boasts dishes that are the opposite of old-fashioned. Chef Philippe Serruys adores experimenting with spices, often blending seafood with delicate citrus flavours.
DRINK UP
Den Engel
3 Grote Markt, Antwerp
For a true taste of Antwerp's unique atmosphere, go local and order a bolleke at Den Engel, one of the city's oldest and most famous drinking establishments. Bolleke is actually the name of the glass in which beer from Antwerp's De Koninck brewery is traditionally served. Sometimes it's hard to talk above the noise, but that's part of the charm in this locale where old-timers regularly rub shoulders with students.
Au Soleil
86 Rue du Marché au Charbon, Brussels
A veritable institution in the buzzing St Jacques quarter, Au Soleil is a laid-back café by day and hip hang-out by night where locals chill for hours, spilling onto the terrace. Near the Manneken Pis fountain, this converted clothing shop with huge picture windows oozes a mellow, old-fashioned ambience. For a place of its size, the beer selection is impressive, making it a must on any Brussels pub tour.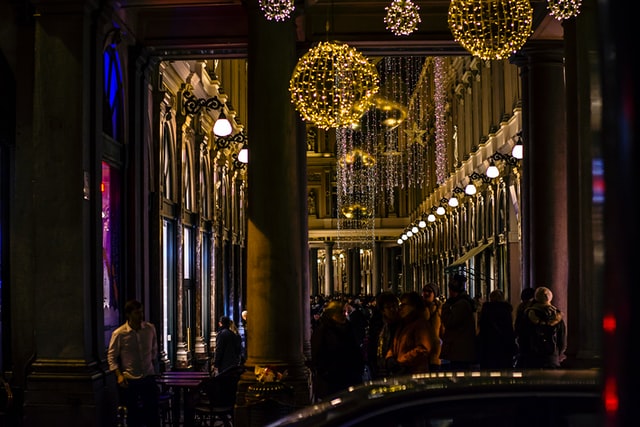 PARCOURS BELGE
Les villes belges sont pleines d'attractions et de délices pour les visiteurs. Voici une liste de nos adresses coups de cœur, nos choix d'hôtels, de restaurants et d'événements
UN LIT DOUILLET
The Pand Hotel
16 Pandreijte, Bruges
Difficile de trouver un endroit plus approprié pour loger dans la ville la plus romantique de Belgique, que le Pand Hotel, un hôtel boutique luxueux situé dans une ancienne écurie rénovée du 18e siècle. Les vues sur le canal, les petitsdéjeuners copieux, les lits à baldaquins, la terrasse dans la cour – le Pand ne manque d'aucun de ces charmes. En réalité, ce serait presque trop. Les chambres doubles démarrent à €180, ou vous pouvez vous réserver une somptueuse Junior Suite pour un prix de base de €250.
Hotel Harmony
37 Kraanlei, Gand
Niché dans le plus ancien quartier de Gent, t'Patershol, l'hôtel quatre-étoiles Harmony comprend deux immeubles du 18e reliés par un patio qui se transforme en salle de petit-déjeuner les jours ensoleillés. Les chambres qui ont l'air sorties tout droit d'un catalogue de Zara Maison sont modernes et meublées avec parcimonie – bien que le feu ouvert intégré dans la cheminée ne soit peut-être pas au goût de tout le monde. Les prix démarrent à ~96, avec plusieurs options disponibles, comme la location de vélos, par exemple.
Brussels Welcome Hotel
23 Quai au Bois à Brûler, Bruxelles
Il clame être le plus petit hôtel de Bruxelles et sa dimension s'apparente en effet plus à une maison d'hôte. On y trouve 15 chambres aux thèmes de pays (Egypte, Inde, etc.), toutes décorées pour évoquer des climats plus exotiques. Transporté ou pas vers ces contrées lointaines, c'est indéniablement l'une des meilleures affaires en termes de rapport qualité/prix de la capitale (à partir de €80), et en prime une super localisation.
OÙ MANGER
Jaloa
5/7 Place Sainte-Catherine, Bruxelles
Un nouvel endroit en vue pour les sorteurs du samedi soir, Jaloa se démarque du côté apprêté de ses voisins du quartier des restaurants de poissons de Bruxelles. Le décor et les plats sont modernes et stylés, l'attitude en moins et le chef Gaëtan Colin surprend sans cesse avec ses folles concoctions comme le foie gras chaud avec du chutney de tamarin. Essayez de ne pas vous laisser distraire par la séquence filmée en continu de la cuisine projetée sur les murs. Si le temps le permet, optez pour un endroit en terrasse dans la cour – fait rare dans cet endroit.
Un goût de Belgique dans les hauteurs
Square de l'Atomium, Bruxelles
Certainement l'établissement le plus inattendu et le plus élevé pour dîner, le restaurant belge 'Taste in the Sky' est hébergé dans la boule supérieure de l'Atomium, construite en 1958 à l'occasion de l'Exposition universelle. Gérée par Alexandre Masson, la cuisine intègre des produits cultivés maison et propose des combinaisons étonnantes de parfums et de textures, comme les coquilles St Jacques marinées au gingembre dans une sauce à la bière de cerise ou encore la mousse de chocolat avec une garniture au pesto.
Den Gouden Harynck
25 Groeninge, Bruges
Niché dans une petite rue près du Musée Groeninge,'Le hareng doré' est l'un d'un restaurants étoilés au Michelin qui devrait faire partie de tous les circuits de visite dans la Venise du Nord. L'établissement situé dans un immeuble du 17e siècle, était auparavant une poissonnerie, devenu aujourd'hui un temple de la haute cuisine avec des plats aux antipodes de la cuisine vieillotte. Le chef Philippe Serruys adore les expérimentations à base d'épices, combinant souvent les produits de la mer avec des parfums citronnés.
BOIRE UN VERRE
Den Engel
3 Grote Markt, Anvers
Pour apprécier pleinement l'atmosphère unique d'Anvers, faites comme les locaux et commandez un bolleke au Den Engel, l'un des débits de boissons les plus anciens et les plus réputés de la ville. Bolleke est en réalité le nom d'un verre dans lequel on sert traditionnellement la bière de la brasserie anversoise De Koninck. Il est parfois difficile de s'entendre vu le bruit ambiant, mais cela fait partie du charme de cette taverne locale des temps passés, où l'on se retrouve aussi côte à côte avec une population plus jeune d'étudiants.
Au Soleil
86 Rue du Marché au Charbon, Bruxelles
Véritable institution du quartier animé de St Jacques, Au Soleil est un café relax le jour et un rendez-vous branché le soir, là où les locaux viennent se rafraîchir pendant des heures, en discutant à la terrasse. Près de la fontaine de Manneken Pis, il émane de la grande baie vitrée de ce magasin de vêtements reconverti, une ambiance joviale, un peu passée. Pour un endroit de cette petite dimension, la sélection des bières est impressionnante, ce qui en fait un must des circuits des bars de Bruxelles.
DON'T MISS/A NE PAS RATER
Art fair
5-10 June Various galleries on Place du Grand Sablon, Brussels
Dealers in classical, Egyptian and Oriental antiquities from several countries display their treasures at the Brussels Ancient Art Fair.
Les marchands d'antiquités classiques d'Egypte et du Proche-Orient venus de différents pays exposent leurs trésors à la Foire d'Antiquités classiques de Bruxelles.
Classical
8 May – 5 June Royal Brussels Conservatory, Palais des Beaux-Arts, Musical Instruments Museum and La Monnaie, Brussels
Talented singers from around the world compete in the prestigious Queen Elisabeth Competition.
Des chanteurs de talent venus du monde entier entrent en compétition dans le prestigieux Concours Reine Elisabeth.
Exhibition
10 June – 16 November Belgian Centre for Comic Strip Art, 20 Rue des Sables, Brussels
Learn all about the Smurfs, those loveable little blue comic-strip characters created by Peyo 50 years ago at Smurf for All: All for Smurf.
Apprenez tout sur les Schtroumpfs, ces adorables petites créatures bleues de bande dessinée, créées par Peyo il y a 50 ans sur Smurf for All: All for Smurf.
Jazz
23-25 May Brussels' grand squares, bars and music venues come alive with over 100 concerts by artists from around the globe.
A Bruxelles, les grandes places de la ville, les bars et les lieux de concert débordent de vie avec plus de 100 concerts d'artistes du monde entier.
Pop and Rock
23 June Bruce Springsteen and the E Street Band perform songs from their new album Magic, at the Sportpaleis in Antwerp.
Bruce Springsteen et the E Street Band interprètent des chansons de leur nouvel album Magic, au Sportpaleis d'Anvers.
Folklore
18 May It's man versus dragon at the Battle of Lumeçon pageant in Mons's main square, one of Belgium's most celebrated folklore events. This is followed by the Procession of the Golden Chariot through the city.
C'est l'homme face au dragon à la Battle de Lumeçon sur la Grand Place de Mons, l'un des événements folkloriques les plus fêtés de Belgique. La performance est suivie de la Procession du Chariot d'Or à travers la ville.
Festivals
9-31 May Beursschowburg, 20-28 A. Ortsstraat, Brussels
The KunstenFESTIVAL des Arts features more than 350 artists taking part in theatre, music, dance, film and visual performances. Le KunstenFESTIVAL des
Arts représente plus de 350 artistes qui participent à des spectacles de théâtre, de musique, de danse et à des projections de films.
27-29 June Tour & Taxis, 3 Rue Picard, Brussels
Couleur Café Festival celebrates the music and food of the Caribbean, Africa and Latin America in one huge weekend party featuring concerts, dance classes and arts and crafts exhibitions.
Le Festival Couleur Café célèbre la musique et la cuisine des Caraïbes, d'Afrique et d'Amérique latine lors d'un long week-end de fête avec des concerts, des cours de danse et des expositions d'art et d'artisanat.