Designer Moscow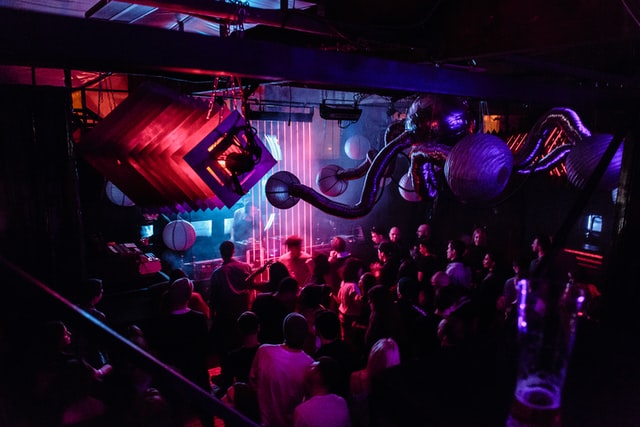 DESIGN CONCEPTION
Russia's capital has witnessed an explosion of creativity over the past decade as the city fills up with hot architects and designers, stylish restaurants, bars and cafés. Tom Parfitt reports
Depuis une décennie, la capitale russe témoigne d'une explosion de créativité, avec l'ouverture de nombreux bars, cafés et restaurants branchés. Qui se cache derrière ces nouveaux architectes et designers et comment se manifestent ces tendances à la pointe de la modernité? Un reportage de Tom Parffit
It's 9pm on a weekday evening and already Cipollino is filling up with swish young Muscovites, sipping wine from flutes.
A fashionable café-restaurant opposite Christ the Saviour cathedral, Cipollino is the latest project by renowned husband and wife design team Valery Lizunov and Angela Moiseyeva, most famous for the über-cool nightclub First.
Sitting unnoticed at a corner table, the couple cast a critical eye over their work.
"You always notice some little detail, some improvement you can bring to the next project," says Valery with a smile as he inspects the tasteful decor of chocolate-browns and creams, plush velvet curtains and white orchids in slender vases.
Once a city of grim canteens and back-street beer parlours, Moscow has been transformed into a glittering metropolis, crammed with stylish restaurants, bars and clubs.
"After the revolution in 1917 the idea of going out to eat, drink and dance was killed off. It's only in the past decade that it's been revived as part of our culture,"
explains Angela.
As the economy booms on the back of high oil prices, every week in the capital sees scores of nightspot openings and from French to Uzbek, hi-tech to industrial, every taste is catered for.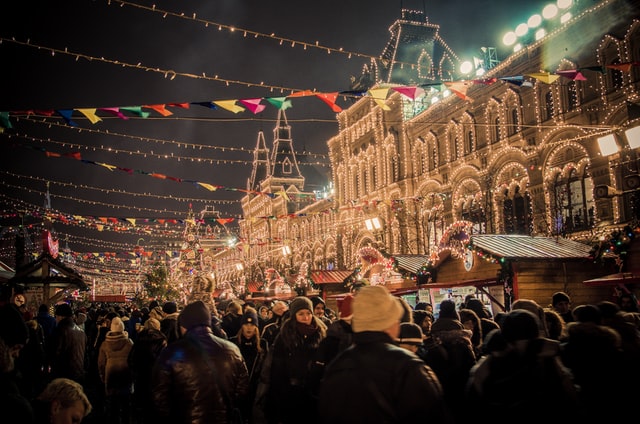 Depuis une décennie, la capitale russe témoigne d'une explosion de créativité, avec l'ouverture de nombreux bars, cafés et restaurants branchés. Qui se cache derrière ces nouveaux architectes et designers et comment se manifestent ces tendances à la pointe de la modernité? Un reportage de Tom Parffit
l est 9 heures du soir en semaine et déjà Cipollino se remplit de jeunes moscovites b.c.b.g, qui sirotent du vin dans des flûtes à Champagne.
Situé en face de la cathédrale du Saint-Sauveur, Cipollino est le dernier café à la mode conçu par le couple de designers Valery Lizunov et Angela Moiseyeva, plus connus pour avoir réalisé la discothèque super-branchée, First.
Assis à l'écart, le couple contemple d'un œil critique son travail. "On s'aperçoit qu'il y a toujours de petits détails à modifier, qui amènent à des améliorations lors du projet suivant," dit Valery en souriant, tout en scrutant le décor aux teintes chocolatscrème, relevé de somptueux rideaux de velours et d'orchidées blanches, disposées avec élégance dans des vases effilés.
Autrefois la ville des rationnements et des bars à bières clandestins, Moscou s'est depuis transformée en une métropole brillant de mille feux, où abondent les cafés, les restaurants et les discothèques à la mode. "Après la révolution de 1917 l'idée de sortir manger, boire ou danser a complètement disparu. C'est seulement depuis ces dix dernières années que cette dimension de notre culture refait surface," explique Angela.
L'économie est en pleine expansion avec la flambée des prix du pétrole, et chaque semaine la capitale voit un nombre important
Moscow's designer hotspots / Les lieux de design-chic de Moscou
FAQ Café Creative Studio
Gazetniy per., 9
Tiny basement hangout for creative types with jazz, body art and lots more
Espace bar en sous-sol ouvert à toutes les disciplines créatives: jazz, bodyart, etc
State Centre for Contemporary Art
Ulitsa Zoologicheskaya, 13
Refurbished lightbulb factory with exhibition hall and auditorium suspended from overhead trusses
Ancienne manufacture d'ampoules électriques reconvertie en espace d'expositions et salle de spectacle, suspendus par des armatures
Fabrique
Kosmodamianskaya nab, 2
Trendy club-restaurant with industrial feel by up-and-coming designer Kirill Sokolsky
Club-restaurant branché qui vous plonge dans une atmosphère industrielle, conçu par le designer Kirill Sokolsky
First
Sofiiskaya nab., 34
Impossibly elite nightclub with white, neo-classical interior and views of the Kremlin
Nightclub hyper-sélectif avec son intérieur blanc néo-classique et sa vue sur le Kremlin
ARTStrelka
Bersenevskaya nab., 14
Complex of galleries in former chocolate factory
Petrovich
Ulitsa Myasnitskaya, 24/1
Bohemian nightspot and eatery owned and decorated by cartoonist Andrei Bilzho
Boîte de nuit à ambiance bohémienne avec possibilité de se restaurer, décoré par le propriétaire du lieu le dessinateur Andrei Bilzho
ARTPLAY design centre
Ulitsa Timura Frunza, 11
Interior design salon, exhibition space and architects' collective – a stunning conversion of early 20th-century textile warehouses
Salon du design contemporain, espace d'expositions et collectif d'architectes – superbe reconversion d'une fabrique de textile du début du 20éme siècle
RuArts Gallery
1 Zachatevskiy per., 10
Contemporary art gallery with unique staircase bisecting the exhibition space
Galerie d'art contemporain avec son escalier unique qui divise l'espace
Zhiguli
Ulitsa Novy Arbat, 11/1
Mock-up of late Soviet, prohibition-era bar by famous designer Alexei Khaas
Maquettes d'un bar à l'époque du régime soviétique durant la prohibition, par le fameux designer Alexei Khaas
Melnikov House
Krivoarbatsky Pereulok per., 10
How they used to do it: unique constructivist monument from the 1920s
Comment ils le faisaient: un monument unique du constructivisme des années 1920
Complexe de galeries dans une ancienne chocolaterie
Elena Gonsales, organiser of Russia's annual Design Innovation Awards, says the city is undergoing a transformation.
"There's a growing demand for unusual concepts. People are prepared to pay for it and ideas that designers would have kept on the shelf are now being put into action."
Cipollino is just the latest creation from Valery and Angela's Mos-Shtab, one of the handful of interior design bureaux that dominate the 'elite' market.
Other rising stars are Kirill Sokolsky, designer of the Fabrique club-restaurant, and the flamboyant restaurateur Arkady Novikov, who was famously rejected for a job at Russia's first McDonald's. Novikov bounced back from that tragedy to open the ultra-chic Gallery and Vogue Café – a hangout for models and pop stars.
Yet such swanky and expensive establishments are only one part of the design revolution. Elsewhere a younger, arty crowd is drawn to more Bohemian spots like FAQ Café Creative Studio, a tiny basement hangout behind the central telegraph office on Moscow's main street, Tverskaya. "Our idea was to create the home of an imaginary artist who likes to invite his friends home for a drink and something to eat," explains owner David Yang, an Armenian-Chinese who grew up in Moscow.
Yang says painters, poets and other creative types are drawn to similar places, like Apshu and Petrovich (filled with the work of its owner, the celebrated cartoonist Andrei Bilzho) where music and food are mixed with exhibitions and artistic 'happenings'. One of the success stories of the last two years is Klub na Brestskoi, a popular minimalist club where design students can show off their work.
Sergei Desyatov, manager and chief architect of ARTPLAY design centre, says the government has yet to throw its weight behind the idea of a dedicated design district. "In the absence of one, places like ours become really important as somewhere for designers to get together and share ideas."
Tucked on a back street near the Park Kulturi metro station, ARTPLAY is one of the city's most stunning conversions, and a beacon for the design revolution. A former textiles warehouse, it was transformed into a furniture showroom and exhibition space and now houses 15 of Moscow's leading architecture.
Complete with bedroom, playroom and library, FAQ is a world away from the chrome and gloss of swisher spots, but a roaring success, nonetheless. Members can keep their slippers here, and the café is packed for Sunday jazz nights.
While projects like ARTPLAY and nearby ARTStrelka (a warren of galleries in a former chocolate factory) have yet to secure permanent homes, Gonsales hopes sheer talent can drive Moscow's designers forward. "Russian designers are different in that they are more extravagant – a little bit wild," she says. "It seems to me there are even more possibilities here for a designer than there are in the West. There are fewer conventions which dictate what one can and can't do."
Elena Gonsales, organisatrice du Design Innovation Awards en Russie, reconnaît que la ville est en pleine transformation. "Il y a une demande importante de concepts originaux. Les clients sont prêts à y mettre le prix, et les idées fantaisistes des créateurs, qui auparavant n'auraient pas osé présenter leurs œuvres sont dorénavant très sollicitées."
Cipollino est la toute dernière création de Valery et Angela, et avec leur agence de design d'intérieur Mos-Shtab ils font partie de l'élite du pays, qui domine le marché de l'architecture d'intérieur.
Parmi les autres créateurs, on citera Kirill Sokolsky, concepteur du club-restaurant la Fabrique, et le flamboyant restaurateur Arkady Novikov, qui a défrayé la chronique lors du rejet de sa candidature pour l'implantation du tout premier McDonald en Russie. Mais depuis, Novikov a pris sa revanche en ouvrant l'ultra-chic Gallery et le café Vogue, lieux incontournables des tops modèles et autres stars du show business.
Mais ces établissements luxueux ne sont qu'une partie de cette révolution du design. Ailleurs, les jeunes se dirigent plutôt vers un style plus bohème et fréquentent des lieux tels que le
Complete with bedroom, playroom and library, FAQ is a world away from the chrome and gloss of swisher spots, but a roaring success, nonetheless. Members can keep their slippers here, and the café is packed for Sunday jazz nights.
FAQ Café Creative Studio, qui se trouve dans un sous-sol minuscule derrière le bureau central du télégraphe sur une des artères principales de Moscou, l'avenue Tverskaya.
"Notre idée était de créer la maison d'un artiste imaginaire, qui aime inviter ses amis à dîner ou prendre un verre," explique le propriétaire du lieu David Yang, un chinois-arménien qui a grandi à Moscou.
Entièrement reconstitué avec chambre, salle de jeux et bibliothèque, le FAQ est loin des ambiances pailletées des établissements luxueux de la capitale, et connaît un franc succès. Les membres du club s'y sentent comme chez eux et le café est plein à craquer particulièrement lors des soirées jazz du dimanche.
Yang reconnaît que les peintres, les poètes et autres créatifs sont attirés par des lieux semblables, tel l'Apshu ou Petrovich (qui est rempli des réalisations de son propriétaire, le célèbre dessinateur Andrei Bilzho) où l'on mélange musique, restauration et expositions tout en y organisant des 'happenings' performances artistiques. Un des grands succès de ces deux dernière années est le Klub na Brestskoi, club minimaliste, populaire auprès des étudiants des Beaux-Arts où ils peuvent exposer leurs réalisations.
d'art contemporain ARTPLAY, admet qu'il y a encore du travail pour que le gouvernement soutienne un quartier dédié au design. "C'est en l'absence de cet appui que notre organisation prend toute son importance, elle attribue aux artistes un lieu de rencontre où ils peuvent partager leurs idées."
Situé dans une petite rue tout près de la station de métro Park Kulturi, ARTPLAY est une des reconversions architecturales les plus étonnantes de la ville et une référence phare pour cette révolution du design. Cette usine de textile recyclée en salon d'exposition pour mobilier et autres expositions, abrite aujourd'hui 15 des plus éminents cabinets d'architectes de Moscou. Ses façades de briques irrégulières ont été préservées, pour le plus grand plaisir des conservateurs.
Tandis que des projets comme ARTPLAY et d'autres apparentés comme ARTStrelka (un labyrinthe de galeries dans une ancienne chocolaterie) doivent encore trouver un lieu de travail permanent, Gonsales espère que les plus grands talents pourront emmener les designers moscovites vers de plus larges horizons.
"Les designers russes sont plus extravagants – un peu plus sauvages," dit-elle. "Il me semble qu'il y a plus de possibilités ici que dans le monde occidental. Nous subissons moins le poids des conventions, qui dictent ce que l'on peut faire ou pas."
Moskou design

Het is 9 uur 's avonds op een weekdag. Cipollino, een trendy café-restaurant tegenover de Christus-Verlosserkathedraal, loopt vol met trendy jonge Moskovieten.. Ooit was dit een stad van deprimerende kantines en goedkope bierzalen, maar nu is Moskou herschapen tot een glitterende metropool, vol stijlvolle restaurants, bars en discotheken.
De economie bloeit vanwege de hoge olieprijzen, en elke week worden er in de hoofdstad tientallen horecazaken geopend. Van Frans tot Oesbeeks, hi-tech tot industrieel, er is voor elk wat wils.
Cipollino is een recente creatie van één van de binnenhuisarchitecten die de "elitemarkt" domineren. Rijzende sterren zijn, onder andere, Kirill Sokolsky, ontwerper van het Fabrique disco-restaurant, en Arkady Novikov, de flamboyante restauranthouder van het ultra-chique Gallery en Vogue Café (een pleisterplek voor modellen en popsterren).
Elders worden artistieke jongeren meer aangetrokken door onconventionele bars zoals het FAQ Café Creative Studio, een piepklein ondergronds café achter het centrale telegraafkantoor aan Tverskaya, de hoofdstraat van Moskou. Eén van de grote succesverhalen van de voorbije twee jaar is Klub Na Brestskoi, een populaire minimalistische discotheek waar designstudenten hun werk op zijn best kunnen tonen.
Elena Gonsales, organisatrice van de jaarlijkse Design Innovations Awards Gonsales in Rusland, typeert de designwereld van de stad als volgt: "Russische designers zijn anders, extravaganter – een beetje gewaagd. Volgens mij zijn er ier nog meer mogelijkheden voor een ontwerper dan in het westen. Er zijn minder conventies die opleggen wat wel en niet kan."