On the djembe beat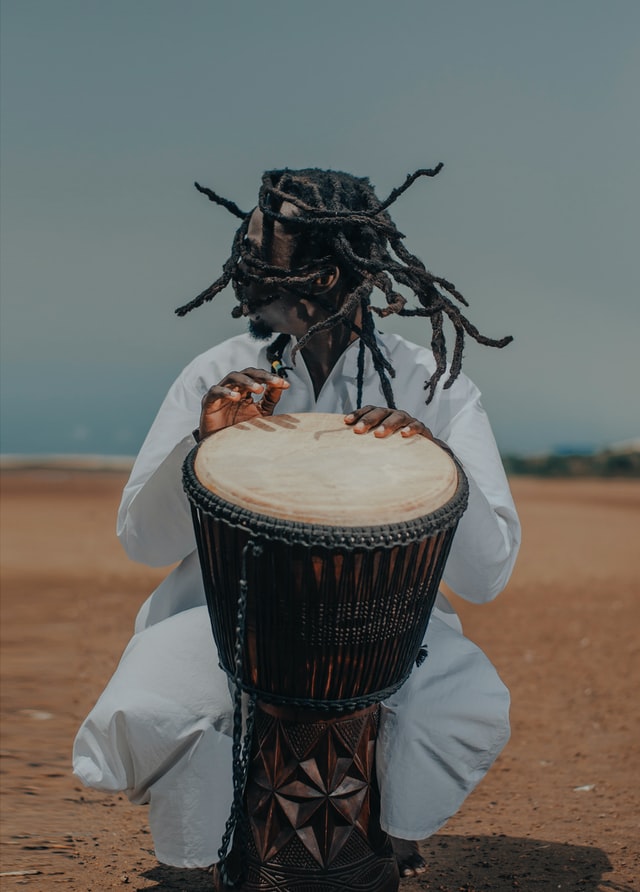 The African djembe drum has in the past few decades enjoyed a startling explosion of interest worldwide. With roots in Guinea, drummers have fanned out worldwide and are now bringing students back to experience the culture first hand
Aux rythmes du djembé
Le début des années 90 a vu une véritable explosion du djembé dans le paysage musical international. Après avoir été dispersés dans le monde, ces percussionnistes originaires de Guinée sont rentrés au pays et ils invitent aujourd'hui de nombreux adeptes à renouer avec leur culture d'origine
Guinea, with its lofty mountains, high plateau and varied tropical climate regions, has recently earned a new reputation. Students of African drumming the world over are now visiting the capital city Conakry and destinations throughout the country to experience the culture first hand and to learn to play the djembe, now the most widespread African drum in the world. And Guinea is not alone. Senegal and The Gambia are also major drumming destinations, each with its own unique offerings. With dozens of traditional djembe CD recordings released on the international market and the instrument making its way into rock bands and drumming circles around the world, one might well ask, 'What is the djembe and how did it get so popular?'
Paysage montagneux, de hauts plateaux et au climat tempéré la Guinée s'est forgée récemment une nouvelle réputation. De nombreux étudiants en percussions du monde entier viennent visiter la capitale Conakry pour s'initier à la culture du pays et pour apprendre à jouer l'instrument à percussion le plus répandu dans le monde: le djembé. Mais la Guinée n'est pas la seule destination pour les passionnés de rythmes africains, le Sénégal, et la Gambie offrent aussi leur son unique en la matière.
Avec plus d'une douzaine d'enregistrements CD de djembés traditionnels vendus dans le monde et suite à sa récente apparition dans des groupes de rocks et autres formations de percussionnistes, on peut se demander d'où vient cet engouement pour cet instrument?
The djembe is a hand-crafted, goblet-shaped drum traditionally made from wood with animal skin (typically goat's) stretched over the top and secured in place with rope. Each djembe channels the spirits of the tree used to make the drum, the animal whose skin was used for the drum head, the instrument maker and the player. Played with bare hands to produce different rhythms and beats that traditionally accompany celebrations and dancing, it is primarily associated with the Maninka, Susu and Bamana peoples of Guinea and Mali. Maninka migrations have since dispersed the djembe into neighbouring countries, from Senegal in the west to Burkina Faso in the east and Côte d'Ivoire in the south. Nowadays, djembe ensembles can often be heard on the streets of capital cities across West Africa for Sunday marriage celebrations.
The djembe is also featured in professional African ballets. With the end of the colonial era in the late 1950s and early '60s, newly independent governments organised drum and dance troupes as part of their project to forge new national identities based on local culture. The national ballet of Guinea, known as Les Ballets Africains, was the first of its kind and remains the most renowned in Africa. Its world tours, beginning in the 1950s, helped spread the word.
Le djembé est un tambour de bois en forme de calice recouvert d'une peau de chèvre tendue par des tressages de cordes. Chaque djembé canalise plusieurs esprits: celui de l'arbre dans lequel on taille le tambour, de l'animal dont on utilise la peau pour le sommet de la cuve, du créateur de l'instrument et enfin, l'esprit du musicien. Joué a mains nues il produit un son et un rythme qui accompagnaient les événements de la vie des sociétés agraires de Guinée et du Mali, principalement représentées par les Maninka, les Susu et les Bamana. Avec les migrations des Maninka, le djembé s'est propagé dans les pays voisins, du Sénégal (ouest) au Burkina Faso (est), et jusqu'à la Côte d'Ivoire (sud). De nos jours, le djembé résonne dans la plupart des rues des capitales africaines, principalement pour les cérémonies de mariage du dimanche.
Les années 60 annoncent l'indépendance des pays africains, les ballets nationaux se forment avec les nouveaux gouvernements indépendants qui veulent forger une nouvelle identité nationale basée sur les cultures locales. Le ballet national de Guinée, plus connu sous le nom Les Ballets Africains, a été l'un des pionniers, et il reste aujourd'hui parmi les plus renommés en Afrique. Leur première tournée mondiale débuta à la fin des années 50 ce qui a aidé à la reconnaissances de ces formations.
Djembe tips
If you're visiting Dakar, Conakry or Banjul, ask local contacts about marriage or other celebrations taking place on Sundays to witness local drumming troupes. Alternatively, in Conakry or Dakar check to see if you can catch a national ballet concert (visit lesballetsafricains. com for more information).
Those interested in learning more about the djembe drum as well as the history and culture of Guinea should visit Conakry National Museum.
Infos Djembé
Si vous visitez Dakar, Conakry, ou Banjul vous pouvez voir des ensembles de percussions en assistant aux célébrations et mariages locaux, demandez autour de vous. A Conakry et Dakar vous aurez peut-être l'occasion d'assister à une représentation du ballet national (visitez leur site lesballetsafricains.com). Pour en savoir plus sur les tambours Djembé ainsi que sur la culture et l'histoire de la Guinée, nous vous recommandons la visite du Musée National de Conakry.
But it was a second national ballet in Guinea, called Ballets Djoliba (established in 1965), that would nurture a superstar in the djembe world: Mamady Keita. After playing with the Conakry-based ballet from its inception for over 20 years, Keita moved first to Abidjan (Côte d'Ivoire) and then Brussels in the late 1980s, where he lived (until recently) and opened up a school – Tam Tam Mandingue (there are now branches in Europe, the USA and Japan). He has since recorded nine CDs for the Belgian Fonti Musicali label and published a book – A Life for the Djembe – as well as instructional DVDs. He also runs drumming workshops in countries the world over including his homeland Guinea.
Mamady is one of a handful of drummers who return to their homeland with international students and these transnational migration networks of drummers have stimulated local African economies in a number of ways. Demand for Senegalese and Guinean djembes has given rise to a new export industry, although the impact on local ecosystems may turn out to be quite damaging if not properly managed. What's more, youngsters see professional drumming in a new light, with promises of international travel and new economic opportunities. The success of Mamady Keita's schools combined with the general interest in hand drumming in the northern hemisphere has opened up a new cultural tourism industry that Guinea could not have anticipated a few decades ago.
Ce n'est qu'avec le second ballet national de Guinée, Ballets Djoliba (fondé en 1965), que le monde du djembé aura sa superstar: Mamady Keita. Apres avoir joué avec la troupe de ballets basée a Conakry pendant plus de 20 ans, Keita s'installe à Abidjan (Côte d'Ivoire), puis à Bruxelles à la fin des années 80. C'est dans cette ville qu'il ouvre une école – Tam Tam Mandingue (qui aujourd'hui a des établissements en Europe, aux USA et au Japon). Il a depuis enregistré neuf CD sous le label belge Fonti Musicali, et a aussi publié un livre (A Life for the Djembe), ainsi que plusieurs DVD éducatifs. Il dirige des ateliers de percussions dans plusieurs pays ainsi que dans son pays d'origine, la Guinée. Mamady fait partie des quelques percussionnistes qui retournent dans leur pays natal en ramenant avec eux des étudiants étrangers, et ce réseau de percussionnistes migrants stimule considérablement le secteur économique local.
On enregistre une grande demande pour les djembés sénégalais et guinéens, ce qui favorise une nouvelle industrie pour l'exportation. La hausse de la demande pourrait cependant avoir des conséquences néfastes sur l'écosystème, si des contrôles ne sont pas mis en place. Les jeunes voient cette professionnalisation comme une opportunité financière, qui peut en outre les faire voyager. Le succès des écoles de Mamady Keita associé à l'intérêt que porte l'occident aux percussions a ouvert les portes au tourisme culturel, une industrie que la Guinée n'aurait pu envisager il y a quelques années
Op het ritme van de djembé
Guinee, dat de reputatie heeft een prachtig land te zijn, krijgt nu interesse vanuit een heel andere hoek. Student-muzikanten bezoeken de hoofstad Conakry alsook andere steden in het land om er op de djembé te leren spelen. De djembé is een houten bekervormige trom waarop dierenvellen worden bevestigd. Tijdens traditionele feesten wordt hij in heel Guinee met de blote hand aangeslagen. In de jaren '50 en '60 werd de djembé ook gebruikt door post-koloniale trommel- en dansgroepen. Vanaf de oprichting van de eerste Guinese balletgroep, Les Ballets Africains wordt hij ook in professioneel ballet gebruikt. Maar het was de balletgroep "Ballets Djoliba" die de eerste djembé-ster Mamady Keita ontdekte. Mamady speelde en toerde 20 jaar lang internationaal met de groep, voordat hij naar Brussel verhuisde. Uiteindelijk ging hij naar Amerika waar hij zijn trommelschool "Tam Tam Mandingue" opende. Hij heeft in verschillende landen djembéles gegeven, een boek geschreven, en verscheidene DVD's met djembélessen geproduceerd.
Mamady en andere internationale djembémuzikanten hebben voor Guinee een nieuwe waardevolle exportindustrie gecreëerd. Dit succes heeft deuren geopend voor jonge spelers: ze hebben de kans gekregen te reizen en hun brood te verdienen. Dit heeft gezorgd voor een nieuwe culturele toeristische industrie.
Bezoekers aan Guinee kunnen de djembé horen op plaatselijke trouwfeesten, tijdens zondagsvieringen en in het nationale ballet. Ze kunnen ook meer te weten komen over de geschiedenis van Guinee en zijn djembé in het nationaal museum van Conakry.