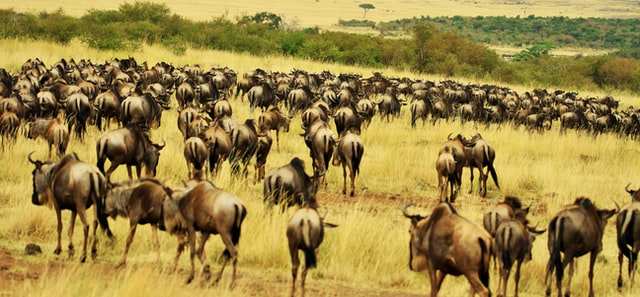 ARE WE THERE YET?
On the plane you're part of a migration, of sorts, like the wildebeest on the plains of Africa. Their remarkable journey takes them from the southern Serengeti in Tanzania to the Masaai Mara in Kenya and back again – one of the largest and most spectacular migrations in the world.
SOMMES-NOUS BIENTÔT ARRIVÉS?
Dans l'avion, vous faites en quelque sorte partie de la migration, tout comme les animaux sauvages des plaines de l'Afrique. Ce voyage remarquable les emmène des plaines du sud du Serengeti en Tanzanie jusqu'au Masaai Mara, au Kenya, et retour – l'une des plus grandes et spectaculaires migrations du monde.
ZIJN WE ER AL?
Reizen als vliegtuigpassagier doet een beetje denken aan "de grote trek" van de gnoes op de Afrikaanse steppen. Hun opmerkelijke tocht gaat van de vlakten van de zuidelijke Serengeti in Tanzania naar de Masaai Mara in Kenia en terug. Het is een van de grootste en meest spectaculaire migraties ter wereld.