BELGIUM IN WINTER: WHAT TO DO
When the temperatures drop and spring seems far off, there are plenty of fun places in Belgium to beat the winter blues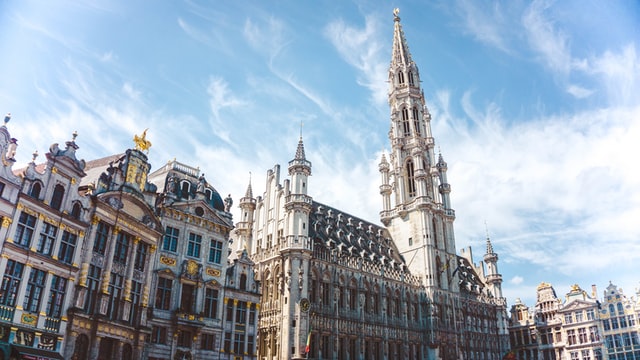 BED DOWN
The Dominican Hotel
9 Rue Léopold, Brussels
It's not every day that a new hotel opens in Brussels, but the Dominican, part of the Carlton Hotel Collection, is an exception. Steps from the magnificent Grand'Place and La Monnaie opera house, the location couldn't be better. There are 150 rooms and suites surrounding a courtyard that makes you feel like you're miles away from the city. There's also a health and fitness centre, complete with sauna and Turkish steam bath.
Hotel Le Dixseptième
25 Rue de la Madeleine, Brussels
Treat yourself to the luxurious surroundings of Hotel Le Dixseptième, which was the residence of the Spanish ambassador in the 17th century. Ideally situated between Grand'Place and the Gare Centrale (Central Station), it puts you at the heart of everything. At the end of the day, rest your weary legs in one of the splendid rooms, some of which have terraces. Prices start at €200 for a double room.
Martin's Brugge
5 Oude Burg, Bruges
For location in magical Bruges, you can't beat Martin's Brugge – a modern hotel located right behind the famous Belfry. Recently renovated, and featuring on-site parking facilities, the hotel offers 150 comfy rooms at affordable prices (doubles start at €90). You won't go hungry at the breakfast buffet, either.
EATING OUT
Heliport Restaurant
37z Boulevard Frère Orban, Liège
Located next to a heliport on the River Meuse in Belgium's third-largest city, Heliport Restaurant is a temple of fine cuisine opened a few years ago by Frédéric Salpetier and Emmanuel Nava. The menu, which chef Salpetier changes about every two months, offers delights such as scallops with foie gras and Bintje potatoes, and a deliciously decadent tarte tatin with caramel cream and vanilla ice cream.
Resource
164 Rue du Midi, Brussels
For a unique dining experience in the centre of Brussels try Resource, a trendy yet laid-back eatery run by Christian Baby Yumbi, a Congolese native recognised as one of Belgium's top young chefs, and his wife, Sarah Alewaters. Like Spain's El Bulli, Resource specialises in 'slow food', often cooked at low temperatures. Order a tasting menu (including an eight-course option for €65 per person) and surprise your taste buds.
Le Poulbot de Bruxelles
29 rue de la Croix de Fer, Brussels
Located near the Belgian parliament, Le Poulbot de Bruxelles is a charming little restaurant great for business lunches or evening dates. Named after street urchins in the Montmartre area of Paris, Le Poulbot features a vast array of original dishes all beautifully presented by chef-owner Simon Saïdi. The lobster cannelloni is a favorite.
Ostend Queen
Kursaal Oostende, Ostend
Seafood fans will be in heaven at Ostend Queen, an elegant eatery located in Ostend's Kursaal (casino), right on the North Sea coast. The brainchild of Pierre Wynants (Comme Chez Soi in Brussels) and Wim Vandamme, the menu includes an impressive selection of fish including many local specialities, as well as veggie and meat
A GLASS OR TWO
Café Belga
Place Eugène Flagey, Brussels
Café Belga is a mellow place to see and be seen, open every day until the early hours and located in Brussels' art deco Flagey cultural centre (formerly Maison de la Radio). Sip a fruit juice, Trappist beer or the unusual violet-accented house aperitif and soak up the atmosphere. There's often live music at weekends.
Brasserie de Bouillon
76 Rue de la Girafe, Sensenruth-Bouillon
Beer fanatics shouldn't miss the chance to visit Brasserie de Bouillon, a microbrewery and tavern-restaurant run by Jacques Pougin and Nathalie Louis in Bouillon, a small town in southern Belgium. Pougin is a self-taught brewer who learnt the trade by experimenting. He whips up all sorts of concoctions, from classic wheat and dark beers to special brews for each season – stay a while and warm up with a bowl of beer soup.
Café du Vaudeville
11 Galerie de la Reine, Brussels
On a cold winter's day, the best place in Brussels for a steaming cup of hot chocolate is Café du Vaudeville, located in the lovely Galeries Saint-Hubert shopping arcade. You even get to mix the beans with hot steamed milk yourself. It's an ideal place for a pre-dinner aperitif, offering a decent selection of wines by the glass. Stay for dinner – there's a vast array of fish and pasta dishes, as well as lighter fare.
DON'T MISS
Event listings for January and February
Exhibitions
Until 13 January
Ghent's Museum of Fine Arts celebrates its reopening with British Vision, an imaginative look at two centuries of British art from 1750 to 1950. Museum voor Schone Kunsten, Citadelpark, Ghent www.mskgent.be
12 February – 8 June
The Comic Strip Museum hosts an exhibition about the famous Spirou Journal, a pioneer on the European comic scene. Centre Belge de la Bande Dessinée www.cbbd.be
Festivals
3-5 February
Carnaval de Binche, the town of Binche's annual pre-Lent festival (on UNESCO's heritage list, no less), is not to be missed. 
14-17 February
Culture vultures will relish the Kulturama festival, a four-day extravaganza of film, theatre, new media and musical offerings at venues across Leuven.
Film
1-9 February
Escape the winter blues at the Anima animated film festival in the land that gave the world Tintin and the Smurfs. Flagey Centre, Place Sainte-Croix
Opera
12-17 January
Dido & Aenaes is a moving and original story by English Baroque composer Henry Purcell. La Monnaie, Place de le Monnaie, Brussels
Rock
14 February
Celebrate St Valentine's Day in style at the One Night of Queen concert. Cirque Royal, 81 Rue de l'Enseignement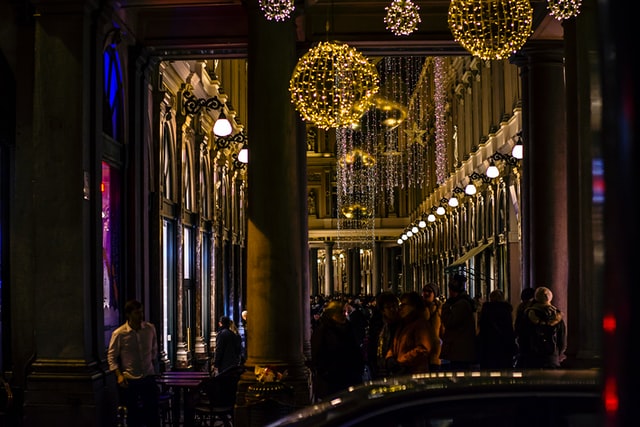 PARCOURS BELGE
Lorsque la température descend et que le printemps paraît loin, on trouve en Belgique une kyrielle d'endroits pour s'amuser, histoire de dissiper le blues hivernal
UN LIT DOUILLET
The Dominican Hotel
9 Rue Léopold, Bruxelles
Ce n'est pas tous les jours qu'un nouvel hôtel s'ouvre à Bruxelles, et le Dominican, qui fait partie de la chaîne des Hôtels Carlton, est en outre une exception. A quelques pas de la magnifique Grand'Place et de l'opéra de La Monnaie, l'établissement ne pouvait être mieux placé. Il dispose de 150 chambres et de suites entourant une cour intérieure qui vous transpose dans un autre espace, à des lieues de la ville. A signaler également : un centre de santé et de fitness, avec sauna et bains de vapeurs turcs.
Hotel Le Dixseptième
25 Rue de la Madeleine, Bruxelles
Réservez-vous un séjour grand luxe à l'hôtel Le Dixseptième, autrefois la résidence de l'ambassadeur d'Espagne au 17e siècle. Idéalement situé entre la Grand'Place et la Gare Centrale de Bruxelles, vous vous retrouvez au centre de tout. A la fin de la journée, reposez vos pieds fatigués dans les splendides chambres, dont certaines avec terrasse. Les prix démarrent à €200 pour une chambre double.
Martin's Brugge
5 Oude Burg, Bruges
Dans la Bruges magique, aucun endroit ne surpasse le Martin's Brugge – un hôtel moderne situé juste à l'arrière du fameux Beffroi. Récemment rénové, avec un parking sur le site, l'hôtel offre 150 chambres tout confort à des prix abordables (double à partir de €90). Et le petit-déjeuner buffet ne vous laissera pas sur votre faim.
UN VERRE OU DEUX
Café Belga
Place Eugène Flagey, Bruxelles
Le Café Belga est un endroit agréable à voir et où être vu, ouvert chaque jour jusqu'aux petites heures et situé dans le centre culturel art déco Flagey, à Bruxelles (anciennement la maison de la radio). Dégustez un jus de fruit, une bière Trappiste ou l'insolite apéritif maison aux touches de violette et baignez-vous dans l'atmosphère – la plupart des clients y restent des heures durant. Souvent, on y joue de la musique live les week-ends.
Brasserie de Bouillon
76 Rue de la Girafe, Sensenruth-Bouillon
Les fans de bières ne devraient pas rater l'occasion unique de visiter la Brasserie de Bouillon, à la fois une micro-brasserie et une taverne-restaurant gérée par Jacques Pougin et Nathalie Louis à Bouillon, une petite ville du Sud de la Belgique. Pougin est un brasseur autodidacte qui a appris le métier en expérimentant. Il essaie toutes sortes de concoctions, depuis les bières classiques de houblon et foncées jusqu'aux spéciales, différentes à chaque saison. Installez-vous et réchauffez-vous avec un bol de soupe à la bière…
Café du Vaudeville
11 Galerie de la Reine, Bruxelles
Lors d'une froide journée d'hiver, le meilleur endroit à Bruxelles pour un chocolat chaud fumant est le Café du Vaudeville, dans les superbes Galeries commerçantes Saint-Hubert. Vous pouvez même mélanger les graines vous-même avec du lait chaud. Idéal pour un apéritif avant le dîner, le Vaudeville offre une bonne sélection de vins au verre. Restez pour dîner – vous trouverez un vaste choix de plats de poisson et de pâtes, ainsi que des tarifs légers.
A NE PAS RATER
Le calendrier des mois de janvier et de février
Expositions
Jusqu'au 13 janvier
Le Musée des Beaux-Arts de Gand célèbre sa réouverture avec British Vision, un regard imaginatif sur deux siècles d'art britannique de 1750 à 1950. Museum voor Schone Kunsten, Citadelpark, Gand
12 février – 8 juin
Le Musée de la Bande Dessinée accueille une exposition sur le fameux Journal Spirou, un pionnier de la scène européenne de la bande dessinée. Centre Belge de la Bande Dessinée, 20 Rue des Sables
Festivals
3-5 février
Le Carnaval de Binche, ce festival annuel de pré-printemps organisé par la ville de Binche (sur la liste du patrimoine immatériel de l'UNESCO, pas moins), n'est à manquer sous aucun prétexte.
14-17 février
Les passionnés de culture apprécieront le festival Kulturama, une débauche de quatre jours de films, de théâtre, de nouveaux media et de concerts, dans de nombreuses salles de spectacle de Louvain. 
Film
1-9 février
Fuyez le blues de l'hiver au festival du film d'animation, Anima 2008, dans le pays qui a donné au monde Tintin et les Schtroumpfs. Flagey Centre, Place Sainte-Croix
Opéra
12-17 janvier
Dido & Aenaes est une histoire émouvante et originale du compositeur anglais baroque Henry Purcell. La Monnaie, Place de le Monnaie, Bruxelles.
Rock
14 février
Célébrez la St Valentin avec panache au concert One Night of Queen. Cirque Royal, 81 Rue de l'Enseignement
OÙ MANGER
Heliport Restaurant
37z Boulevard Frère Orban, Liège
A côté d'un héliport sur la Meuse dans la troisième plus grande ville de Belgique, le Restaurant Heliport est un temple de la fine cuisine, ouvert il y a quelques années par Frédéric Salpetier et Emmanuel Nava. Le menu, que le chef Salpetier change environ tous les deux mois, offre des délices comme les coquilles Saint-Jacques au foie gras accompagnées de pommes de terre Bintje, et une délicieuse opulente tarte tatin à la crème caramel avec une boule de glace vanille.
Resource
164 Rue du Midi, Bruxelles
A la recherche d'un endroit unique pour dîner dans le centre de Bruxelles? Essayez Resource, un établissement stylé mais toutefois informel tenu par Christian Baby Yumbi, d'origine congolaise, et sa femme Sarah Alewaters. Il est reconnu aujourd'hui comme l'un des jeunes chefs les plus prometteurs de Belgique. A l'instar de l'espagnol El Bulli, Resource se spécialise dans le 'slow food', avec des mets souvent cuits à basse température. Commandez le savoureux menu (qui comprend une option de huit plats pour €65 par personne) et surprenez vos papilles.
Le Poulbot de Bruxelles
29 rue de la Croix de Fer, Bruxelles
Situé non loin du Parlement belge, Le Poulbot de Bruxelles est un charmant petit restaurant indiqué pour les lunchs d'affaires ou les rendez-vous du soir. Le Poulbot, qui doit son nom aux gamins des rues dans le quartier Montmartre à Paris, propose une large panoplie de plats originaux et magnifiquement présentés par le chef et propriétaire Simon Saïdi. Le nec plus ultra : les cannelloni au homard.
Ostend Queen
Kursaal Oostende, Ostende
Les amateurs de fruits de mer seront aux anges à l'Ostend Queen, un établissement élégant situé dans le Kursaal d'Ostende (casino), le long même de la côte de la Mer du Nord. Sur une idée originale de Pierre Wynants (Comme Chez Soi à Bruxelles) et de Wim Vandamme, le menu comprend une impressionnante sélection de poissons, des spécialités locales ainsi que des plats végétariens et des viandes en option.