Knowledge is Power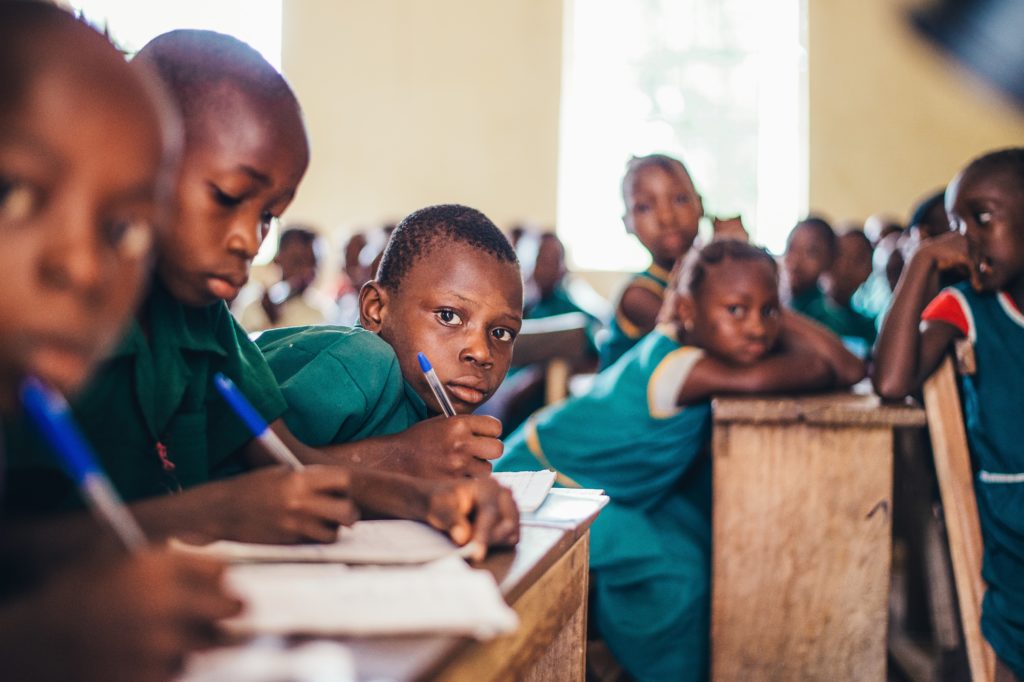 As educational initiatives spring up all over Africa, Daniel Kalinaki looks at the impact they are having and what they still have to achieve
It's a bright Monday morning in Busia, eastern Uganda, and Philemon Ouma is on his way to school. Although the 15-year-old is only in primary four, Philemon is happy to have the opportunity to sit in a classroom. Two of his three older brothers dropped out of school in primary two due to lack of school fees. The third never went at all.
At least 72 million children of primary school age in the developing world do not attend school. In several African countries more than half of the children who begin primary school will not finish it. There are several possible reasons for this, most of them poverty related.
In many cases, parents are too poor to afford the school fees, even though they can be as low as €7 per term. Even where school fees have been abolished, there is still the cost of books, pens, transport and clothes. In countries where millions live on less than a Euro a day, there is no incentive – and no money – to keep children in school.
The AIDS pandemic, which has undermined social structures in much of sub-Saharan Africa by claiming the lives of parents and leaving orphaned children to fend for themselves and their siblings, is also to blame. Francois Ndikumana, 16, who was born in Butare, southern Rwanda, dropped out of school five years ago to look after himself and his two brothers after his parents succumbed to AIDS-related illness. He moved to the capital, Kigali, where he ekes out a living working in motor vehicle garages.
In other parts of the continent children, particularly girls, are taken out of school and forced to marry early by parents eager to collect a dowry from well-to-do suitors. According to information from the charity African Network for the Prevention and Protection against Child Abuse and Neglect (ANPPCAN), children are also taken out of school to work in family gardens and businesses.
However, over the past decade governments across subSaharan Africa have moved to try and get more children into school by rolling out free universal primary education (UPE). The results have often been dramatic. Uganda was one of the first countries in the region to implement UPE, in 1997. It saw primary school enrollment jump from around 2.7m children to over 7m – including Philemon – within a couple of years.
Other countries – such as Kenya, Tanzania, Zambia, Rwanda and Cape Verde – have followed suit, with similarly dramatic increases in enrolment. Similar results have been noted across the continent in countries like Cameroon, Lesotho, Ethiopia and Eritrea. There are also more children going to school in African countries emerging from war, including Congo, Guinea-Bissau, Sierra Leone and Liberia.
Scrapping school fees has also allowed more girls to go to school and to stay there longer. For instance, a 2007 report from UNESCO showed that the gender ratio of boys to girls in Kenyan schools had, by 2003, narrowed to within two percentage points soon after the introduction of UPE. This is important because, according to the World Bank, there are 83 girls for every 100 boys in school in sub-Saharan Africa. Educating girls prevents early pregnancy and empowers them against gender based discrimination.
Getting children into school and keeping them there is generally believed to be at the heart of development efforts in the least developed countries of the world. Education and literacy equip people with the skills to earn a living and the knowledge and decision-making abilities required to give them more control over their lives, especially in the case of girls and especially in making personal decisions, for instance in HIV prevention.
It is also generally believed that educated electorates make better political decisions and are better positioned to hold their rulers accountable. This can help deepen democracy and the rule of law in the developing world.
Despite these gains, massive challenges remain. According to the Addis Ababa-based United Nations Economic Commission for Africa, only four African countries – Botswana, Egypt, Algeria and Tunisia – are on course to meet the Millennium Development Goal of achieving universal primary education by 2015.
Quality has not matched quantity. According to a 2004 report from the World Bank, almost one in five primary school pupils were repeaters and only three out of four pupils reached Grade 5 of the primary cycle. Even countries that have high primary enrollment do not maintain critical mass at higher levels. Egypt, which has almost 100% primary school enrollment, has less than 50% enrollment in secondary school.
In many countries, the increase in pupil numbers has not been matched by an increase in the number of teachers or teaching facilities. The result in many areas is that children attend classes under trees or have to walk several kilometres to the nearest school. Laboratories are unheard of in most schools and learning remains rudimentary.
Nevertheless, various efforts are being made to try to help African children jump the 'digital chasm' that separates them from their counterparts in the developed world. The One Laptop Per Child initiative, a non-profit organisation dreamed up by faculty members of the Massachusetts Institute of Technology's Media Lab, seeks to develop a basic but rugged laptop costing about $100 (€65) for children in the developing world.
The idea is to ensure that "all school-aged children in the developing world are able to engage effectively with their own personal laptop, networked to the world, so that they, their families and their communities can openly learn and learn about learning." Production started in November of last year and a pilot scheme for the project has been rolled out in Uruguay, Peru, Rwanda, and Maharashtra in India, where governments have signed up to buy the laptops in bulk. Other countries are expected to follow suit.
While the impact of this initiative won't be known for years yet, children like Philemon are happy to have the chance of an education now. "I want to be a doctor when I grow up so that I can treat people in my village," he says. "If not, then I want to become a pilot so that I can make money and fly all over the world."
His ambitions are certainly lofty, but it is clear that an education, however basic, offers Philemon – and others like him across the developing world – a chance to make his dreams come true.
Le pouvoir du savoir
Tandis que les initiatives en matière d'éducation fleurissent un peu partout en Afrique, Daniel Kalianaki analyse leur impact et évalue le chemin qu'il reste encore à parcourir
C'est un de ces lundis lumineux à Busia, dans l'est de l'Ouganda, et Philemon Ouma est sur le chemin de l'école. Philimon a 15 ans et même s'il est seulement en quatrième primaire, il est heureux d'avoir la chance d'être assis sur les bancs de l'école. Deux de ses trois frères aînés ont quitté l'école très tôt faute de moyens financiers et le troisième n'y est jamais allé.
Environ 72 millions d'enfants en âge de fréquenter l'école dans les pays en développement ne sont pas scolarisés. Dans certains pays d'Afrique, plus de la moitié des enfants qui commencent l'école primaire ne la termineront pas. Plusieurs raisons peuvent expliquer cette situation, la plupart du temps dues à la pauvreté.
Dans de nombreux cas, les parents sont trop pauvres pour faire face aux frais, même si souvent ils ne dépassent €7 par terme. Et là où les frais d'inscription ont été abolis, il reste encore les coûts des livres, des crayons, des transports et des vêtements. Dans les pays où des millions de gens vivent avec moins d'un Euro par jour, il n'y a pas de réelle motivation, ni d'argent, pour envoyer les enfants à l'école.
On blâmera aussi la pandémie de SIDA, qui a miné les structures sociales dans une grande partie de l'Afrique subsaharienne, ôtant la vie aux parents et laissant derrière eux des orphelins, livrés à eux-mêmes et à leurs proches. Francois Ndikumana, 16 ans, né à Butare, dans le sud du Rwanda, a quitté l'école, il y a cinq ans, pour s'occuper de ses frères et de lui-même, après le décès de ses parents d'une maladie connexe au SIDA. Il s'est installé dans la capitale, Kigali, où il gagne sa vie en travaillant dans des garages.
Dans d'autres régions du continent, des enfants, et plus particulièrement des filles, sont retirés de l'école, forcés à se marier par des parents intéressés par la dot de soupirants fortunés. Selon des informations de l'association caritative African Network for the Prevention and Protection against Child Abuse and Neglect (ANPPCAN), des enfants sont également retirés de l'école pour travailler dans des jardins et des affaires familiales.
Toutefois, cette dernière décennie, les gouvernements d'Afrique subsaharienne ont pris les devants pour tenter d'augmenter la fréquentation des écoles, en garantissant le principe universel de la gratuité pour l'éducation primaire (UPE). Cette situation n'a pas été sans conséquence. L'Ouganda, l'un des premiers pays dans la région à mettre en place ce principe de gratuité en 1997, a vu la fréquentation dans l'enseignement primaire grimper de près de 2, 7m à 7m d'enfants – dont Philemon – en l'espace de quelques années.
D'autres pays comme le Kenya, la Tanzanie, la Zambie, le Rwanda et le Cap Vert ont suivi l'exemple, avec à leur tour d'importantes augmentations de leurs inscriptions. Des résultats similaires ont été enregistrés sur tout le continent, au Cameroun notamment, au Lesotho, en Ethiopie et en Erythrée. On note également un plus grand nombre d'enfants fréquentant l'école dans les pays africains qui sortent de la guerre, comme le Congo, la Guinée-Bissau, la Sierra Leone et le Libéria.
L'abandon des coûts d'inscription a également permis à une plus grande proportion de filles de fréquenter l'école et d'y rester plus longtemps. Un rapport de 2007 de l'UNESCO a montré que l'écart dans les écoles du Kenya entre les garçons et les filles, en termes de pourcentage, s'est réduit en 2003 de deux points, directement après l'introduction de la gratuité de la scolarité. Cette donnée est importante car selon la Banque mondiale, il y aurait 83 filles pour 100 garçons dans les écoles de l'Afrique subsaharienne. L'éducation des filles permet d'éviter les grossesses précoces et leur donne plus de pouvoir pour lutter contre la discrimination sexuelle.
On estime bien souvent que c'est dans la scolarisation des enfants à long terme que réside la clé des efforts de développement, dans les pays défavorisés. L'éducation et l'alphabétisation procurent aux individus les compétences nécessaires pour gagner leur vie, ainsi que la connaissance et le pouvoir de décision avec en corollaire un plus grand de contrôle sur leur vie – surtout chez les filles – par exemple, dans la prévention contre le virus HIV.
Un électorat éduqué prend également des décisions politiques plus éclairées et est certainement mieux armé pour demander des comptes à ses dirigeants. Cela peut aider à approfondir les bases de la démocratie et la force de la loi dans le monde en développement.
Malgré toutes ces avancées, d'énormes défis restent à relever. D'après la Commission économique des Nations Unies pour l'Afrique basée à Addis Ababa, seuls quatre pays africains – le Botswana, l'Egypte, l'Algérie et la Tunisie – sont dans la course pour rencontrer les Objectifs de développement du Millénaire, en matière d'éducation primaire universelle d'ici 2015.
Autre problème à soulever : la qualité ne suit pas toujours la quantité. Selon un rapport de 2004 de la Banque Mondiale, près d'un élève sur cinq dans le degré primaire redouble et un sur quatre atteint la cinquième année du cycle élémentaire. Même les pays qui enregistrent une importante fréquentation ne parviennent pas à maintenir une masse suffisante dans les niveaux plus élevés. L'Egypte, où le taux de fréquentation dans le primaire atteint 100%, connaît des taux de 50% de fréquentation seulement dans l'enseignement secondaire.
En outre, dans de nombreux pays, l'augmentation du nombre de professeurs ou d'infrastructures scolaires n'a pas suivi celle des élèves. Il n'est pas rare de ce fait que dans certaines régions, les enfants suivent la classe sous les arbres ou marchent plusieurs kilomètres pour rejoindre l'école la plus proche. Bien souvent, on n'y a jamais entendu parler de laboratoire et la matière y reste rudimentaire.
De nombreux efforts cependant sont entrepris pour aider les enfants africains à passer le cap du 'chiasme digital', qui les sépare de leurs semblables des pays riches. L'initiative One Laptop Per Child (un ordinateur par enfant) est une organisation sans but lucratif mise sur pied par des membres du Media Lab du Massachusetts Institute of Technology, dans le but de développer un ordinateur portable, basique mais robuste, pour un coût tournant autour de $100 (€65) pour les enfants des pays en développement.
L'idée est d'assurer que tous les enfants en âge de scolarité des pays en développement puissent réellement "disposer de leur propre ordinateur portable, se connecter au monde de telle sorte que leurs familles et leurs communautés puissent étudier en réseau et aborder les questions d'apprentissage. " La production a démarré en novembre de l'année dernière et un projet pilote a été lancé en Uruguay, au Pérou, au Rwanda, et à Maharashtra en Inde, où les gouvernements ont signé pour l'achat de portables en masse. On s'attend à ce que d'autres pays suivent.
Il faudra attendre des années pour évaluer l'impact de ces initiatives, mais cela n'empêche que des enfants comme Philemon sont heureux d'avoir la chance de recevoir une éducation aujourd'hui. "Je veux devenir médecin quand je serai grand pour pouvoir soigner les gens de mon village," dit-il. "Si pas, je voudrais alors devenir pilote, ainsi je gagnerai de l'argent et je pourrai parcourir le monde entier."
Il a de grandes ambitions, mais il est clair qu'une éducation même basique, offre à Philemon – et à tous ses semblables dans le monde en développement – une chance de transformer ses rêves en réalité.
Kennis is macht
Hoewel de 15-jarige Philemon Ouma uit Oeganda nog maar in het vierde leerjaar zit, is hij toch blij dat hij naar school kan. Twee van zijn drie oudere broers verlieten de school in het tweede leerjaar bij gebrek aan schoolgeld. De derde is zelfs nooit op school geraakt.
In de ontwikkelingslanden blijft onderwijs een droom voor minstens 72 miljoen kinderen van lagereschoolleeftijd. En zij die toch gaan, verlaten de school vaak voortijdig. Hoewel daar tal van redenen voor zijn, hebben de meeste met armoede te maken. In subsaharisch Afrika, waar miljoenen moeten rondkomen met minder dan één euro per dag, bestaat er geen stimulans noch geld om kinderen op school te houden. Ook de aidspandemie, die het leven van vele ouders heeft opgeëist en weeskinderen heeft achtergelaten die nu voor zichzelf en hun broertjes of zusjes moeten zorgen, wordt met de vinger gewezen.
De subsaharische Afrikaanse regeringen spannen zich echter in om meer kinderen naar de schoolbanken te sturen via gratis UPEprogramma's (Universal Primary Education). De resultaten van de voorbije tien jaar waren vaak indrukwekkend. Sinds Oeganda UPE in 1997 invoerde, steeg het aantal inschrijvingen in de lagere school van zo'n 2,7 miljoen tot 7 miljoen kinderen. Naburige landen mochten gelijkaardige resultaten optekenen, hoewel de meeste nog een heel eind hebben af te leggen naar de Millennium Development Goal voor het universele lagereschoolonderwijs tegen 2015. Slechts vier Afrikaanse landen – Botswana, Egypte, Algerije en Tunesië – zijn goed op weg om dit einddoel te realiseren.
Kinderen op school krijgen en houden is doorgaans de grootste zorg in ontwikkelingswerk. Onderwijs en alfabetisme geven mensen de instrumenten om de kost te verdienen, en de kennis en het beslissingsvermogen die ze nodig hebben om hun leven in eigen handen te nemen. Dat geldt in het bijzonder voor meisjes en voor het maken van persoonlijke keuzes, bijvoorbeeld wat hiv-preventie betreft.
Toch zijn de uitdagingen nog torenhoog. In veel landen steeg het aantal leerkrachten of leslokalen niet evenredig met het aantal nieuwe leerlingen. En dat komt de kwaliteit van het onderwijs niet ten goede…
Philemon droomt ervan dokter of piloot te worden. Een basisopleiding geeft hem de kans zijn dromen waar te maken, hoe ambitieus ook!