West African women's choir and the latest luxury lodges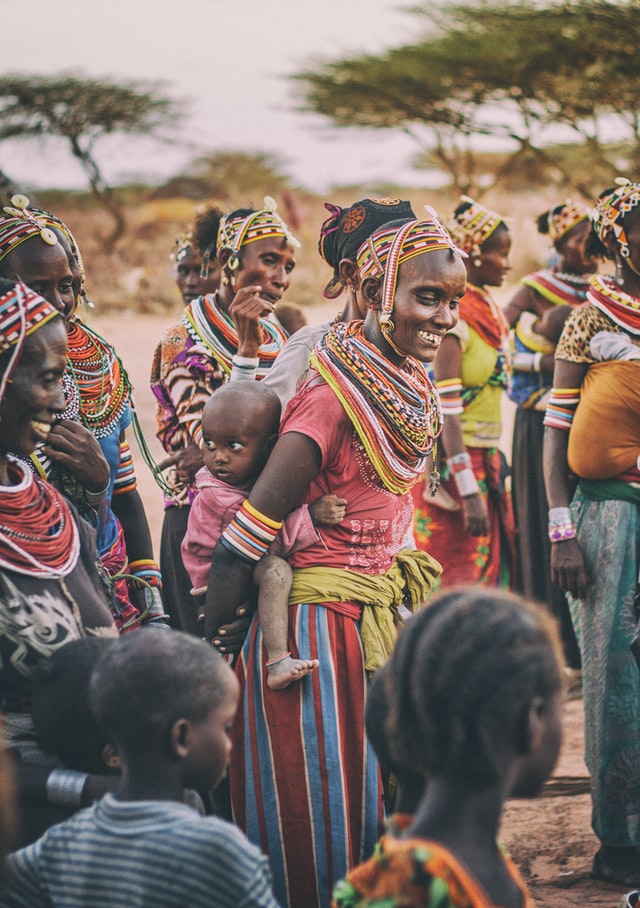 NEW OPENINGS
Sasaab Camp
Samburu National Game Reserve, Kenya
Northern Kenya, in particular the culturally rich Samburu Heartland, is home to some of Africa's most impressive wildlife and dramatic scenery. Against the dramatic backdrop of volcanic mountains the landscape is rugged with an occasional withered tree punctuating the dry terrain. Perched along the Ewaso Ngiro River, the lifeline of the area, is Sasaab, Kenya's newest Moroccan-inspired safari camp. It sits on a rocky ridge, giving magnificent views across the Laikipia Plateau with Mount Kenya in the distance. The camp can accommodate up to 18 guests in nine en-suite tents that mix a touch of luxury with the safari experience. They are ideal for game viewing, bird watching or even enjoying private beauty treatments. Each tent is over 100m² and has its own secluded plunge pool. Sasaab also boasts an infinity pool, built on the hillside overlooking the river below where elephants come to drink and cool off under the trees. Dry country species, including the gerenuk, oryx, reticulated giraffe and the endangered Grevy's zebra, inhabit Samburu's arid landscape, and lion, leopard and cheetah are also known to roam this expansive region. Sasaab offers a true wilderness experience with excursions into the famous Samburu Reserve, complimented by the knowledgeable and colourful Samburu guides. Other pleasurable experiences on offer are camel walks, game drives, educational cultural visits, night game drives and even mountain biking and walks in the wild beauty of the surrounding bush.
Karma Café and Boutique
146 b Wilkinson Road, Freetown
As the name would suggest, this new bistro-like café brings an avant-garde edge to Freetown's growing range of daytime eating venues. Set on split levels, the front boutique section is made up of a small but worthwhile collection of men's and ladies fashions – a good place to start looking if you've forgotten to pack your favourite dress or pair of jeans. A leopard-coloured chaiselongue draped with clothes sits at the corner of steps that lead to the intimate tiers of the restaurant. This is the perfect hideaway, whether you're after some peace and tranquillity or just need to escape the heat and humidity of Freetown. The food – a bold attempt at bringing café culture to Sierra Leone – is unlikely to disappoint. The restaurant also boasts a sizeable cocktail list, a good selection of wines and freshly made smoothies. Although it's essentially a breakfast and daytime venue, Karma also stays open for dinner on Friday evenings. Closed Thursdays.
Saruni Samburu
Kalama Community Wildlife Conservancy, Kenya
Not far from the Sasaab Lodge, this new opening will be open to guests from the beginning of June. The lodge consists of six tented cottages set around a large swimming-pool and extensively furnished with colonial antiques. The view over the plains stretching out into the distance is idyllic enough, but the best reason to come here is to encounter the local wildlife up close. This is a popular hang out for giraffe, zebra, oryx and especially elephant. Be sure to wake up bright and early for the game drive or professionally-led game walk, after which you can pamper yourself in the Samburu Wellbeing Space with a massage or beauty treatment, before gazing up at the stars after sundown. The restaurant, Kuro House, is also well worth checking out; with its variety of European flavours (especially Italian) and pan-African design flourishes, it is already gaining notoriety.
PARCOURS AFRICAIN
Des rendez-vous à noter à l'agenda, le chœur des femmes ouest africaines et les derniers lodges de luxe
NOUVELLES OUVERTURES
Camp Sasaab
Réserve Nationale de Samburu, Kenya
Le nord du Kenya, et plus particulièrement le cœur de la région riche culturellement de Samburu, abrite les plus impressionnants spécimens de la faune et les paysages les plus magnifiques de l'Afrique. Avec en arrière-fond, les majestueuses montagnes volcaniques, le paysage est parsemé çà et là d'un arbre occasionnel, flétri, ponctuant le terrain sec. Le camp peut loger jusqu'à 18 visiteurs dans neuf tentes en-suite, qui mélangent une touche de luxe avec la réalité du safari. L'endroit est idéal pour l'observation des animaux, des oiseaux ou même pour bénéficier de soins de beauté en privé. Chaque tente dépasse les 100m² et dispose de sa propre petite piscine personnelle. Sasaab met également à disposition une piscine à l'infini, construite à flanc de colline, en surplomb du fleuve en contrebas, où les éléphants viennent s'abreuver et se rafraîchir sous les arbres. Les espèces de cette région sèche comprennent le gerenuk, l'oryx, la girafe réticulée et le zèbre de Grevy, espèce en danger, qui vivent dans ce paysage aride de Samburu. Les lions, les léopards et les guépards rugissent aussi sur cette terre étendue. Sasaab offre une véritable expérience de la vie sauvage avec des excursions dans la fameuse Réserve de Samburu, à arpenter en compagnie de guides Samburu bien informés et issus de la communauté locale. La
Café et Boutique Karma
146 b Wilkinson Road, Freetown
Comme le nom pourrait le suggérer, ce nouveau bistrot-café apporte une note avant-gardiste à la gamme grandissante des établissements de jour de Freetown. Dans le bâtiment établi sur plusieurs niveaux, la boutique de la partie avant propose une petite et cependant belle collection de prêt-à-porter hommes et femmes – un bon endroit pour commencer votre shopping si vous avez oublié d'emporter votre robe favorite ou vos jeans préférés. Une chaise longue à motif léopard, drapée avec des vêtements se tient au coin des escaliers qui mènent dans le restaurant en retrait. La nourriture – une tentative d'introduire la culture des cafés en Sierra Leone – ne vous décevra pas. Le restaurant propose également une longue liste de cocktails, une bonne sélection de vins et des milk-shakes préparés sur place. Tout en étant essentiellement réservé au petit-déjeuner et aux collations, Karma reste également ouvert pour le dîner le vendredi soir. Fermé le jeudi.
Saruni Samburu
Kalama Community Wildlife Conservancy, Kenya
Non loin du Lodge Sasaab va s'ouvrir ce nouveau lieu de séjour, qui accueillera les visiteurs à partir du 1er juin. Le Lodge lui-même se compose de six cottages sous tente, superbement meublés avec des pièces d'antiquité de l'époque coloniale. Les bâtiments entourent une grande piscine, d'où l'on jouit de la vue sur les plaines qui s'étendent à perte de vue à l'horizon. Tout y est parfaitement idyllique, mais la raison principale qui pousse les voyageurs jusqu'ici est la possibilité d'approcher la faune de tout près. C'est un endroit fréquenté par les girafes, les zèbres, les oryx et plus particulièrement par les éléphants. Assurez-vous donc de vous lever de bonne heure pour une randonnée à travers la réserve en voiture ou à pied, accompagné d'un guide professionnel. Ensuite, faites-vous dorloter dans l'espace bien-être de Samburu, avec un massage ou un soin du corps, avant d'aller admirer les étoiles au crépuscule. Le restaurant, Kuro House, mérite aussi une visite. Avec ses saveurs européennes et son design exubérant pan-africain, il est déjà sur la voie de la renommée.
AFRIKA AGENDA
Afspraken voor je agenda, West-Afrikaans vrouwenkoor en de nieuwste luxeverblijven
NET OPEN
Sasaab Camp
Samburu National Game Reserve, Kenya
Noord-Kenia, en in het bijzonder het cultureel rijke Samburu Heartland, herbergt enkele van de indrukwekkendste wilde diersoorten en meest adembenemende landschappen van Afrika. Tegen een spectaculaire achtergrond van vulkanische bergen ligt een dor en woest landschap met her en der een eenzame boom. Aan de Ewaso Ngirorivier, de levensader van het gebied, ligt Sasaab, het nieuwste, in Marokkaanse stijl opgetrokken safarikamp van Kenia. Vanop een rotsachtige heuvelrug heeft het een uniek uitzicht op het Laikipiaplateau met Mount Kenya in de verte. Het kamp biedt plaats aan 18 gasten in negen luxueuze slaaptenten met eigen badkamer. Ze zijn ideaal voor wild- en vogelobservatie, maar ook voor persoonlijke schoonheidsbehandelingen. Elke tent is meer dan 100 m² groot en heeft een eigen afgeschermd diep bad. Daarnaast is er een landschapszwembad uitgehouwen in de heuvel, dat zicht biedt op de lagergelegen rivier, waar olifanten komen drinken en afkoelen onder de bomen. In de droge Samburustreek leven gerenoeks, spiesbokken, giraffen en met uitsterven bedreigde Grévyzebra's. Ook leeuwen, luipaarden en cheeta's doorkruisen dit uitgestrekte gebied. Sasaab organiseert excursies in het bekende Samburureservaat onder leiding van ervaren en kleurrijke Samburugidsen. Andere mogelijke activiteiten zijn kameeltochten, wildsafari's, educatieve culturele bezoeken, nachtelijke wildsafari's en zelfs mountainbike- en wandeltochten door de omliggende wildernis.
Karma Café and Boutique
146 b Wilkinson Road, Freetown
Zoals de naam al doet vermoeden, introduceert dit nieuwe café in bistrostijl wat avant-garde onder de eetgelegenheden van Freetown. In het voorste gedeelte met halfverdiepingen bevindt zich de boetiek met een kleine, maar fraaie collectie dames- en herenmode. Het ideale adres als je thuis je favoriete jurk of jeans vergeten hebt. In de hoek achter een luipaardkleurige chaise longue leidt een trap naar het intieme restaurantgedeelte. Dat is het perfecte toevluchtsoord voor wie rust verlangt of gewoon wil ontsnappen aan de vochtige hitte van Freetown. Het eten – een moedige poging om de cafécultuur te introduceren in Sierra Leone – zal niet snel ontgoochelen. Het restaurant heeft ook een uitgebreide keuze aan cocktails, een goede wijnkaart en vers gemaakte smoothies. Hoewel Karma zich in de eerste plaats profileert als ontbijten lunchadres, kun je er op vrijdagavond ook dineren. Donderdag gesloten.
Saruni Samburu
Kalama Community Wildlife Conservancy, Kenya
Niet ver van de Sasaab Lodge ligt dit nieuwe adres, dat vanaf 1 juni gasten ontvangt. De lodge zelf bestaat uit zes tentverblijven, uitgebreid bemeubeld met koloniale antiquiteiten. Ze liggen rond een groot zwembad met zicht op de uitgestrekte vlakte in de verte. Bijzonder idyllisch, maar uiteraard kom je hier vooral om het lokale wild van nabij te observeren. Dit is een populaire verzamelplaats voor giraffen, zebra's, oryxen en in vooral olifanten. Zorg dus dat je vroeg uit de veren bent voor de wildsafari of een wildwandeling met een professional. Daarna laat je je verwennen in de Samburu Wellbeing Space met een massage of een schoonheidsbehandeling. Na zonsondergang kun je wegdromen bij de indrukwekkende sterrenhemel. Ook het restaurant, Kuro House, is het ontdekken waard. Met zijn ruime keuze aan Europese gerechten (met een lichte voorkeur voor Italiaans) en pan-Afrikaanse design maakt het nu al naam. 
DON'T MISS
Amakula Kampala International Film Festival
1-11 May Kampala, Uganda
This year's theme is the Parallel Universe. It sounds sci-fi, but in reality has serious undertones. Focusing on the duality of being African today, it asks questions about balancing the traditional and the westernized in society. With a strong focus on home-grown productions, it aims to boost Africa's reputation as a producer of quality film.
Le thème de cette année est 'Les univers Parallèles'. Cela a un air de science-fiction, et pourtant c'est beaucoup plus nuancé. L'approche du festival est centrée sur la dualité liée à l'identité africaine aujourd'hui, posant des questions sur l'équilibre entre la tradition et l'occidentalisation de la société. La plupart des productions présentées sont issues des communautés locales, dans le souci de développer la réputation de l'Afrique comme continent producteur de films de qualité.
Het thema van dit jaar is het parallelle universum. Verwacht echter geen sciencefiction. Het festival belicht de dualiteit van de Afrikaanse identiteit en het zoeken naar een evenwicht tussen traditie en verwestering in de maatschappij. De nadruk ligt op producties van eigen bodem om Afrika als producent van kwaliteitsfilms te promoten.
Saint Louis Jazz Festival
8-11 May Saint Louis, Senegal
As the nights get warmer, the sound of jazz music fills the air in Saint Louis. Join the crowds filling the bars and dance until the early hours to some of Africa's finest jazz musicians.
Au fur et à mesure que les nuits deviennent plus douces, les sonorités jazzys emplissent l'air de Saint Louis. Rejoignez la foule qui emplit les bars et danse jusqu'aux petites heures du jour aux rythmes des compositions des meilleurs musiciens de jazz d'Afrique.
Nu de nachten warmer worden, weerklinkt weer jazzmuziek in de straten van Saint Louis. Duik samen met de massa de kroegen binnen en dans tot in de vroege uurtjes tijdens optredens van de beste jazzmuzikanten in Afrika.
International Peace Marathon
11 May Kigali, Rwanda
Athletes from around the world take to the green hills of Rwanda for this major event. The Peace Marathon is now in its fourth year and has helped bring the people of Rwanda closer together. From the sidelines, spectators shout amahoro, which simply means "peace", as the runners make their determined way along the course.
Des athlètes des quatre coins du monde vont prendre d'assaut les collines verdoyantes du Rwanda à l'occasion de cet important événement. Le Marathon de la Paix entre à l'heure actuelle dans sa quatrième année et il a aidé à resserrer les liens entre les collectivités du Rwanda. Le long du parcours, les spectateurs crient amahoro, ce qui signifie simplement 'paix', tandis que les coureurs poursuivent leur chemin.
Atleten van over de hele wereld trekken naar de groene heuvels van Rwanda voor dit belangrijke evenement. De Vredesmarathon is ondertussen aan zijn vierde editie toe en helpt de Rwandezen dichter bij elkaar te brengen. Overal langs het parcours roepen toeschouwers amahoro – vrede – wanneer de lopers voorbijkomen.
Rhino Charge
1 June Kenya
An adrenaline-pumping race that's guaranteed to leave you a little rattled – not on the back of a rhino, but in an off-road 4×4. Armed with a map, a compass and GPS, competitors race off to win by covering all 13 check points covering the least distance between the co-ordinates. Raising money for the charity Rhino Ark, it's worth getting a bit shaken and stirred for.
Une course qui provoque des montées d'adrénaline, vous laissant tout tremblant – pas sur le dos d'un rhinocéros, mais dans un véhicule 4×4. Armés d'une carte, d'un compas et d'un GPS, les concurrents partent dans la course pour gagner, en réalisant la distance la plus courte pour rejoindre les 13 points de ralliement. Comme cette course est organisée en vue de récolter des fonds pour l'organisation caritative Rhino Ark, cela vaut la peine d'être un peu secoué.
Een race waarbij de adrenaline door je aderen jaagt, niet op de rug van een neushoorn, maar in een 4×4-terreinwagen. Gewapend met kaart, kompas en gps trekken deelnemers erop uit om met een minimum aantal kilometers op de teller 13 controleposten aan te doen. Aangezien het geld oplevert voor de vrijwilligersorganisatie Rhino Ark, is het niet erg als je onderweg wat door elkaar geschud wordt.
MUSIC
Umalali: The Garifuna Women's Project (Cumbancha)
An elastically funky mixture of plucked strings, languid bass and pattering drums is pierced by a sharp and compelling woman's voice. This is the sound of the Garifuna, descendants of West African slaves who were shipwrecked in 1635 off the coast of the island of Saint Vincent, in the Caribbean, and the friendly natives who took them in.
From here a unique culture developed, blending traditional elements of West African and Native Caribbean heritage in all aspects of their lives, including music. With a mission to maintain the threatened music of the Garifuna community while keeping their traditions alive in a modern context, Umalali was created.
Over 10 years in the making, Umalali, which is the Garifuna word for voice, was initially recorded in homes, seaside shacks, festivities and other intimate settings. More than 50 women – singers, young and old, from the Garifuna communities of Belize, Honduras and Guatemala – took part in this emotional compilation, many of whom had never been recorded before.
Combining the talents of award-winning producer Ivan Duran with musicians from the internationally renowned Garifuna Collective, Umalali brings an intriguing dimension to traditional Garifuna songs. A moving and inspirational album, it pays tribute to the powerful legacy carried in the voices of the Garifuna women, while remaining true to the exuberance of Africa and the ancient spirit of the native Caribbean people.
MUSIQUE
Umalali: The Garifuna Women's Project (Cumbancha)
Un mélange funky tout en souplesse de cordes audacieuses, de basses traînantes et de percussions rythmées, transpercé par une voix féminine puissante et convaincante. C'est le son des Garifuna, les descendants des esclaves ouest africains qui ont échoué en 1635 le long de la côte de l'île de Saint Vincent, dans les Caraïbes, et des natifs de l'endroit qui les ont chaleureusement recueillis.
De cette rencontre est née une culture unique, mélange d'éléments traditionnels de l'héritage d'Afrique de l'Ouest et des Caraïbes dans tous les aspects de leur vie, y compris la musique. Umalali a été créé avec pour mission le maintien de la musique menacée de la communauté de Garifuna, tout en préservant leurs traditions dans un contexte moderne. Au cours des 10 ans de sa réalisation, Umalali, qui est le mot en Garifuna pour 'voix', a initialement été enregistré dans des maisons, des huttes de plage, des fêtes et autres endroits privés. Plus de 50 femmes – des chanteuses des communautés Garifuna de Belize, du Honduras et de Guatemala, jeunes et moins jeunes – ont participé à cette compilation pleine d'émotions, qui pour beaucoup d'entre elles était le premier enregistrement.
La combinaison des talents du producteur récompensé Ivan Duran et des musiciens du Collectif Garifuna réputé internationalement, donne aux chants traditionnels de Garifuna repris dans Umalali, une dimension intrigante. Album émouvant et aux fortes inspirations, il rend hommage à cet important héritage transmis par les voix des femmes Garifuna, tout en gardant vivante l'exubérance de l'Afrique et l'esprit ancien des peuples des Caraïbes.
MUZIEK
Umalali: The Garifuna Women's Project (Cumbancha)
Uit het elastische, funky ritme van snaargetokkel, vette baslijnen en heftige drums stijgt plots een onweerstaanbare vrouwenstem op. Dit is het geluid van de Garifuna, afstammelingen van West-Afrikaanse slaven die in 1635 schipbreuk leden op de kust van het eiland Saint Vincent in de Caraïben, en de vriendelijke inboorlingen die hen in hun midden opnamen.
Daaruit ontwikkelde zich een unieke cultuur waarbij traditionele elementen van de West-Afrikaanse en inheemse Caribische erfenis versmolten in alle aspecten van hun leven, inclusief de muziek. Om de bedreigde muziek van de Garifunagemeenschap te laten overleven en hun tradities een plaats te geven in een moderne context, werd Umalali opgericht. De opnamen van Umalali, het Garifunawoord voor stem, namen zo'n 10 jaar in beslag. Oorspronkelijk werd opgenomen in huizen, hutjes bij de zee, tijdens feesten en in andere privéomgevingen. Meer dan 50 vrouwen – zangeressen uit de Garifunagemeenschappen van Belize, Honduras en Guatemala, jong en oud – werkten mee aan deze emotionele compilatie.
Velen van hen werden nooit eerder opgenomen.
Umalali ontstond uit de samenwerking tussen de bekroonde producer Ivan Duran en muzikanten van het internationaal vermaarde Garifuna Collective, en geeft traditionele Garifunaliederen een intrigerende extra dimensie. Dit ontroerende en bezielende album brengt een eerbetoon aan de rijke erfenis in de stemmen van de Garifunavrouwen. Tegelijkertijd klinken ook de uitbundigheid van Afrika en de oude geest van de inheemse Caribische bevolking erin door.