What's This Movie About?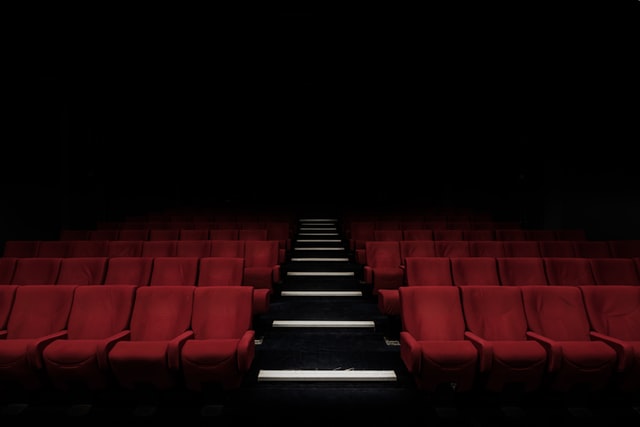 Michael Jackson's This Is It
Music Documentary 111 mins 
Director Kenny Ortega Cast Michael Jackson The King of Pop shows himself as never before in this unique documentary about Jackson's preparations for his final, never-performed tour. Includes all new footage portraying the legendary singer.
Le King de la Pop lui-même en spectacle comme vous ne l'avez jamais vu! Un documentaire unique sur les répétitions de Michael Jackson avant son dernier concert, une tournée qu'il n'a pas réalisée. Les dernières images fantastiques qui nous font découvrir ce chanteur légendaire.
Big Momma's House
Action/Comedy 99 mins 
Director Raja Gosnell Cast Martin Lawrence, Nia Long, Paul Giamatti FBI agent Turner slaps on plenty of fake fat to pose as Deep South matriarch "Big Momma." His assignment: protect Momma's granddaughter, Sherry, from her murderous ex-boyfriend.
Turner, agent du FBI, est passé maître dans l'art du déguisement. Il se fabrique un look de grosse femme pour se faire passer pour la matriarche du Sud des États-Unis "Big Mamma." Sa mission: protéger la petite-fille de Big Mamma, Sherry, d'un ex-petit ami meurtrier.
The Informant!
Crime/Comedy 108 mins 
Director Steven Soderbergh Cast Matt Damon, Scott Bakula, Melanie Lynskey Based on a fascinating and true story, this comedic thriller tells the tale of high-ranking US executive, Marc Whitacre, who turns whistleblower revealing his company's price-fixing tactics to the FBI.
Basé sur une histoire vraie et fascinante, cette comédie-thriller raconte l'histoire d'un des cadres supérieurs d'une grosse compagnie aux USA, Marc Whitacre, qui soudain dénonce les pratiques illicites de la société au FBI.
Harry Potter And The Half Blood Prince
Adventure/Fantasy 147 mins 
Director David Yates Cast Daniel Radcliffe, Emma Watson, Rupert Grint In this sixth installment of the Harry Potter series, Lord Voldemort's actions now threaten the safety of Hogwarts and the world. Meanwhile, Harry and friends struggle against a different adversary – puberty!
Dans ce sixième film de la série des Harry Potter, l'étau démoniaque de Lord Voldemort se resserre et ses actes menacent la sécurité de Hogwarts et du monde entier. Pendant ce tempslà, Harry et ses amis vont devoir se battre contre un autre mal : le démon de la puberté !
Where The Wild Things Are
Family/Fantasy 101 mins 
Director Spike Jonze Cast Catherine Keener, Forest Whitaker, James Gandolfini Max, a rambunctious and sensitive boy, feels misunderstood at home. His only escape is through his imagination to an island inhabited by mysterious creatures, better known as The Wild Things.
Max, un garçon sensible et exubérant, qui se sent incompris chez lui, s'évade là où se trouvent les maximonstres. Il atterrit sur une île où il rencontre de mystérieuses et étranges créatures, aux émotions sauvages et aux actions imprévisibles.
Fame
Drama/Music 107 mins 
Director Kevin Tancharoen Cast Naturi Naughton, Kelsey Grammer, Bebe Neuwirth An updated version of the 1980 Oscar-winning film about a group of talented dancers, singers, and actors making their way through New York City's School of Performing Arts in pursuit of fame.
Une version revue du film oscarisé des années 1980, qui retrace le parcours d'un groupe de talentueux danseurs, chanteurs, et acteurs, en quête de célébrité dans l'École des Arts de la Scène de la Ville de New York.
(500) Days Of Summer
Comedy/Romance 95 mins 
Director Marc Webb Cast Zooey Deschanel, Joseph Gordon-Levitt Is there such a thing as a once-in-a-lifetime love? Depends on whom you ask in this delightful romantic comedy. Tom is a firm believer in absolute love, while his cynical muse, Summer, is certain it doesn't exist.
L'amour qui vous transfigure peut-il exister dans la vie ? Cela dépend à qui vous posez la question dans cette divertissante comédie romantique. Tom croit encore en un amour absolu, tandis que Summer, sa muse cynique, est certaine qu'il n'existe pas.
Surrogates
Sci-Fi/Action 87 mins
Director Jonathan Mostow Cast Bruce Willis, Radha Mitchell, Rosamund Pike In the future, humans choose to live in isolation while experiencing the world through robotic doubles of themselves. But a strange series of murders forces Tom Greer from the protection of his apartment.
Dans le futur, les gens peuvent désormais vivre sans sortir de leur domicile, par procuration, à travers des versions robotisées d'eux-mêmes. Mais une série de meurtres mystérieux oblige Tom Greer à quitter la protection de son appartement.
Beyond A Reasonable Doubt
Crime/Thriller 104 mins 
Director Peter Hyams Cast Michael Douglas, Jesse Metcalfe, Amber Tamblyn A reporter sets himself up as the prime suspect in a murder he didn't commit so he can expose the elected official's evil deeds. But, these plans go wrong when the District Attorney discovers the trap.
Un journaliste se fait accuser volontairement d'un crime qu'il n'a pas commis pour prouver que le procureur de la cour de justice est corrompu. Mais son plan est menacé lorsque le procureur découvre la mise en scène.
Bellamy
Thriller 110 mins 
Director Claude Chabrol Cast Gérard Depardieu, Marie Bunel, Clovis Cornillac While portly police chief Paul Bellamy (a role created specially for Gérard Depardieu) travels to the family estate of his wife Françoise for a vacation, his half-brother Jacques and a man-on-the-run show up, demanding Bellamy's protection.
Alors que Paul Bellamy, chef de police, passe des vacances en famille dans la demeure d'enfance de sa femme Françoise, le demi-frère de cette dernière, Jacques, et un homme en fuite demandent la protection de Bellamy.
Zombieland
Sci-fi Thriller/Comedy 87 mins 
Director Ruben Fleischer Cast Woody Harrelson, Jesse Eisenberg, Emma Stone The world is hit with an apocalyptic infection that turns people into zombies once they have been bitten. Columbus is a young geek petrified of being attacked. But, he finds a unique way to survive the zombie mayhem.
Le monde doit faire face à une infection apocalyptique, qui transforme les humains en zombies après une morsure. Columbus, le plus jeune, est terrifié à l'idée d'être la proie d'une attaque de zombies, mais sa prudence pourrait bien lui sauver la vie.
Le Petit Nicolas
Comedy/Family 91 mins 
Director: Laurent Tirard Cast Maxime Godart, Valérie Lemercier, Sandrine Kiberlain Nicolas leads a peaceful and happy existence, until one day he overhears a conversation between his parents that leads him to believe that his mother is pregnant. He panics and imagines the worst…
Nicolas mène un existence heureuse et paisible, jusqu'au jour où il surprend une conversation entre ses parents qui lui laisse penser que sa mère est enceinte. Il panique alors et imagine le pire…
Public Enemies
Crime Drama 140 mins 
 Director Michael Mann Cast Johnny Depp, Christian Bale, James Russo In an attempt to curb a rampant Chicago crime spree during the 1930s, FBI agent Melvin Purvis sets his sights on tracking down American gangster John Dillinger. But he soon realises he'll have to play the notorious bank robber at his own game.
Melvin Purvis, agent du FBI, traque sans relâche le gangster américain John Dillinger et d'autres braqueurs de banque notoires, dans une tentative d'infléchir la courbe ascendante du crime dans le Chicago des années 1930.
Amelia
Biography/Drama 111 mins 
Director Mira Nair Cast Hilary Swank, Richard Gere, Ewan McGregor An extraordinary life of adventure, celebrity and continuing mystery comes to light in Amelia, a vast, thrilling account of legendary American pilot Amelia Earhart (two time Academy Award winner Hilary Swank).
Une vie extraordinaire parsemée d'aventures, de gloire et de mystères infinis est mise en lumière dans Amelia, qui retrace l'histoire fabuleuse de la légendaire pionnière de l'aviation Amelia Earhart (avec Hilary Swank qui a reçu à deux reprises un Academy Award).
Love Happens
Romance/Drama 
Director Brandon Camp Cast Aaron Eckhart, Jennifer Aniston, Martin Sheen When a self-help author arrives in Seattle for a seminar about healing one's soul, he unexpectedly meets the one person who can help him follow his own advice in this heartwarming romantic comedy.
Lorsqu'un écrivain autodidacte arrive à Seattle pour donner un de ses séminaires sur la guérison de l'âme, il rencontre par hasard la personne qui pourrait l'aider à suivre ses propres conseils…Une chaleureuse comédie romantique.
Rebound
Comedy 86 mins 
Director Steve Carr Cast Martin Lawrence, Wendel Raquel Robinson Hot-headed coach McCormick is on the road to self destruction. An unfortunate incident with a team mascot sees him banned from college basketball. To redeem himself, he decides to coach a motley junior high-school team.
McCormick, un coach de basketball exalté dans un Collège est sur la voie de l'auto-destruction. Pour se racheter, McCormick décide d'entraîner une équipe junior bigarrée, un moyen pour lui de redécouvrir son amour du jeu.
Biguine
Musical/Drama 90 mins 
Director Guy Deslauriers Cast Micheline Mona, Max Télèphe Leaving their work plantation, two aspiring musicians, Hermansia and Tiquitaque, move to the city of Saint-Pierre in Martinique. Here, amid the storytellers and poets the duo learn to make a living from their music.
Abandonnant la plantation dans laquelle ils travaillent, deux aspirants musiciens, Hermansia et Tiquitaque, décident de s'installer à Saint-Pierre en Martinique. Là, au milieu des conteurs et des poètes, le duo apprend à vivre de sa musique.
I Think I Love My Wife
Romance/Comedy 93 mins 
Director Chris Rock Cast Chris Rock, Gina Torres, Dennis Albanese Remake of the French New Wave classic Chloe In The Afternoon: Richard is a happily married father of two. But is this all about to change with the arrival of free-spirited Nikki, who begins to preoccupy his dreams.
Un remake du classique de la Nouvelle Vague L'Amour l'après-midi : Richard est un père de famille heureux en mariage, avec deux enfants. Mais les choses se compliquent avec l'arrivée de la très séduisante Nikki, qui commence à venir hanter ses rêves.
African Connection
TV Africa 30 mins 
Keeping you up-to-date with the very best in African music. This programme, showcasing the latest and greatest African musicians and their tracks, makes compelling viewing.
Restez informés des meilleures créations de la musique africaine. Ce programme présente les dernières stars africaines de la musique en concert. Un spectacle à regarder avec plaisir.
Africa's Outsiders
TV Africa 60 mins 
This is the story of three African animals that nature has repainted with extraordinary new colours. They are the outsiders: a white lion, a yellow crocodile and a white baboon.
C'est l'histoire de trois animaux africains que la nature a repeints avec de nouvelles couleurs extraordinaires. Voici les trois outsiders: un lion blanc, un crocodile jaune et un babouin blanc.
Stars Parade
TV Africa 30 mins 
Music from all across French-speaking Africa, presented by musician Boncana Maïga. Guests include Fally Ipupa (DRC), Africando (Senegal) and Tiken Jah Fakoly (Ivory Coast).
De la musique venue de toute l'Afrique francophone, une émission présentée par le musicien Boncana Maïga. Parmi les invités : Fally Ipupa (RDC), Africando (Sénégal) et Tiken Jah Fakoly (Côte d'Ivoire).
Mr. Bean
TV Drama & Sitcoms 30 mins
(Non-dialogue) Mr Bean Goes To Town: When our comic hero ventures downtown, close and hilarious encounters of the Beanish kind ensue, involving a stolen camera, a television and a magician.
Mr Bean Goes To Town (M. Bean va en ville) : lorsque notre héros comique s'aventure en ville, il lui arrive toutes sortes de déboires dans le style 'Bean', impliquant une télévision, une caméra volée et un magicien.
The Office
TV Drama & Sitcoms 30 mins 
The Alliance: Michael (Steve Carell) arranges a morale-boosting birthday party for Meredith and is determined to come up with the funniest message in her card.
The Alliance (L'Alliance) : Michael (Steve Carell) organise une fête d'anniversaire pour remonter le moral de Meredith et il est déterminé à trouver le message le plus drôle qui soit pour sa carte.
Just For Laughs
TV Drama & Sitcoms 30 mins
Non-dialogue A fun collection of hidden-camera clips (all done in the name of good humour of course) with unexpected circumstances and odd situations, that will have you laughing out loud.
Une collection hilarante de gags de caméra cachée (filmés au nom de la bonne humeur, bien entendu) avec des circonstances inattendues et des situations bizarres. Gros éclats de rire assurés !
Psych
TV Drama & Sitcoms 60 mins 
Shawn vs. The Red Phantom: Gus is ecstatic when it turns out the only real clue in his and Shawn's missing-person case is TriCon, the science fiction convention in Santa Barbara.
Shawn vs. The Red Phantom (Shawn chez les Super-Héros) : Gus est en extase lorsqu'il apparaît que la seule vraie piste dont il dispose avec Shawn, dans une enquête de personne disparue est TriCon, la convention de science-fiction à Santa Barbara.
House M.D.
TV Drama & Sitcoms 60 mins 
The Jerk: House treats a 16-year-old chess prodigy who annoys the team with his behaviour. Foreman is upset with House because he thinks he sabotaged his job interview.
The Jerk (Petit Con) : House traite un prodige de 16 ans, super joueur d'échecs, qui énerve l'équipe par son comportement. Foreman est énervé parce qu'il est persuadé que House est responsable de l'annulation d'un entretien d'embauche.
How I Met Your Mother
TV Drama & Sitcoms 30 mins 
Drumroll Please: Ted flirts with a girl at a wedding but they agree never to see each other again, until Ted vows to find her the next day. Meanwhile Robin admits her feelings for Ted.
Drumroll Please (L'inconnue) : Ted flirte avec une fille lors d'une soirée de mariage mais ils décident de ne plus jamais se revoir, jusqu'à ce que Ted jure de la retrouver le jour suivant – pendant ce temps, Robin admet qu'elle a des sentiments pour Ted.