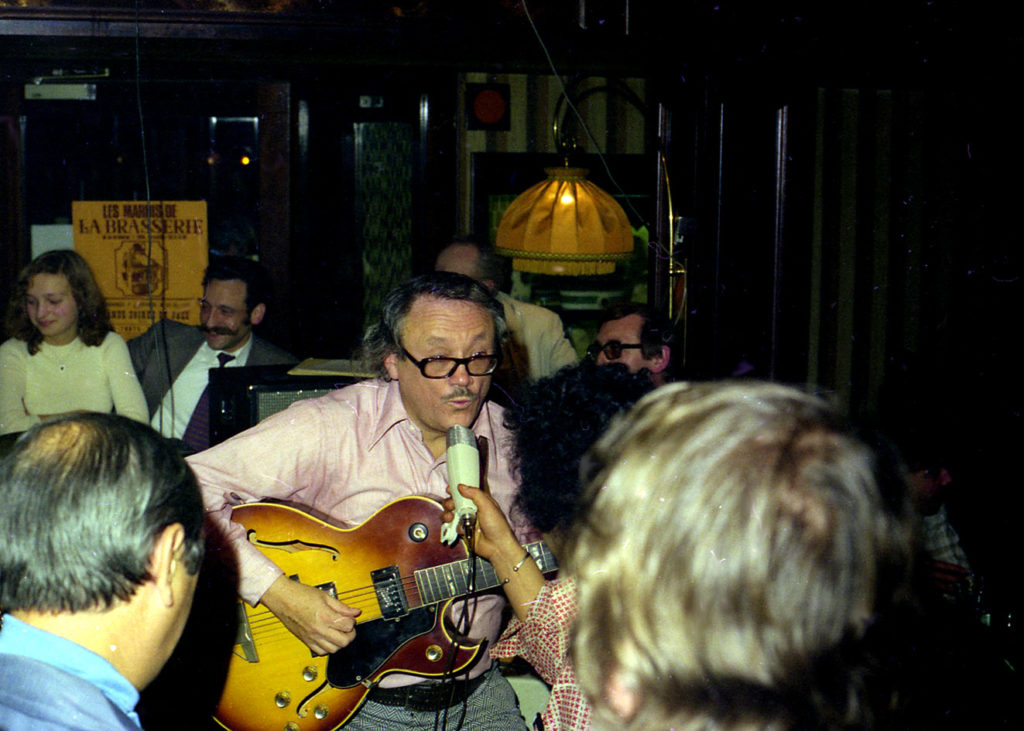 A life among legends
Toots Thielemans has wooed the world with his harmonica playing. But, as Jed Novick discovers when he takes time out with the Belgian jazz legend, there's more to Toots than his instrument
Talking to Toots Thielemans is largely an exercise in self-control. The 84-year-old Belgian jazz musician talks about his career and you sit there trying not to interrupt with 'You were sharing a room with Charlie Parker?' or 'How was Miles Davis with you?'
Every time Toots opens his mouth, a legendary name falls out. Every time he tells a story, it's a history lesson. He doesn't mean to do it, it just happens. But then again, when your career stretches from before the Second World War to the era of the iPod, you become a part of history.
Sometimes he'll tell you a story and you'll think: 'That's OK. You're a top jazz man, you should be playing with Ella Fitzgerald.' Other times the celebrity references come at you thick and fast. He talks about his time as the guitarist and harmonica player in the George Shearing band "with Brubeck and Mulligan and those guys" and he mentions, in passing, that he bought a solid-body guitar instead of the normal semi-acoustic jazz variety. "This was sacrilege for a jazz guy," he reminisces smiling.
Then Toots adds: "John Lennon saw a photo of me on a George Shearing album holding this guitar, and the first time The Beatles came to America, he got in touch with me and bought exactly the same Rickenbacker guitar. 'If it's good enough for George Shearing, it's bloody good enough for me,' he told me."
Toots was born Jean Baptiste Frederic Isidor Thielemans on 29 April 1922 in Brussels. "My parents had a pub and each Sunday there was an accordionist who played there," he explains. "They've told me that, when I was in my cradle, I was already imitating the gestures of the musician. Someone said to my father: 'That kid wants to play accordion.' My father bought me a little cardboard accordion and, when I was three, I got this little machine…" This little machine was a harmonica… and that was that.
Even if you don't know his name, chances are you've heard his music. Remember the haunting soundtrack to the 1969 film Midnight Cowboy? That was Toots. The music for The Getaway was him as well, and the kids' TV show Sesame Street. In fact, probably most times you've heard a haunting harmonica, that'll be Toots.
His first break came in 1949, when American jazz musician Benny Goodman heard a version he'd done of the classic Stardust and asked him to play with him at the London Palladium. Was he nervous? "I was excited, like a kid footballer being asked to go play with Beckham."
He then found himself in Paris, jamming with the likes of Sidney Bechet, Charlie Parker, Miles Davis and Max Roach. In 1952 he moved to America, where he found his destiny. "I've lived and studied the evolution of this music and somehow I've found myself in the middle of it," he marvels.
The conversation moves through the names (Milt Jackson, Dinah Washington), the places (well-known New York clubs such as Blue Note and Birdland) and the story of jazz itself. "Slavery was one of the worst violations of human rights the world has ever seen, but it gave the world jazz. Without slavery, there would be no blues, no jazz… nothing. American slavery gave us jazz, Spanish slavery gave us salsa, Portuguese slavery gave us samba. I approach that heritage with great respect. I'll listen to anything from Africa, but I've never really played there."
In 1981, Toots had a stroke, but he recovered enough to still play 250 gigs a year. He's just come back from Rome and is on his way to America. Doesn't he get tired? "Sometimes, but not from the music," he says. How – why – does he keep going? "I believe in my goose bumps. I was contaminated by the jazz virus at an early age and when it gets inside you, you've got it forever. I still want to listen, still want to feel."
At this point he suddenly gets up and says: "Wait there a minute!" Seconds later he's back, playing the jazz standard Sophisticated Lady on his beloved harmonica. You wouldn't think anyone could blow hard and smile big at the same time, but then you've never seen this. "Ha! Every time you play it, every time you think about it, it's different. That's because it's alive," he bursts out laughing, a raspy laugh that hints at a life well lived.
Toots's story is a fantastic one, but the question remains, how did a white boy from Brussels find himself in the middle of the history of jazz? Quincy Jones once said: "I can say without hesitation that Toots is one of the greatest musicians of our time. On his instrument he ranks with the best that jazz has ever produced. He goes for the heart and makes you cry." That should give us a clue.
Une vie parmi des légendes
Toots Thielemans fait vibrer le monde entier aux sonorités de son harmonica. Mais, comme l'a découvert Jed Novick lors de sa rencontre avec la légende belge du jazz, Toots ne se laisse pas réduire à son simple instrument
S'entretenir avec Toots Thielemans a tout d'un exercice de maître. Lorsque ce musicien de jazz belge de 84 ans parle de sa carrière, il ne vous reste plus qu'à l'écouter en vous tenant coi, sans l'interrompre d'une question comme "Et vous partagiez une chambre avec Charlie Parker?" ou "Comment se comportait Miles Davis avec vous?"
Chaque fois que Toots ouvre la bouche, un nom de légende en sort. Chaque fois qu'il raconte une anecdote, c'est une leçon d'histoire. Il ne le fait pas intentionnellement, c'est simplement comme ça. Et on peut le comprendre aisément, lorsqu'une carrière se déroule depuis la seconde guerre mondiale jusqu'à l'ère de l'iPod, vous entrez dans l'histoire.
A certains moments, à l'écouter, vous pensez : 'C'est bon. Vous êtes un musicien de jazz au top, vous devriez jouer aux côtés d'Ella Fitzgerald.' A d'autres moments, ses références aux grandes célébrités vous frappent l'imagination. Il parle de sa période de guitariste et de joueur d'harmonica dans la formation de George Shearing" avec Brubeck et Mulligan et tous ces types" et au passage, il mentionne qu'il a acheté une solide guitare acoustique au lieu de la semi-acoustique, largement utilisée dans le domaine du jazz ." C'était considéré comme un sacrilège pour un jazzman" se souvient-il, un sourire aux lèvres.
L'histoire en soi est déjà intéressante mais Toots continue: "John Lennon a vu une photo de moi tenant cette guitare, sur la couverture d'un album de George Shearing et la première fois que les Beatles sont venus aux Etats-Unis, il s'est mis en contact avec moi et a acheté exactement le même modèle de guitare, une Rickenbacker. 'Si cela convient à George Shearing, c'est tout à fait bien pour moi,' m'a-t-il dit."
Toots Thielemans – de son vrai nom Jean Baptiste Frederic Isidor Thielemans – est né le 29 avril1922 à Bruxelles. "Mes parents tenaient un pub et chaque dimanche, un accordéoniste venait y jouer," explique-t-il. "Ils m'ont dit que lorsque j'étais dans mon berceau, j'imitais déjà les gestes du musicien. Ce dernier aurait dit à mon père: 'Cet enfant veut jouer de l'accordéon.' Mon père m'a acheté un petit accordéon en carton lorsque j'avais trois ans, et j'ai aussi reçu ce petit instrument…" Ce petit instrument était un harmonica… et c'était parti.
Même si vous ignorez son nom, vous avez sans doute dû entendre sa musique. Souvenez-vous, la bande-son envoûtante du film Midnight Cowboy en 1969. C'était Toots. La bande sonore du film The Getaway, c'était lui aussi, ainsi que le thème musical de l'émission télévisée pour les enfants Sesame Street. En fait, chaque fois que vous avez été subjugué par les résonances d'un harmonica, c'était sans aucun doute Toots.
Sa première rencontre décisive remonte à 1949. Lorsque Benny Goodman entend un arrangement de Toots pour le morceau classique Stardust, il lui demande de l'accompagner à Londres pour jouer à ses côtés au Palladium. Avait-il le trac? "J'étais tellement enthousiaste, comme un gosse qui démarre au football à qui l'on propose de jouer avec Beckham."
A partir de là, l'histoire se déplace à Paris, où il se retrouve dans des jam sessions en compagnie de Sidney Bechet, Charlie Parker, Miles Davis et Max Roach. Et en 1952, cap sur l'Amérique où il accomplira son destin. "J'ai vécu et j'ai étudié l'évolution de cette musique et d'une certaine façon je me suis retrouvé propulsé au centre même de ce mouvement," dit-il avec émerveillement.
La conversation nous amène à citer des noms (Milt Jackson, Dinah Washington), des lieux (le Blue Note, Birdland) et l'histoire du jazz elle-même. "L'esclavage est l'une des pires violations des droits de l'homme que le monde ait engendrées, mais cela a aussi donné le monde du jazz. Sans esclavage, il n'y aurait pas eu de blues, pas de jazz, pas de Louis Armstrong… rien. L'esclavage en Amérique a apporté le monde du jazz, en Espagne il a donné naissance à l'univers de la salsa et au Portugal celui de la samba. J'approche cet héritage avec beaucoup de respect et j'apprécie écouter tout ce qui vient de l'Afrique noire, mais je n'ai jamais joué en Afrique."
En 1981, Toots a souffert d'une attaque, mais il s'est suffisamment remis pour pouvoir encore performer jusqu'à 250 récitals par an. Il vient de rentrer de Rome et il se prépare à se rendre en Amérique. Ce rythme ne le fatigue-t-il pas trop? "Parfois, mais je ne suis jamais fatigué de la musique," confie-t-il. "J'ai appris par expérience que lorsqu'on vole de Bruxelles vers les USA, il vaut mieux jouer une session le jour même de son arrivée."
Qu'est-ce qui en réalité lui permet de garder le tempo? "C'est dans mon sang, le virus du jazz m'a contaminé dès mon plus jeune un âge. Dès que vous l'avez en vous, il ne vous quitte plus. J'ai toujours ce désir d'écouter, de ressentir."
Soudainement, il se lève et dit: "Attendez un instant!" Après quelques secondes, il revient et joue ce classique du jazz Sophisticated Lady sur son harmonica bien-aimé. Vous ne pourriez jamais imaginer personne d'autre en train de souffler avec une telle vigueur et sourire en même temps, mais bon…vous ne verrez de toute façon jamais Toots jouer ce morceau comme ça. "Ha! Chaque fois que je joue ce morceau, chaque fois que j'y pense, c'est différent. C'est parce que c'est vivant," il éclate de rire, d'un rire grave qui induit une vie vécue pleinement.
L'histoire de Toots est une épopée fantastique. Seule une question reste, comment un jeune homme blanc de Bruxelles s'est-il retrouvé au coeur même de l'histoire du jazz? Quincy Jones a dit un jour: "Je peux affirmer sans hésitation que Toots est l'un des plus grands musiciens de notre époque. Sur son instrument, Il se range parmi les meilleurs musiciens que le jazz ait produit. Sa musique vous touche au plus profond et vous fait pleurer." Cela devrait être un bon début d'explication.
Levende legende
Telkens de Belgische jazzlegende Toots Thielemans zijn mond opent, rolt er een legendarische naam uit. Tijdens zijn carrière, van de Duitse bezetting tot het huidige iPod-tijdperk, heeft de 84-jarige dan ook samengewerkt met mensen als Charlie Parker, Miles Davis, Ella Fitzgerald en Dizzy Gillespie.
Zijn grote doorbraak kwam er in 1949, toen Benny Goodman hem in het London Palladium uitnodigde. In 1952 trok hij naar Amerika om de band van George Shearing te vervoegen. "Toen John Lennon mij op de cover van een George Shearing-album zag met een solid-body gitaar in mijn handen, kocht hij meteen dezelfde Rickenbacker", zo beweert hij.
Mocht zijn naam u niets zeggen, zijn muziek hebt u zeker al gehoord. Herinnert u zich de indringende soundtrack van de film Midnight Cowboy uit 1969? Dat was Toots. Ook de sound-track van The Getaway en het deuntje van Sesamstraat zijn van hem. Telkens u een harmonica hoort, is de kans groot dat het Toots is.
In 1981 kreeg Toots een beroerte, maar hij herstelde voldoende voor nog zo'n 250 optre-dens per jaar. Hoe en waarom hij doorgaat? "Ik geloof in mijn kippenvel. Ik ben op jonge leeftijd gebeten door de jazz, en eenmaal in je bloed laat ze je nooit meer los."
Quincy Jones zei ooit: "Geloof me vrij, Toots is een van de grootste muzikanten van onze tijd. Op zijn instrument behoort hij tot het beste dat jazz ooit heeft voortgebracht."
Play that tune
It's no surprise that Toots Thielemans has recorded or appeared on more albums than there are in your average megastore. Diving into the Toots discography isn't easy, but let's try:
Jouez cet air
Il n'est pas surprenant que Toots Thielemans ait enregistré ou apparaisse sur plus d'albums que ce que peut en contenir un mégastore standard. Plonger dans la discographie de Toots n'est pas une chose aisée, mais on peut toujours essayer.
Jazz Masters 59
The perfect introduction to early period Toots. Includes lovely examples of his guitar and harmonica playing and jazz whistling.
Une introduction parfaite à la période des débuts de Toots. Elle reprend de superbes exemples de son jeu à la guitare et à l'harmonica ainsi que ses morceaux de jazz sifflés.
An Evening with… Paul Simon & Friends
A double album recorded live in 1978 which includes some of Paul Simon's best known tunes and even Toots's classic composition Bluesette.
Un double album enregistré en live en 1978 qui inclut quelques-unes des meilleures mélodies de Paul Simon et même la composition classique de Toots Bluesette.
Two Generations
Two of Belgium's greatest players together. Toots recorded with the great guitarist Philip Catherine in 1973.
Deux des plus grands musiciens belges côte à côte. Toots a enregistré avec le sublime guitariste Philip Catherine en 1973.
Bringing It Together
Recorded in 1984 with legendary violinist Stephane Grappelli and the Django-influenced Martin Taylor on guitar.
Enregistré en 1984 avec le violoniste légendaire Stephane Grappelli et Martin Taylor, fidèles aux influences de Django, à la guitare.
The Oscar Peterson Big 6 at Montreux
Recorded on 16 July 1975 at the Montreux Jazz Festival, Switzerland, with Oscar Peterson, Milt Jackson and Joe Pass, among others.
Enregistré le 16 juillet 1975 au Festival de Jazz de Montreux, Suisse, avec Oscar Peterson, Milt Jackson et Joe Pass, parmi d'autres.