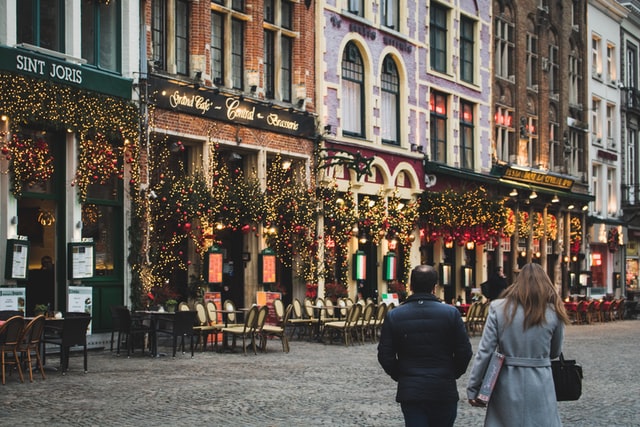 4 festive cities: Brussels, Ghent, Bruges, and Antwerp
If you want to experience a truly magical Christmas, then enjoy the traditional festivities on offer at one of the four Christmas markets held in cities across Belgium
As Christmas approaches, thoughts turn to festive fun: eating, drinking and merrymaking but also to shopping. Fortunately, in Belgium, visitors to the Christmas markets can combine last-minute gift-grabbing with ice rinks, Ferris wheels, nativity scenes and even ice sculptures at cities around the country. The big four: Brussels, Antwerp, Bruges and Ghent, all host festive markets during the season of good will, supplemented by stalls selling tasty snacks and mulled wine.
Clever market-ing
Belgium's largest Christmas market is held in the centre of the capital, Brussels. The spectacular Grand'Place hosts the main market and the festive delights continue along the Bourse (Stock Exchange) to Place Ste. Catherine and the Marché aux Poissons (Fish Market square). The market comprises more than 220 wooden stalls offering an array of food, drink and gifts.
Lined on all four sides with late 17th-century guild houses, the Grand'Place is adorned throughout Advent with a majestic Nordic spruce. French author Victor Hugo called it "the most beautiful square in the world." The cobbled plaza also contains several dozen huge 'snow globes' containing sparkly, ice-flecked festive scenes, while the 15th-century Town Hall is brought to life by a sound and vision show projected on to the walls.
The Grand'Place has a nativity scene with real sheep and donkeys, grazing in an illuminated setting. Fans of nativity scenes should also check out the 'World's Finest Crib Scenes' at Koekelberg Basilica in northern Brussels.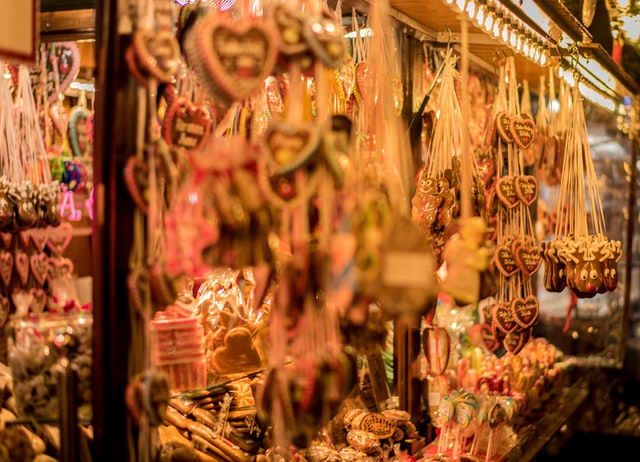 Stalls line the route to Place Ste. Catherine that hosts the guest of honor. This year, it's the Finnish region of Oulu and Lapland. Choose between smoked salmon or reindeer burgers for lunch while you peruse the arts and crafts from the Far North.
Around the Vieux Marché aux Grains, Place Ste. Catherine and the Marché aux Poissons, the crowds keep warm with glasses of mulled wine and croustillons (deep-fried vanilla batter balls), chips with endless varieties of sauce or mayonnaise, waffles and mussels and snails served from steaming cauldrons.
Visitors can watch professional ice-skaters perform on a 60-metre long outdoor ice-rink at the Marché aux Poissons and, emboldened by the glühwein (hot wine), take a turn on the ice between shows. For the first time this year, there is an adjacent smaller rink for children and toddlers. Parents might like to ride the giant 48-metre high Ferris wheel, giving a stunning view of the city lights, while little ones will love the antique merry-go-round with strange Heath Robinson contraptions: biplanes, time machines and fantastical insects.
Shops stay open on Sunday in the last weeks before Christmas, to facilitate those last-minute purchases and surprise presents. Street entertainers and musicians – including Tobrogoi, a Hungarian-African brass band who perform on mopeds – keep crowds amused until late evening.
Winter Wonderland
Antwerp is the hot, hip destination for clubbers from all around Europe, however the city is also known for its ice, and by that we don't just mean diamonds. In December, the main square of Groenplaats is transformed into a magical Christmas market, Visitors can stock up on decorations, sip mulled wine under the Christmas tree and purchase special seasonal produce.
Meanwhile over on Grote Markt, a big ice-skating rink is overlooked by Our Lady's Cathedral. It's an awe-inspiring backdrop and entry onto the rink is free, but there is a charge for skate rental. There are also carol concerts in the evening and the cafés nearby offer the chance to warm up afterwards with a hot cup of coffee or Belgian ale.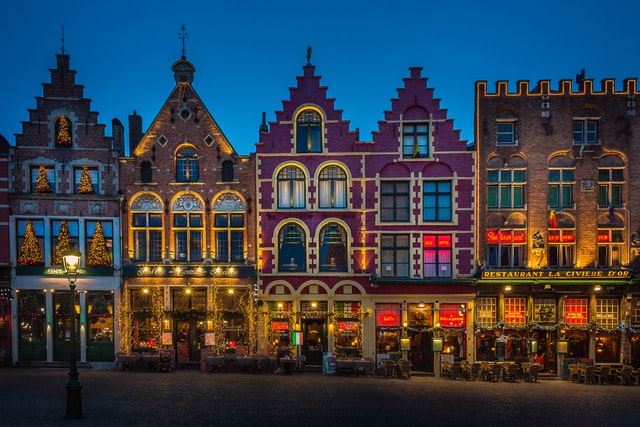 Magical Bruges
Medieval Bruges is one of the most romantic destinations anyway, but it's particularly magical at Christmas, when the canals freeze over and snow decorates the Gothic brick houses, cobbled streets and church spires.
The main Christmas market in this 'Venice of the north' envelopes a huge ice-rink lit by fairy lights on Markt, the main square while a smaller market adorns Simon Stevinplein, a few blocks south of the Markt. Here you'll find plenty of hand-made chocolates on offer at the stalls. You can also find toys, lace, clothes and Christmas decorations at the 30 stalls surrounding a tall Christmas tree. It's so magical, even Scrooge would get into the spirit here, particularly if he tried a warming jenever, the local version of gin.
If that weren't enough snow and ice, artists from all over the world flock to Bruges to create spectacular sculptures using some 400 tons of artificial snow and 300 tons of ice during the Bruges' Ice Palace festival. Meanwhile at the Museum of Folklore in Bruges an evocative exhibition 'Do angels have wings' examines the phenomenon of angels in the past and present.
Flemish Fantasy
Ghent, the historic heart of Flanders, has great shopping, history and café life. During Advent it also has a gorgeous traditionally Flemish Christmas market, with 50 wooden c halet-style huts set against the beautiful backdrop of St Bavo's Cathedral. Visitors can potter among the chalets in search of decorations, candles, cards and gifts serenaded by a choir singing carols and warmed with stoemp, Belgian bubble and squeak, and plenty of locally-brewed beer. Cheers!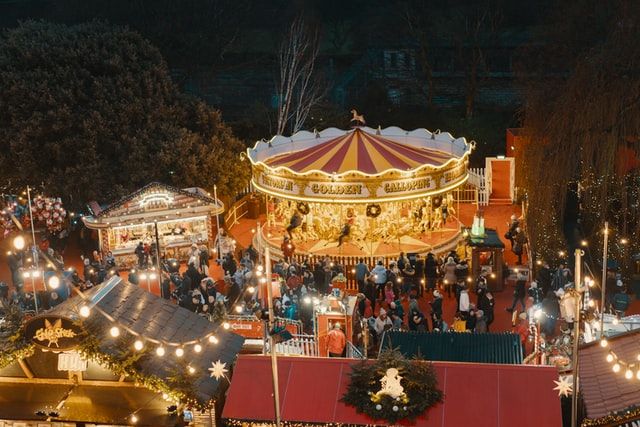 QUATRE VILLES FÉERIQUES
Si vous désirez vivre l'expérience d'un vrai Noël magique, découvrez les festivités traditionnelles des quatre marchés qui se tiennent à travers la Belgique
Al'approche de Noël, les esprits se tournent vers les plaisirs de la fête: la table, les bons vins, les célébrations sans oublier le shopping. Fort heureusement, en Belgique, ceux qui vont sur les marchés de Noël peuvent allier achat de dernière minute et patinage sur glace, grand roue, scènes de nativité et même sculptures de glace dans de nombreuses villes du pays. Les quatre lieux enchanteurs: Bruxelles, Anvers, Bruges et Gand, hôtes des marchés de fête durant toute la saison de l'avent, comprenant aussi des échoppes vendant des en-cas savoureux et du vin chaud.
Une bonne façon de faire son marché
Le plus grand marché de Noël de Belgique se tient au centre de la capitale, à Bruxelles. C'est la spectaculaire Grand-Place qui accueille à la fois le marché et les réjouissances qui s'étendent du quartier de la Bourse (Stock Exchange) jusqu'à la Place Ste. Catherine et le Marché aux Poissons (Place des marchés aux poissons). Ce marché comporte plus de 220 stands de bois, offrant une variété de nourriture, de boissons et de cadeaux. Entièrement bordée de maisons des guildes du 17e siècle, la Grand-Place est parée durant toute la période de l'Avent d'un majestueux sapin venu du Nord. L'écrivain français Victor Hugo la décrivait comme "la plus belle place du monde." La place pavée est aussi recouverte de plusieurs douzaines de grands 'globes de neige' remplis de flocons en mouvement, tandis que l'Hôtel de Ville du 15e siècle est animé par un spectacle son et lumière, avec des projections sur sa façade.
La Grand-Place propose également une crèche grandeur nature, avec de vrais moutons et un âne, broutant dans un décor illuminé. Les fans de crèches ne doivent pas non plus manquer l'exposition des 'Plus belles crèches du Monde' dans la Basilique de Koekelberg, au nord de Bruxelles.
Les échoppes s'alignent le long du chemin vers la Place Ste. Catherine qui accueille le pays invité d'honneur. Cette année, c'est la région finnoise d'Oulu et de Lapland. Pour le lunch, vous avez le choix entre le saumon fumé et le hamburger de renne pendant que vous dénichez des objets d'art et d'artisanat du Grand Nord aux étals. Aux alentours de la Place du Vieux Marché aux Grains, de la Place Ste. Catherine et du Marché aux Poissons, la foule se réchauffe avec des verres de vin épicé et des croustillons (des beignets frits), des frites aux variétés infinies de sauces ou à la mayo, des gaufres et des moules et des escargots servis dans des marmites fumantes.
Les promeneurs peuvent admirer les performances des patineurs professionnels sur la patinoire en plein air de 60m de long du Marché aux Poissons et rassérénés par le glühwein, ils peuvent à leur tour s'élancer sur la glace entre les spectacles. C'est une première cette année, une petite piste supplémentaire a été installée pour les enfants et les tout-petits. Les parents pour leur part aimeront peut-être monter dans la grand roue de 48m de hauteur, pour profiter d'une vue imprenable sur les lumières de la ville. Et les plus petits ne seront pas en reste avec le manège antique composé d'étranges constructions dans le style Jules Verne: des bi-planes, des machines à remonter le temps et de gigantesques insectes.
Les échoppes restent ouvertes les quelques dimanches qui précèdent Noël, pour permettre des achats de dernière minute ou des achats surprises. Des musiciens de rue, dont Tobrogoi, un groupe hongrois mélange de rythmes africano-gitans qui joue sur des cyclomoteurs, créent une animation pour le public jusque tard dans la soirée.
Le merveilleux pays de l'hiver
Anvers est la destination hit, branchée, des noctambules venus de toute l'Europe, toutefois la ville est aussi connue pour sa glace et ce n'est pas une allusion directe à ses diamants. En décembre, la place centrale 'Groenplaats' se transforme en marché de Noël magique, où les visiteurs peuvent stocker des tonnes de décorations, savourer du vin chaud sous le sapin et acheter des produits spéciaux de saison. En même temps sur la Grote Markt, Our Lady's Cathedral surplombe une grande patinoire. Dans ce décor somptueux, l'entrée sur le ring est gratuite, à l'exception de la location des patins. Vos apprécierez aussi les concerts de chants de Noël dans la soirée et aux alentours, les cafés constituent une halte pour se réchauffer, avec une bonne tasse de café ou encore une bière brune made in Belgium.
La Bruges magique
La ville médiévale de Bruges est déjà en soi l'une des destinations les plus romantiques, une magie qui est encore décuplée à la période de Noël, au moment où les canaux sont tapis d'une fine couche de gel et où la neige recouvre les maisons gothiques en briques, les rues pavées et les flèches des églises.
Le principal marché de Noël dans cette 'Venise du nord' encercle une énorme patinoire illuminée par des éclairages féeriques sur le Markt, la place centrale, tandis qu'un plus petit marché se déploie sur la Simon Stevinplein, à quelques pâtés de maisons au sud du Markt. Ici, vous trouverez du chocolat fait maison en abondance, mais aussi des jouets, de la dentelle, des vêtements et des décorations de Noël dans les 30 échoppes réparties autour d'un immense sapin. C'est si magique que même les plus indifférents à ces réjouissances sont emportés par l'esprit de la fête, surtout s'ils goûtent un genièvre, la version locale du gin qui a de quoi réchauffer le cœur.
Et pour couronner le tout, des artistes sculpteurs de neige et de glace affluent du monde entier vers Bruges pour créer des œuvres spectaculaires, nécessitant quelque 400 tonnes de neige artificielle et 300 tonnes de glace à l'occasion du festival Bruges's Ice Palace. On signalera aussi une exposition au titre évocateur au Musée du Folklore à Bruges 'Les anges ont-ils des ailes', qui examine le phénomène des anges dans l'histoire passée et présente.
L'inspiration flamande
Gand, le cœur historique de la Flandre, est une ville agréable pour le shopping, son histoire, la vie des cafés et le marché de Noël, construit dans un somptueux style flamand traditionnel, avec 50 cases en bois dans l'esprit chalet installées devant la Cathédrale St Bavo. Les visiteurs peuvent déambuler à travers ces chalets à la recherche de décorations, de bougies, de cartes et de cadeaux, au son des chants de Noël interprétés par différents chœurs. Et pour se réchauffer, essayez le stoemp, la saucisselégumes-purée version belge. Bon appétit et à votre santé!
Vier feeststeden
In de aanloop naar Kerstmis komen we stilaan in feeststemming en gaat het hele gezin zoals steeds op zoek naar de ideale geschenkjes. Gelukkig kan je in België beide combineren, want Brussel, Antwerpen, Brugge en Gent pakken graag uit met de jaarlijkse kerstmarkten in hun winkelstraten en shoppingcenters.
De grootste kerstmarkt van België vind je in Brussel. Er zijn ontelbare activiteiten: een ijsbaan in openlucht met professionele schaatsers die het publiek warm maken, honderden houten kraampjes met allerhande lekkers en handgemaakte cadeaus, verlichte kerststallen, originele straatartiesten… Iedereen wordt meegesleurd in die gezellige sfeer van feestelijke lichtjes en hartverwarmende aroma's.
Voor wie zin heeft in een meer eigentijdse kerstervaring is trendy Antwerpen 'the place to be'. Grote troef is de immense ijspiste aan de voet van de Onze-Lieve-Vrouwekathedraal. Brugge zorgt dan weer voor een romantisch kerstgevoel. Het Ijspaleis op het Stationsplein brengt er in de eindejaarsperiode een betoverend mooi visueel festijn, gecreëerd door 40 artiesten uit alle hoeken van de wereld. Voor een lekker ouderwets feestgevoel in oud-Vlaamse stijl is er ten slotte Gent, met zijn schilderachtige chaletkraampjes en de Sint-Baafskathedraal als prachtige achtergrond.
Of het nu is om snel nog een laatste geschenkje te vinden of gewoon om de sfeer op te snuiven, de kerstmarkten in België zijn een echte aanrader!
Need to know / Informations utiles
European Christmas Market in Brussels
Grand'Place to Place Ste. Catherine
■ 2 December to 1 January, Monday to Friday 11am–8pm, Saturday and Sunday 11am–10pm; Tickets from €1.75
■ 2 décembre – 1er Janvier Du lundi au vendredi: 11 à 20 h, Samedi et dimanche: 11 à 22 h; Tickets de €1.75

Brussels on Ice
Marché aux Poissons Quai aux Bois à Bruler
■ December to January, 11am–10pm, 25 and 31 December: 2–10pm
Tickets adults: €5 (one hour); children under 12: €3; €1 for every additional 15 mins, includes skate rental.
■ Décembre à janvier Ouvert: 11 à 22h, 25 et 31 décembre: 14 à 22h
Tickets: adultes: €5 (une heure); enfants en-dessous de 12 ans: €3; €1 pour chaque 15 min supplémentaire, location de patins compris.

Antwerp Christmas market
■ 8-26 December, Monday to Thursday: 1-8pm, Friday: 1-10pm, Saturday: 10am–10pm, Sunday: 10am–9pm, Special opening hours: Friday 8 December: 3-10pm, Sunday 24 December: 10am–6pm, Monday 25 December: 1-6pm
■ 8-26 décembre Lundi -jeudi: 13 à 20h, vendredi 13 à 22h Samedi: 10 à 22h, dimanche: 10 à 21h Heures d'ouverture spéciales: Vendredi 8 décembre: 15 à 22h Dimanche 24 décembre:10 à 18h Lundi 25 décembre: 15 à 18h.

Antwerp Snow and Ice Sculptures Festival
■ November to January, Open daily 10am-7pm
Tickets: adults €9; 6-12 years €5; under six years old free
■ Nov à Jan Ouvert tous les jours: 10 – 19h
Tickets: adultes €9; 6-12 ans €5; gratuit en-dessous de six ans

Open-Air Ice Skating in Antwerp
■ All December , Grote Markt, Open: 12– 10pm, 24 and 31 December: 12–6pm. Price: Free (charge for skate rental only)
■Tout le mois de décembre Grote Markt Ouvert: de midi à 22h, 24 et 31 décembre: midi à 18h. Prix: gratuit (location de patins payante)

Bruges Christmas Market
■ All December, Open daily: 11am–7pm
■ Tous le mois de décembre. Ouvert tous les jours: 11à 17h

Bruges Exhibition "Do angels have wings?"
■ 9 December to 25 February Museum of Folklore, Open: Tuesday– Sunday, 9.30am to 5pm. Tickets: €2-3, free for children
■ 9 décembre au 25 févrierMusée du Folklore, Ouvert: mardi–dimanche, 9.30 à 17h Tickets: €2-3, gratuit pour les enfants

Snow & Ice Sculpture Festival Bruges Ice Palace
■ 24 November to 14 January
■Open daily: 10am–7pm Stationsplein (Station Square)
■ 24 novembre au 14 janvier
Ouvert tous les jours: 10 à 19h Stationsplein (Place de la Gare)

Bruges New Year's Eve Carillon
■ 31 December from 10pm
■ 31 décembre à partir de 22h

Ghent Christmas Market
■ 8-23 December, St. Baafsplein Open: Monday to Friday, 1-10pm, Saturday and Sunday, 11am–10pm
■ 8-23 décembreSt. Baafsplein Ouvert: lundi– vendredi, 13 à 22h Samedi et dimanche, 13 à 22h