Builder of Dreams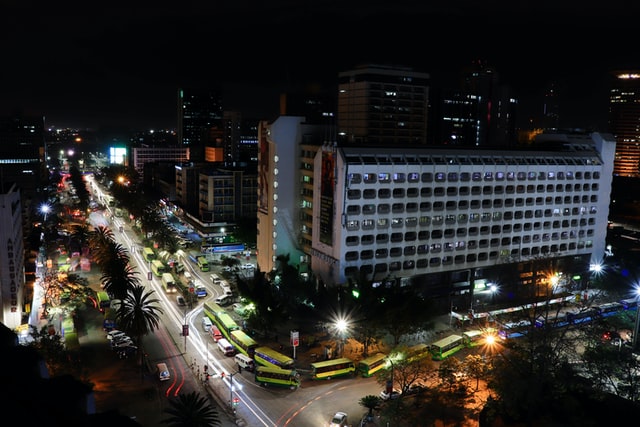 Africa's leading architect, Pierre Goudiaby, known as Atepa, 'the builder', celebrated his 60th birthday in July this year but remains indefatigable in his efforts to ensure a brighter future for his children and all of Africa, as Jenny Cathcart discovers
Born in Baila on the Atlantic seaboard of Southern Senegal, Pierre Goudiaby grew up familiar with two-storey mud dwellings and houses on stilts erected by the Diola people to harvest rice. Today, he is using his skills as a builder of confidence and African unity, linking ancient values with modern technology. Educated in New York's Rensselaer Institute, he might have been an astronaut, for some of his classmates went on to work at NASA, but he remained faithful to the vocation he discovered when a priest at St Joseph's chapel in Medina, Dakar, where he was a choirboy, allowed him to choose the design for new church bell towers.
Inspired by the pioneers of modern architecture – the Swiss-born Charles Edouard Jenneret, known as Le Corbusier, and the Brazilian Oscar Niemeyer, who planned his country's new capital at Brasilia – Goudiaby presented his plan for the ideal African town as his final university thesis.
"I was aware that not all Americans are rich, but that America has become the richest continent in the world because its people lived out their fantasies by building skyscrapers and Disneyland. People there know that if they work hard they can have anything they want and it should be the same for us in Africa," Goudiaby says, perhaps also explaining the source of his own ambition.
Returning to Dakar in 1973, he acknowledged Zairian President Mobutu's post-independence quest for authenticity by adding Atepa, which in the Diola dialect means builder, to his Christian name. In 1975 he was the first African to win a competition for a new BCEAO bank headquarters in Dakar, with a modern design that echoed president Leopold Sedar Senghor's belief in "enracinement et ouverture". Tall and as solid as a baobab tree, rooted yet open to the sky, the building is decorated by Senegalese artists with African signs and patterns. Now, 30 years on, it continues to represent the enduring confidence and stability of West Africa's Central bank.
Having modelled his own head office in Dakar on an Egyptian pyramid, Atepa reached for the stars with innovative designs such as the ECOWAS building in Lomé, Togo, (still his favourite creation), where delegates from 16 countries in the West African Economic and Monetary Union now meet in a conference hall fashioned like a giant upside-down calabash. A fifth-floor bridge linking both halves of the main building symbolises the union of Anglophone and Francophone countries. In The Gambia, Atepa echoed the Corbusian concept of the ideal airport, whose beauty lies in its wide-open spaces, when he conceived the terminal at Banjul as a giant bird in flight. Always looking forward, his plans for a new Dakar skyline include a spectacular 60-storey African tower, red like the African soil, a soaring spire, a pyramidal landmark on the continent's westernmost peninsula, a beacon to match the world's tallest minaret designed by Michel Pinseau for the King Hassan II mosque, further north in Casablanca.
Atepa admires the audacity and ingenuity of post-modern architecture, in particular Jean Nouvel's new Opera House in Lyon, the sensationally luminous Torre Agbar in Barcelona, the Institut du Monde Arabe in Paris, where the garden façade is decorated with light-sensitive metallic diaphragms creating a kaleidoscope of changing patterns from sunrise to sunset, and Norman Foster's iconic 'Gherkin' building at St Mary Axe in London, which has been described as a "sleek and sensational machine for making money".
Like his European counterparts, Atepa collaborates with partners on the other side of the globe, designing a City of Knowledge in India and a theme park in Qatar. But he is keenly aware that in the developing world in which he lives and works, practical considerations are paramount, and so has involved himself in noble business enterprises, linking up with mining interests in Moscow, petroleum suppliers in Singapore, technicians in Dubai and American financiers, in order to support projects in Africa. Some of these include a new conurbation around Senegal's Lac Rose, its mineral pink waters often visible to passengers flying down the coast to Dakar, l`Université du Futur Africain and a cultural park complete with state-of-the-art theatre, a school of architecture and a high-tech cyber village.
Goudiaby clearly believes a great deal in his home continent: "For the most part, Africa is a shocking spectacle of underdevelopment, poverty and dependency, yet our continent, the cradle of civilization, is strategically placed for progress between America, Asia and Europe."
The Atepa group, whose logo portrays a bull thrusting forward, head down, determined to win against any obstacle, is instigating worldwide initiatives rather than waiting for Chinese or Arab, European or American entrepreneurs to exploit African resources and talent for their own gain yet again.
"Forty years after we won our independence from colonial rule we are still sleeping and we need to wake up," Goudiaby explains. "So far, we have allowed our politicians a free rein and we have suffered a huge brain-drain, but I believe that the new Africa will be built by our cadres, educated men and women of integrity and purpose using our natural resources, manpower and skills. Happily the IT revolution has given us our greatest tools for success in the future."
To this end Atepa conceived and launched the Club for Reflection called IDEE, representing Intellectual Development and Excellence in the form of a nominal, virtual government whose members will meet via the internet. IDEE Senegal, IDEE Burkina Faso or IDEE Congo will form clusters linking continental Africans with fellow countrymen and women the world over. Such a forum for debate is set to kindle the innovative ideas that will form not only a cultural but also an industrial hub promoting the regeneration of the entire continent of Africa. http://www.atepa.com/
Bâtisseur de rêves
Le plus grand architecte d'Afrique, Pierre Goudiaby, connu sous le nom d'Atepa, le bâtisseur, a célébré son 60e anniversaire en juillet de cette année, mais lorsqu'il s'agit d'offrir un meilleur avenir à ses enfants et au continent africain, il est infatigable. Un reportage de Jenny Cathcart
Né à Baila, sur la face atlantique du Sud du Sénégal, Pierre Goudiaby a grandi dans des habitations de boue à deux étages, dans des maisons sur pilotis, érigées par les Diola pour pouvoir cultiver le riz. Aujourd'hui, il met ses compétences au service de la construction de l'image et de l'unité africaines, par la confrontation des traditions et de la technologie moderne. Diplômé du Rensselaer Institute à New York, il aurait pu devenir astronaute, comme certains de ses compagnons de classe partis travailler à la NASA. Au lieu de cela, il a décidé de rester fidèle à la vocation découverte alors qu'il était encore un enfant de chœur, à la Chapelle St. Joseph de Medina à Dakar, lorsqu'un prêtre lui a donné carte blanche pour le choix du design de nouvelles cloches pour l'Eglise.
Inspiré par les pionniers de l'architecture moderne – le suisse d'origine Charles Edouard Jenneret, mieux connu sous le nom Le Corbusier, et le brésilien Oscar Niemeyer, qui a entièrement dessiné la nouvelle capitale de Brasilia – Goudiaby a défini sa vision de la ville africaine idéale dans sa thèse universitaire.
"J'étais bien conscient que tous les Américains n'étaient pas riches, mais que si l'Amérique est devenu le continent le plus riche du monde, c'est parce que sa population est parvenue à projeter ses désirs extravagants dans des gratte-ciel ou Disneyland. Les Américains savent que s'ils travaillent dur, ils pourront obtenir tout ce qu'ils veulent, cela devrait être la même chose pour nous en Afrique," raconte Goudiaby, expliquant aussi par ce raisonnement le démarrage de sa propre ambition.
De retour à Dakar en 1973, il marque son soutien à la quête d'authenticité initiée par le président zaïrois Mobutu dans la période qui suit l'indépendance, en ajoutant 'Atepa' à son nom, qui en dialecte Diola signifie bâtisseur. En 1975 il est le premier Africain à remporter un concours pour le nouveau quartier général de la Banque Centrale des pays d'Afrique de l'Ouest (BCEAO) à Dakar, avec un projet moderne, faisant écho aux principes du président Léopold Sedar Senghor dans l' "enracinement et l'ouverture". Cet imposant bâtiment aussi solide qu'un baobab, bien enraciné mais s'élevant vers le ciel, a été décoré par des artistes sénégalais avec des motifs et des symboles africains. Après 30 années, il continue à représenter la confiance durable et la stabilité de la Banque centrale d'Afrique de l'Ouest.
Après avoir conçu son propre bureau à Dakar sur le modèle d'une pyramide égyptienne, Pierre Goudiaby Atepa a porté son sens de l'innovation un pas plus loin dans le bâtiment d'ECOWAS à Lomé, au Togo, (encore aujourd'hui son bâtiment préféré), où les délégués des 16 pays de la Communauté Economique et Monétaire d'Afrique de l'Ouest se rencontrent dans un hall de conférence aux allures de calebasse géante inversée. Un pont au cinquième étage reliant les deux parties du bâtiment central, symbolise l'Union des pays anglophones et francophones.
En Gambie, Atepa a traduit le concept lecorbusien de l'aéroport idéal, dont la beauté repose sur ses larges ouvertures, dans la conception du terminal de Banjul à l'image d'un oiseau géant en vol. Le regard constamment tourné vers le futur, ses plans pour un nouveau tracé urbain à Dakar comprennent une tour spectaculaire de 60 étages, rouge comme la terre africaine, sorte de flèche tendue, point de repère pyramidal sur la péninsule la plus occidentale du continent, un phare en réponse au plus haut minaret du monde, dessiné par Michel Pinseau pour la mosquée du Roi Hassan II, en remontant vers le nord, à Casablanca.
Atepa admire l'audace et l'ingéniosité de l'architecture post-moderne, qui se manifestent entre autres dans le nouvel Opéra de Jean Nouvel à Lyon, l'étincelante Torre Agbar à Barcelona, l'Institut du Monde Arabe à Paris, où la façade côté jardin est composée de 240 moucharabiehs métalliques, animés comme des diaphragmes s'ouvrant et se fermant au fil de la journée et de l'ensoleillement, sans oublier le bâtiment "Gherkin" de Norman Foster à St. Mary Axe à Londres, décrit comme "une machine brillante et sensationnelle pour faire de l'argent".
Tout comme ses homologues européens, Atepa collabore avec des partenaires de tous les coins du globe, concevant une Cité de la Connaissance en Inde ou un parc à thèmes au Qatar. Parfaitement conscient de l'importance des considérations pratiques du monde développé dans lequel il vit et travaille, cet architecte s'est impliqué dans de nobles entreprises commerciales, visant à sensibiliser des intérêts miniers à Moscou, des distributeurs de pétrole à Singapour, des techniciens à Dubaï et des financiers américains, afin de soutenir des initiatives en Afrique. On citera parmi celles-ci, un nouvel ensemble urbain autour du Lac Rose au Sénégal, avec ses eaux roses minérales visibles lorsque l'on atterrit le long de la côte de Dakar, l'Université du Futur africain et un parc culturel équipé d'un théâtre ultra-moderne, d'une école d'architecture et d'un cyber village.
Goudiaby croit fermement aux perspectives de son continent d'origine: "De façon générale, l'Afrique présente le spectacle choquant du sous-développement, de la pauvreté et de la dépendance, et pourtant, notre territoire, le berceau de la civilisation, est dans une position stratégique pour le développement des relations entre l'Amérique, l'Asie et l'Europe."
Le groupe Atepa, au logo en forme de taureau fonçant tête baissée, déterminé à renverser les obstacles, encourage les initiatives à l'échelle mondiale plutôt que d'attendre que des entrepreneurs chinois ou arabes, européens ou américains n'exploitent à nouveau les ressources et les talents africains.
"Quarante ans après la conquête de notre indépendance du joug colonial, nous sommes toujours en train de dormir et nous avons grand besoin de nous réveiller," confie Goudiaby. "Jusqu'à présent, nous avons accordé la totale liberté de règne à nos politiciens, et nous avons souffert d'un important exode de notre matière grise, mais je reste persuadé que la nouvelle Afrique sera le fruit de la création de nos 'cadres', d'hommes et de femmes intègres, éduqués et dont les objectifs se concentreront sur la bonne gestion de nos ressources naturelles, de notre force de travail et de nos compétences. Déjà, la révolution IT nous a donné de bons atouts pour nos succès futurs."
Dans cette optique, Atepa a fondé le Club de Réflexion IDEE, Intellectual Development and Excellence, sous la forme d'un gouvernement nominal, virtuel, dont les membres se rencontrent via l'internet. IDEE Sénégal, IDEE Burkina Faso ou IDEE Congo constitueront des noyaux reliant les Africains continentaux à leurs concitoyens du monde. Ce forum de débats a pour but de stimuler les idées innovantes, en vue de constituer une plateforme de réflexion non seulement culturelle mais également industrielle pour la régénération de l'ensemble du continent.
Bouwen aan dromen
De in het Senegalese Biala geboren Pierre Goudiaby groeide op tussen lemen huizen en paalwoningen. Vandaag gebruikt hij zijn talent om te bouwen aan vertrouwen en eendracht in Afrika. Daarbij combineert hij traditionele waarden met moderne technologie.
Goudiaby studeerde in New York aan het Rensselaer Institute, met als eindverhandeling zijn plan voor de ideale Afrikaanse stad.
Toen hij in 1973 naar Dakar terugkeerde, voegde hij Atepa, wat bouwer betekent, toe aan zijn naam. In 1975 won hij als eerste Afrikaan een architectuurwedstrijd voor een nieuwe hoofdzetel van de BCEAO-bank in Dakar.
Vanuit zijn eigen kantoorgebouw in Dakar, dat de vorm heeft van een Egyptische piramide, rees de ster van Atepa, met ontwerpen als het ECOWAS-gebouw in de Togolese hoofdstad Lomé, waarvan de congreszaal op een omgekeerde kalebas lijkt. Voor de nieuwe skyline van Dakar voorziet hij een spectaculaire Afrikaanse wolkenkrabber van 60 verdiepingen. Dat baken moet wedijveren met 's werelds hoogste minaret van de Koning Hassan II-moskee in Casablanca.
Atepa weet dat in ontwikkelingslanden praktische overwegingen doorslaggevend zijn. Daarom steunt hij projecten in heel Afrika, zoals een nieuwe woonwijk rond Lac Rose in Senegal, l'Université du Futur Africain en een cultuurpark.
Goudiaby creëerde de denktank IDEE (Intellectual Development and Excellence), een virtuele regering waarvan de leden enkel via het internet communiceren. Zo'n discussieforum genereert innovatieve ideeën, die behalve een culturele, ook een industriële draaischijf vormen en de heropstanding van het hele continent promoten.