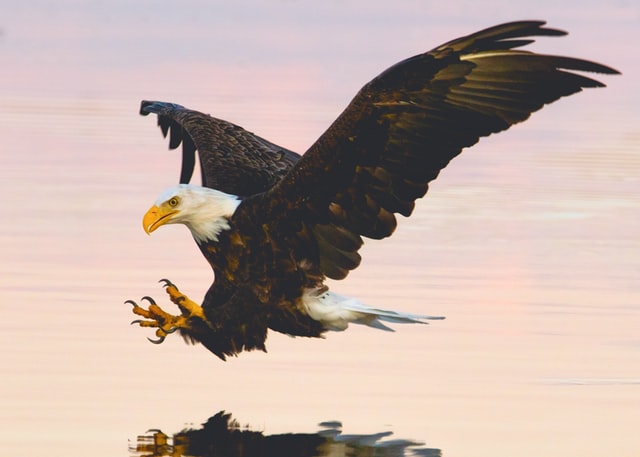 FOOD ON THE FLY
Sometimes it's more than a question of a knife and fork! This African fish eagle (Haliaeetus vocifer) is in mid-stoop with outstretched talons, about to catch its prey. With breathtaking precision and speed, the eagle will often snatch fish of comparable size to itself from the water. It inhabits areas all over Africa near freshwater lakes and rivers, feeding on fish, flamingos and other birds.
MANGER EN VOL
C'est parfois plus qu'une question de couteau et de fourchette! Cet aigle pêcheur (Pygargue vocifère) a stoppé son mouvement, les serres étirées, prêt à fondre sur sa proie. Avec une précision et une rapidité à couper le souffle, l'aigle capture souvent des poissons d'une taille comparable à la sienne. Il vit dans toute l'Afrique, près des grands cours d'eau, des lacs et des rivières, se nourrissant de poissons, de flamants et autres espèces d'oiseaux.
ETEN IN VOGELVLUCHT
Soms vergt het meer dan mes en vork. Deze Afrikaanse visarend (Haliaeetus vocifer) stort zich in duikvlucht met uitgestrekte poten naar beneden. Klaar om zijn prooi te grijpen. Met verbluffende precisie en snelheid schept deze arend vissen uit het water die vaak even groot zijn als hijzelf. Je ziet hem overal in Afrika in de nabijheid van rivieren en meren. Zijn menu bestaat uit vis, flamingo's en andere vogels.