What to See: Our Video Picks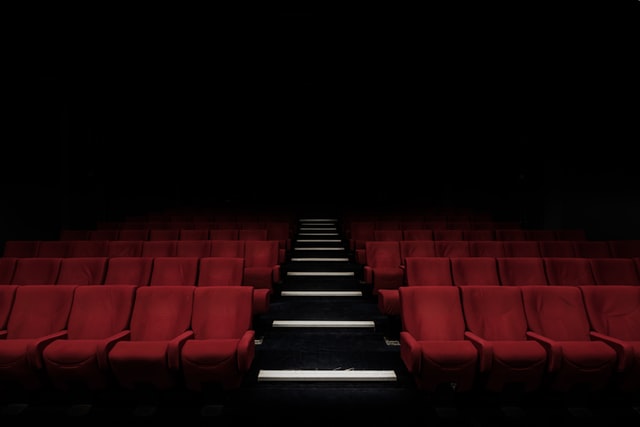 The Ruins
Thriller 90 mins
Cert R
Director Carter Smith
Cast Jonathan Tucker, Laura Ramsey, Jena Malone
Based on the terrifying bestseller by Scott Smith. A group of American friends must struggle for survival after visiting a remote archaeological dig in the Mexican jungle, where they discover something deadly living among the ruins.
Basé sur le best-seller terrifiant de Scott Smith: un groupe d'amis américains doit se battre pour sa survie après la visite d'un site archéologique des temps anciens, enfoui dans la jungle du Mexique, lorsqu'ils découvrent une créature mortelle au milieu des ruines.
The Chronicles Of Narnia: Prince Caspian
Action/Adventure 144 mins
Cert PG
Director Andrew Adamson
Cast William Moseley, Georgie Henley, Anna Popplewell
CS Lewis's timeless fantasy series continues as the Pevensie siblings are again magically transported to Narnia. Their mission: to help rightful heir Prince Caspian reclaim Narnia from evil King Miraz.
La série des histoires fantastiques et intemporelles de CS Lewis continue. Les quatre enfants Pevensie sont à nouveau transportés par magie dans le Royaume de Narnia. Leur mission: aider le jeune héritier Prince Caspian à reprendre le trône de Narnia des griffes du Roi Miraz.
Definitely, Maybe
Comedy 112 mins
Cert PG-13
Director Adam Brooks
Cast Ryan Reynolds, Isla Fisher, Abigail Breslin
Will Hayes is a 30-something Manhattan dad in the midst of a divorce when his 10-year-old daughter, Maya, starts questioning him about his life before marriage. Maya wants to know absolutely everything about how her parents met and fell in love.
Will Hayes est un jeune père new-yorkais d'une trentaine d'années, en plein divorce, lorsque sa fille de 10 ans, Maya, le questionne sur sa vie avant qu'il ne soit marié. Elle veut savoir somment ses parents se sont rencontrés et comment ils sont tombés amoureux.
21
Drama 118 mins
Cert PG-13
Director Robert Luketic
Cast Jim Sturgess, Kevin Spacey, Laurence Fishburne
The true story of six MIT students schooled in the art of counting cards. When Ben Campbell is recruited by his maths professor to join an elite group of hustlers, he heads to Las Vegas to beat the casinos…
L'histoire vraie de six étudiants doués du prestigieux M.I.T., doués aussi pour compter les cartes qui leur permettent de rafler de grosses mises au blackjack. Lorsque Ben Campbell est recruté par son professeur de maths pour se joindre au groupe des mathématiciens de génie, il se rend à Las Vegas pour faire le tour des casinos…
Be Kind Rewind
Comedy 100 mins
Cert PG-13
Director Michel Gondry
Cast Jack Black, Danny Glover, Mia Farrow
When lovable loser Jerry inadvertently erases all the tapes in his best friend's video rental store, he devises a cunning plan to satisfy the store's few remaining customers by recreating and refilming every movie they decide to rent.
Lorsque l'adorable Jerry, un peu loser, efface par inadvertance toutes les cassettes du vidéoclub de son meilleur ami, il met au point un plan pour satisfaire la demande des quelques plus fidèles clients en réalisant des remakes des films effacés.
The Other Boleyn Girl
Drama 122 mins
Cert PG-13
Director Justin Chadwick
Cast Natalie Portman, Scarlett Johansson, Eric Bana
Two sisters, Anne and Mary Boleyn, compete for the love of the passionate Henry VIII. While both women eventually share the king's bed, only one will ascend to the throne for a turbulent reign that ends tragically with a swing of the executioner's sword.
Deux soeurs, Anne et Mary Boleyn rivalisent pour l'amour du Roi passionné Henry VIII. Tandis que les deux femmes finissent par partager la couche royale, seule une d'entre elles accédera au trône pour entrer dans un règne tumultueux qui se terminera tragiquement sous l'épée du bourreau.
Shine A Light
Documentary/Music 121 mins
Cert PG-13
Director Martin Scorsese
Cast The Rolling Stones, Christina Aguilera and other guest performers
Following his Best Director Oscar for The Departed, Martin Scorsese turns his talents to the Rolling Stones. Shot in New York in 2006, Shine A Light features the legendary rockers as well as guest stars performing at the historic Beacon Theatre.
Tout juste après sa victoire aux Oscars pour le Meilleur Film, Martin Scorsese a réalisé son rêve de toujours : filmer les Rolling Stones. Tourné à New York en 2006, Shine A Light capte les stars en concert dans l'historique Beacon Theatre.
Penelope
Comedy Drama 103 mins
Cert PG-13
Director Mark Palansky
Cast Christina Ricci, James McAvoy, Reese Witherspoon
Penelope hides away, afflicted by a curse that can only be broken by true love. She is wooed by a string of suitors, until they discover her secret. But when drifter Max poses as a suitor, he unexpectedly falls for her…
Pénélope vit recluse, touchée par un sort qui peut seulement être brisé par un amour vrai. Une série de prétendants font la cour à Pénélope – jusqu'à ce qu'ils découvrent son secret ! Lorsque Max, jeune homme à la dérive, pose sa candidature comme prétendant potentiel, l'imposteur tombe inopinément amoureux de Pénélope…
The Spiderwick Chronicles
Family 97 mins
Cert PG
Director Mark Waters
Cast Freddie Highmore, Mary-Louise Parker, Nick Nolte
Peculiar things start to happen the moment the Grace family leave New York and move into the secluded old house owned by their great-great-uncle, Arthur Spiderwick. A fantasy adventure from the beloved bestselling series of books.
Des choses étranges surviennent lorsque la famille Grace quitte New York pour emménager dans l'ancienne demeure retirée de leur super grand-oncle, Arthur Spiderwick. Une aventure fantastique d'après la série des best-sellers.
Stay
Thriller 98 mins
Cert R
Director Marc Foster
Cast Ewan McGregor, Naomi Watts, Ryan Gosling
When distraught art student Henry Letham makes bizarre predictions to his therapist Sam and they start to come true, Sam races to save everything he loves before it disappears, in this reality-bending thriller.
Un thriller de type cinéma réalité : lorsque Henry Letham, étudiant en art, dépressif, fait des prédictions étranges à son psychiatre Sam – et que ces dernières se réalisent – Sam entreprend une course contre le temps pour sauver tout ce qu'il chérit le plus avant qu'il ne soit trop tard.
The Good German
Drama/Thriller 108 mins
Cert R
Director Steven Soderbergh
Cast George Clooney, Cate Blanchett, Tobey Maguire
In the ruins of post-World War II Berlin, US army correspondent Jake Geismar becomes entangled with former lover Lena Brandt, who's desperately trying to escape the city. Jake is intent on uncovering her secret.
Dans les ruines de l'après guerre mondiale à Berlin: le correspondant de guerre américain Jake Geismar se retrouve impliqué dans une affaire avec Lena Brandt, avec laquelle il a eu une liaison dans le passé. Cette dernière tente désespérément de fuir Berlin. Jake a l'intention de découvrir son secret.
The Banger Sisters
Comedy 94 mins
Cert R
Director Bob Dolman
Cast Goldie Hawn, Susan Sarandon, Geoffrey Rush
Lavinia and Suzette were once rock groupies and bosom buddies. Twenty years later, Suzette is still living her rock'n'roll dream, while Lavinia leads the sedate life of a wife and mother – until they reunite.
Autrefois, Lavinia et Suzette étaient les plus ardentes des groupies prêtes à tomber toutes les idoles de leur époque. 20 ans se sont écoulés, Suzette est toujours plongée dans son rêve de rock 'n' roll, tandis que Lavinia mène la vie rangée d'une épouse et mère de famille – jusqu'à ce qu'elles se retrouvent!
Woman On Top
Comedy/Romance 85 mins
Cert R
Director Fina Torres
Cast Penélope Cruz, Murilo Benício, Anne Ramsay
In a restaurant in Brazil, Isabella bewitches the guests with her delectable dishes while her macho husband Toninho woos the diners. But when he is unfaithful, Isabella goes to San Francisco, where her beauty and red-hot recipes land her a TV show.
Dans un restaurant au Brésil, Isabella fait fondre le cœur des convives avec ses plats délectables. Mais lorsque son mari Toninho est infidèle, Isabella part pour San Francisco, où grâce à sa beauté et à ses recettes torrides, elle obtient un show télévisé.
Sideways
Comedy/Drama 124 mins
Cert R
Director Alexander Payne
Cast Paul Giamatti, Thomas Haden Church, Virginia Madsen
Lifelong friends Miles and Jack tour California's lush wine country on the eve of Jack's wedding. Bookish Miles admonishes Jack for his boorish womanising, until Miles falls for waitress Maya.
Miles et Jack, des amis de longue date, décident de faire la route des vins, alors que Jack est sur le point de se marier. L'écrivain Miles fait des remontrances à Jack pour son côté détestable de coureur de jupons – jusqu'à ce que Miles tombe amoureux de Maya, une sommelière…
Superman Returns
Action 147 mins
Cert PG-13
Director Bryan Singer
Cast Brandon Routh, Kate Bosworth, Kevin Spacey
Superman has been raised by adoptive parents on the Kent farm in Kansas. But he must live a dual life: as mild Clark Kent and the formidable Man of Steel. Since Superman's disappearance five years ago, crime has risen in Metropolis…
Superman a été élevé par des parents adoptifs dans une ferme du Kent à Kansas. Mais il doit mener une double vie: celle du doux Clark Kent; et celle du formidable homme d'acier! Depuis la disparition de Superman cinq ans auparavant, le crime s'est intensfié dans la ville de Metropolis…
Divine Secrets Of The Ya-Ya Sisterhood
Comedy/Drama 115 mins
Cert PG-13
Director Callie Khouri
Cast Sandra Bullock, Ellen Burstyn, James Garner
When a journalist portrays Vivi, the mother of acclaimed playwright Sidda Walker, much harsher than Sidda intended, the article leads to a bitter feud. Vivi's three friends decide to stage an unusual intervention.
Lorsqu'une journaliste se laisse aller à critiquer Vivi, la mère de la brillante dramaturge Sidda Walker, dans un article aux propos plus durs que Sidda ne l'aurait imaginé, la situation tourne au drame entre mère et fille. Les trois amies intimes de jeunesse de Vivi, décident de prendre les choses en mains…
National Treasure
Action/Adventure 122 mins
Cert PG
Director Jon Turteltaub
Cast Nicolas Cage, Harvey Keitel, Diane Kruger
Adventurer-historian Benjamin Franklin Gates, whose family was entrusted with the protection of a fabled ancient treasure by America's founding fathers, must decipher occult riddles in a race against a mercenary temple looter.
L'aventurier-historien Benjamin Franklin Gates, dont la famille protège depuis des générations un trésor mythique, une tâche confiée par les Pères Fondateurs de l'Amérique, doit déchiffrer des indices occultes dans une course contre un mercenaire, pilleur de temple.
Duma
Drama/Adventure 99 mins
Cert PG
Director Carroll Ballard
Cast Alexander Michaeletos, Eamonn Walker, Campbell Scott
Xan, a young South African boy, takes in an orphaned cheetah cub. To save Duma from captivity, Xan embarks on a cross-country trek through the Okavango Delta and into the mountains. Rhapsodic beauty in a bold African adventure!
Xan, un garçon sud-africain, apprivoise un jeune guépard qu'il recueille dans un orphelinat. Pour sauver "Duma" de la captivité, Xan part dans une randonnée à travers le Delta d'Okavango et traverse des montagnes. Une rhapsodie à la beauté dans cette grande aventure africaine!
Dr Seuss' Horton Hears A Who!
Family/Animation 86 mins
Cert G
Directors Jimmy Hayward, Steve Martino
Voices Jim Carrey, Steve Carell, Shelby Adamowsky
When the elephant Horton discovers an entire race of microscopic Whos on a speck of dust, he vows to protect them. But his jungle neighbours assume he's mad and conspire to destroy the speck. Moving fun starring the voice of Jim Carrey.
Un jour, l'éléphant Horton découvre une ville entière de microscopiques 'Zous' dans un grain de poussière et il promet de les protéger. Mais ses voisins dans la jungle pensent qu'il est fou et conspirent pour détruire le grain de poussière ! On rit énormément !
Flawless
Crime/Drama 100 mins
Cert PG-13
Director Michael Radford
Cast Demi Moore, Michael Caine, Lambert Wilson
In 1960s England, London Diamond Corporation executive Laura Quinn grows bitter as less-qualified men are promoted above her, and joins a janitor in an ingenious plan to steal a hefty sum of diamonds.
Dans les années 1960 à Londres, Laura Quinn, cadre dans la Diamond Corporation, devient de plus en plus amère lorsque des hommes moins qualifiés reçoivent de l'avancement à sa place. Avec un gardien plus âgé, elle échafaude un plan ingénieux pour voler une somme importante en diamants.
27 Dresses
Comedy 110 mins
Cert PG-13
Director Anne Fletcher
Cast Katherine Heigl, James Marsden, Edward Burns
Jane is idealistic, romantic and completely selfless – a perennial bridesmaid whose own happy ending is nowhere in sight. But when younger sister Tess captures the heart of Jane's boss, she re-examines her 'always-a-bridesmaid' lifestyle.
Jane idéaliste, romantique a toujours été plus douée pour prendre soin du bonheur des autres que du sien – permanente demoiselle d'honneur, elle ne voit pas son propre mariage à l'horizon. Mais lorsque la petite sœur Tess ravit le cœur du patron de Jane, cette dernière revoit son style de vie.