Fare treatment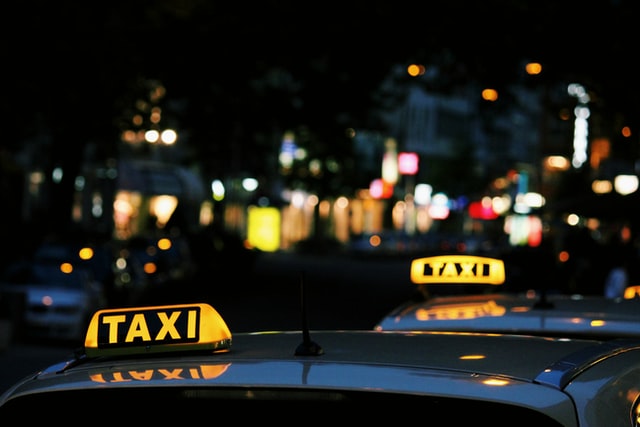 Despite disapproving looks and barely concealed jealousy, Senegal's new all-female taxi company is driving the competition, as Rose Skelton discovers
ELdging along the congested main road that leads in and out of Senegal's seaside capital, Dakar, a young woman in a bright headscarf leans out of a taxi window. "Taxi Sister, mo ko yor!" she shouts in Wolof, and then laughs before sitting back down inside the battered yellow taxi.
"That woman is saying: 'Taxi Sister, you are the best'," says Alimata Samba, a female taxi driver, one of 10 women chosen for the Taxi Sister scheme launched last year by the Senegalese government. As Samba carefully manoeuvres her brand-new car through the traffi c, the blue-and-yellow buses known optimistically as Car Rapides – or Fast Buses – rattle alongside her, around pot-holes and beggars, as they pick up and put down their customers. Women in bright outfi ts criss-cross the road with trays of peanuts for sale, and young boys fl ash mobile phone top-up cards at prospective clients.
Dakar is one of the largest and most developed cities in West Africa; a hot, windy city perched on an Atlantic peninsula, where a quarter of the country's population live in tight proximity. The country's president has spent the past two years investing billions of West African francs in new roads, bridges and bypasses for the capital, the fi rst project of its kind in a country that's ranked among the poorest in the world and where much of the population lives without electricity.
When glancing across the impressive new roads, the city's taxis are rather incongruous. Famous for their state of total disrepair, they're often mistaken for car wrecks. On climbing into one of these haphazard creations and fi nding there's no handle with which to wind down the window, or that the rear window consists entirely of brown packing tape, one is often left wondering how the car is able to move at all.
Samba, whose new yellow car comes complete with air conditioning and seat belts, says there was a real need for female taxi drivers, and their cautious ways, in the city. "It's very rare to see a woman who hasn't respected the rules of the road," she says, pointing out that you don't often see women in traffi c accidents. "Some people say women drivers are more careful."
When yet another woman – a passenger sitting in a taxi driven by a man – calls out the window to encourage her, Samba laughs gently. "Women who work always encourage other women who work – she is congratulating me," she says. "It's not diffi cult to get a job here if you're a woman, but in general women are at home. They don't work."
Senegal is a modern liberal state in which 94% of its 12 million population are Muslim. Until recently, however, women have had little chance to make their mark on politics or the formal business sector, instead occupying the traditional position as home-maker or working in the informal sector.
However, following the election of the present government last year – which is trying to make itself a friend to both the Middle East and the West – more than one-third of the country's 100 senators are women. Women are seen in increasing numbers in positions of high authority and at the head of big businesses. And now, thanks to a government initiative to both encourage women into the workforce and update the city's private transportation, women are entering the taxi-driving force, too.
Hundreds of women applied to the Taxi Sister scheme, run in conjunction with a Dakar car dealership. Only 10 were chosen for the pilot scheme, who were then put through driving school and self-defence classes. The women bought their cars on credit and must pay back around CFA 160,000 (€245) a month. After fi ve years, the cars will be theirs, but Samba admits the repayments are hard. "Out of the CFA 20,000 I earn every day, I put 7,000 in for petrol and 7,000 in for repayments," she says. That leaves just CFA 6,000 (€9) to support her family. "I don't have children or a husband, but I have to support my family with the money," she says, smiling.
"My father is proud of me. Any kind of work is good; there's no work which is beneath another."
Outside the glittering Hotel Sofi tel in the city centre, Samba and a colleague have been given two parking spaces where they can wait for customers. Just beyond the hotel, a line of battered old taxis – the male kind – sit waiting for clients.
"The Taxi Sister scheme is very good, but they should position themselves with all the other taxis, over here next to us. It isn't fair," says Cheikh Mbaye, one Dakar's veteran taxi drivers. "This work is hard for the Taxi Sisters," says another driver, Mokhtar. "Work is good for both men and women, for everyone, but men and women aren't the same. Men are tougher than women."
Samba says she experiences problems with her male counterparts on a regular basis. Although some people agree with the scheme, some are steadfastly opposed to it. "Before, only men were taxi drivers. Now women have taken the initiative, they're unhappy about it," she says. "People have backward mentalities. They think women should stay at home. I want to have money, and I don't want to have to ask anyone else for it."
The scheme plans to branch out with Taxi Blue – estate cars for men run on the same system – and Taxi Sister is also expanding.
"We're in the process of announcing another 30 Taxi Sister vehicles, so you never know – if the project works well, we could have a thousand!" says a female spokesperson for the car dealership that provided the cars. "The taxi men are really very jealous of them. But I always say to the girls: 'You must fight back. You have to fight for your space'."
Le long de l'unique route centrale, congestionnée, qui mène lentement à Dakar, la capitale du Sénégal en bordure de mer, une jeune femme qui porte un foulard aux couleurs vives se penche hors de la fenêtre d'un taxi. "Taxi Sister, mo ko yor !", crie-t-elle dans sa langue, le Wolof, et elle rit avant de se renfoncer dans son siège, à l'intérieur d'un taxi jaune complètement bosselé.
"Cette femme dit : 'Taxi Sister, vous êtes les meilleures'," explique Alimata Samba, conductrice de taxi, l'une des 10 femmes choisies dans le cadre du projet Taxi Sister, lancé l'année dernière par le gouvernement sénégalais. Tandis que Samba manœuvre consciencieusement sa toute nouvelle voiture au milieu du trafi c, les bus bleus et jaunes connus comme des Car rapides – une vision optimiste – roulent à côté d'elle dans un bruit de ferraille, évitant les nids de poule et les mendiants, qui hèlent et accrochent les clients. Des femmes enrubannées dans des tissus bariolés, traversent la route en zigzagant avec des plateaux de cacahuètes sur la tête et de jeunes garçons agitent des cartes de téléphones mobiles sous le nez d'acheteurs potentiels.
Dakar est l'une des villes les plus grandes et les plus développées d'Afrique occidentale ; une ville chaude, une ville venteuse, péninsule perchée au-dessus de l'océan Atlantique, où un quart de la population du pays vit dans une forte promiscuité. Le président a passé les deux dernières années à investir des milliards de francs ouest africains dans de nouvelles routes, des ponts et des routes de contournement pour la capitale, le premier projet de ce genre dans un pays qui se classe parmi les plus pauvres du monde et où une grande partie de la population vit sans électricité.
Lorsque l'on regarde ces nouvelles routes impressionnantes, les taxis de la ville paraissent quelque peu incongrus. Réputés pour leur état de délabrement total, on les confond souvent avec des épaves. A bord de ces créations qui tiennent au petit bonheur, les poignées d'ouverture des vitres ont disparu, par exemple, ou la vitre arrière est constituée entièrement d'autocollant brun…On se demande souvent comment la voiture parvient à fonctionner, purement et simplement.
Samba, dont la nouvelle voiture jaune est super équipée avec air conditionné et ceintures de sécurité, confi e qu'il existe un réel besoin de conductrices de taxis dans la ville, pour leur façon prudente de tenir le volant.
"Il est très rare de voir des femmes qui ne respectent pas le code de la route", dit-elle, soulignant que l'on ne voit pas beaucoup de femmes impliquées dans des accidents. "Certaines personnes disent que les femmes conductrices sont plus prudentes".
Lorsqu'une autre femme, une passagère dans un taxi conduit par un homme, lui lance des cris d'encouragement par la fenêtre, Samba sourit. "Les femmes qui travaillent encouragent toujours les autres femmes au travail ; elle me félicite", poursuit-elle. "Il n'est pas diffi cile d'avoir un travail ici en tant que femme, mais en général les femmes restent à la maison, elles ne travaillent pas."
Le Sénégal est un état moderne libéral dans lequel 94% de la population est musulmane. Jusqu'à récemment toutefois, les femmes avaient peu de chances de réussir dans la politique ou dans le secteur plus formel des affaires, restant plutôt cantonnées dans le rôle traditionnel de ménagères ou travaillant dans des secteurs non offi ciels.
Après les élections présidentielles de l'année dernière – avec un gouvernement soucieux de nouer des relations amicales avec à la fois le Moyen orient et l'Occident – plus d'un tiers des 100 postes de sénateurs du pays est occupé par des femmes. On voit des femmes dans un nombre croissant de postes à responsabilités et à la tête de grosses entreprises. Aujourd'hui, grâce à une initiative du gouvernement qui vise en même temps à encourager les femmes à rentrer dans le monde du travail et à rénover les transports privés de la ville, les femmes choisissent aussi des emplois dans les sociétés de taxis.
Des centaines de femmes se sont inscrites au projet Taxi Sister, lancé en partenariat avec un vendeur de voitures de Dakar. Seules 10 femmes ont été sélectionnées dans le projet-pilote, ces dernières ont dû suivre des cours de conduite et de self-defense. Les sœurs ont acheté leurs voitures à crédit et elles doivent rembourser environ 160 000 CFA ($375) par mois. Après cinq ans, les voitures leur appartiendront, mais Samba admet que les remboursements sont lourds. "Des 20 000 CFA que je gagne quotidiennement, j'en utilise 7 000 pour l'essence et 7 000 pour les remboursements", précise-t-elle. Cela lui laisse seulement 6 000 CFA ($14) pour soutenir sa famille.
"Je n'ai pas d'enfants ni de mari, mais je dois quand même aider ma famille fi nancièrement", explique la jeune femme, souriante. "Mon père est fi er de moi. N'importe quel type de travail est bon ; aucun travail n'est moins bon qu'un autre".
A l'extérieur de l'hôtel clinquant Sofi tel, dans le centre ville, Samba et une collègue ont reçu deux emplacements où elles peuvent attendre les clients. Un peu plus loin que l'hôtel, une rangée de vieux taxis déglingués – les modèles masculins – attendent aussi les clients.
"Le projet Taxi Sister est très bien", s'exclame Cheikh Mbaye, l'un des conducteurs de taxi vétérans de Dakar. "C'est un travail dur pour les sisters", réplique un autre conducteur, Mokhtar. "Le travail convient à la fois aux hommes et aux femmes, mais les hommes et les femmes ne sont pas semblables. Les hommes sont plus forts".
Samba explique qu'elle rencontre régulièrement des problèmes avec ses homologues masculins. Bien que certaines personnes soient d'accord avec le projet, d'autres par contre désapprouvent complètement. "Auparavant, seuls les hommes étaient chauffeurs de taxi. Aujourd'hui les femmes ont pris l'initiative et ils sont mécontents", elle continue, "les gens ont des mentalités rétrogrades. Ils pensent que les femmes devraient rester à la maison et s'occuper de la cuisine. Je veux gagner de l'argent et je ne veux en demander à personne".
Le projet prévoit de se développer avec Taxi Blue – des voitures des pouvoirs publics gérées sur le même modèle – et Taxi Sister est aussi sur la voie de l'expansion.
"Nous sommes sur le point d'annoncer 30 nouveaux véhicules Taxi Sister, on ne sait jamais…Si le projet marche bien, on pourrait même disposer de mille voitures !", déclare une porte-parole du concessionnaire qui a fourni les véhicules. "Les taximen sont très jaloux d'elles, mais je dis toujours aux fi lles : 'vous devez riposter. Vous devez vous battre pour votre place'."
Gelijkheid achter het stuur
De president van Senegal investeerde de voorbije twee jaar miljarden West-Afrikaanse franken in nieuwe wegen, bruggen en ringwegen rond de hoofdstad Dakar. De taxi's in de stad zijn echter in erbarmelijke toestand.
Alimata Samba heeft evenwel een gloednieuwe gele taxi met airconditioning en veiligheidsgordels. Zij is één van de 10 vrouwen die werden uitgekozen voor het Taxi Sister-programma dat vorig jaar door de regering werd gestart.
Samba zegt dat er echt behoefte was aan vrouwelijke taxichauffeurs in de stad. Zij merkt op: "Je ziet maar zelden een vrouw die de verkeersregels niet naleeft. Sommigen vinden dat we voorzichtiger zijn."
Honderden vrouwen dienden een aanvraag in om deel te nemen aan het Taxi Sister-programma, dat in samenwerking met een autodealerbedrijf wordt gevoerd. Tien onder hen werden uitgekozen en volgden rijlessen en cursussen zelfverdediging. Elk van deze vrouwen kocht haar auto op krediet, en betaalde ongeveer 160 000 CFA ($375) per maand af.
"Van de 20 000 CFA die ik dagelijks verdien, leg ik er 7 000 opzij voor benzine en 7 000 voor de afbetalingen", zegt Samba. Slechts 6 000 CFA ($14) blijft over om haar familie te onderhouden. "Ik heb geen kinderen of echtgenoot, maar ik moet mijn familie onderhouden met het geld", licht ze toe. "Mijn vader is trots op mij. Elke job is goed; er is geen job die onder een andere staat."
Samba zegt dat zij regelmatig problemen heeft met haar mannelijke collega's. Sommigen keuren het programma goed, anderen verzetten zich ertegen. "Sommige mensen hebben een bekrompen geest", vindt zij. "Zij vinden dat vrouwen thuis moeten blijven om zorg te dragen voor het huishouden. Maar ik wil geld, en ik wil niet dat ik het aan anderen moet vragen."
Het programma zal worden uitgebreid met Taxi Blue – stationwagens voor mannelijke chauffeurs – en ook Taxi Sisters breidt uit. Een vrouwelijke woordvoerder van het autodealerbedrijf verklaart: "wij kondigen momenteel de komst van nog eens 30 voertuigen voor Taxi Sister aan. Je weet maar nooit – als het project succes kent, komen we misschien wel aan duizend!"