Audio
Emerald Book
Jan Garbarek Raga (ECM)
Trisan May Yo I (Real World)
Nusrat Fateh Ali Khan Tracery (Real World)
Khalil Chahine Mektoub Part 2 (Transat)
Khalil Chahine Mektoub Part 3 (Transat)
Rabih Abou-Khalil Window (ECM)
Egberto Gismonti Ciranda Nordestina (ECM)
Gustav Malher Adagietto (D.G.)
D Bortnyansky I've Cried To The Lord (Melodiya)
Paul Winter Grand Canyon Sunrise (Living Music)
Cliff Eidelman Triumph Of The Spirit (Varese)
Spirit Of Africa
Big Blue Ball Shadow (Real World)
Wasis Diop Gudi Diop (Think Zik!)
Fela's Egypt 80 & Seun Kuti Many Things (Tôt Ou Tard)
Rumbanella Band Africa Mokili Mobimba (Lusafrica)
El Hadj N'Diaye N'guri (Géej)
Fela Kuti J'Ehin J'Ehin (Chop Teeth-Chop Teeth) (Wrasse)
Babá Ken & The Afro-Groove ConneXion K'mania (Inner Spirir)
Madilu System Faute Ya Visa (Frochot Music)
Africando Sonfo (Frochot Music)
Toumani Diabate Elyne Road (World Circuit)
Made In Belgium
Deus The Vanishing Of Maria Schneider (Universal)
Savalas Knock Me Down (V2 Records)
Racoon Clean Again (Pias)
Delavega On My Mind (Pias)
Derek Oui Je T'aime (Onoma)
Melody Dalton Elégante (Sabam)
Erno Le Souper Dièse (Dissonances)
Roman St James Infirmary (Quetzal)
Beverly Jo Scott Que Les Diables Nous Emportent (DMP)
Kenka Laisser Faire (Quetzal)
Perry Rose Green Bus (Team4Action)
Arid Words (Live) (Epic)
Arid Lost Stories (Live) (Epic)
Arid If You Go (Live) (Epic)
Marc Moulin Lord, You Made Me So Weak (Blue Note)
Classical
Ingrid Fliter Chopin Piano Sonata No. 3 in
B Minor, Op. 58: I. Allegro Maestoso (EMI)
Ingrid Fliter Chopin Piano Sonata No. 3 in
B Minor, Op. 58: II. Scherzo (Molto Vivace) (EMI)
Ingrid Fliter Chopin Piano Sonata No. 3 in
B Minor, Op. 58: III. Largo (EMI)
Ingrid Fliter Chopin Piano Sonata No. 3 in
B Minor, Op. 58: IV. Finale (Presto non Tanto) (EMI)
Maurizio Pollini & Wiener Philharmoniker Mozart Piano Concerto
No. 24 in C Minor, K. 491: I. (Allegro) (DG)
Maurizio Pollini & Wiener Philharmoniker Mozart Piano Concerto
No. 24 in C Minor, K. 491: II. Larghetto (DG)
Maurizio Pollini & Wiener Philharmoniker Mozart Piano Concerto
No. 24 in C Minor, K. 491: III. (Allegretto) (DG)
Rock Classics
Rock 'n' roll your way through a selection of classic tracks from the 70s, 80s and 90s
Votre choix de rock'n'roll avec cette sélection de grands classiques du rock des années 70, 80 et 90
Sugarloaf Green Eyed Lady (Great American)
Vanilla Fudge You Keep Me Hangin' On (Long Version) (Great American)
Steely Dan Bodhisattva (Warner)
The Allman Brothers Band Les Brers In A Minor (Polydor)
Manfred Mann's Earth Band Blinded By The Light (Warner)
Crosby, Stills & Nash Dark Star (Atlantic)
David Bowie Starman (EMI)
Ambrosia Drink Of Water (Warner)
Elton John Amoreena (UMG)
Dave Mason Shouldn't Have Took More Than You Gave (Geffen)
Spirit I Got A Line On You (Sont)
Blues Sky
The best of the blues from the past and the present
Le meilleur du blues, d'hier et d'aujourd'hui
Roman Hit Them (Quetzal)
Robin Trower In This Place (Columbia)
Jimmy Page & David Coverdale Don't Leave Me This Way (CBS)
Boz Scaggs Loan Me A Dime (Rhino)
Dr. John & The Lower 911 You Might Be Surprised Cooking Vinyl
Solomon Burke We Don't Need It (Shout Factory)
Walter Trout Welcome To The Human Race (Mascot Music)
Eric Clapton Have You Ever Loved A Woman? (Rhino)
John Mayer Out Of My Mind (Live) (Columbia)
Radio Waves
The best selections in adult contemporary music
Les meilleures sélections de musique actuelle pour public avert
James Taylor Copperline (CBS)
Big House Amarillo (MCA)
Boz Scaggs Jojo (Columbia)
The Doobie Brothers How Do The Fools Survive? (Warner)
Carole King It's Too Late (CBS)
Harry Chapin Cat's In The Cradle (Elektra)
Alanis Morissette Not As We (Maverick)
Sarah McLachlan & Emmylou Harris Angel (Live) (Arista)
Jessica Kilroy Big Dreams (Killroy)
Gerry Rafferty On The Way (EMI)
Steely Dan Chain Lightning (MCA)
Chicago Here With Me (A Candle For The Dark) (Rhino)
Henry Gross Shannon (CBS)
Captain & Tennille You Never Done It Like That (A&M)
Eagles No More Walks In The Wood (Universal)
Be.Jazz
An unique selection of the latest tracks from the very best of Belgian jazz artists
Une sélection unique qui regroupe les derniers morceaux des plus talentueux artistes de jazz belge
Vincent Scarito Rosie (1er Pression)
Philip Catherine Pendulum (Dreyfus)
Melanie De Biasio My Man's Gone Now (Igloo)
Jef Neve Trio Soul In A Picture (Universal)
Karim Baggili Quartet Incertitude (Home Records)
OverOceans Dolcenitsa (Carbone 7)
Jean-Pierre Catoul Zoom Arrière (B_Sharp)
Pascal Schumacher Quartet Picabia's Pain Ting (Igloo)
Kid's Channel
Little ones will love the specially selected stories and music on this fun channel
Les tout-petits vont adorer les histoires et les musiques spécialement électionnées pour ce canal amusant
Kipling Het Jungle Boek (Disney)
Mamemo Le Soleil Est Là ! (Mameli)
Mamemo Les Bonbons (Mameli)
(EMI)lie Jolie Chanson De La Sorcière (EMI)
Soulful Heaven
Chill out to our selection of soul, R&B and Motown hits
Détendez-vous avec notre sélection de soul, R&B, et de hits Motown (de Motown Records, Detroit)
Stevie Wonder Too High (Motown)
Tina Turner Proud Mary (EMI)
Al Wilson The Snake (K-Tel)
Prince & The Revolution Purple Rain (Warner)
Yellowjackets Lazaro (Yellowjackets)
Marvin Gaye Sexual Healing (CBS)
Lamont Dozier Going Back To My Roots (Castle)
Michael McDonald Living For The City (Universal)
Stevie Wonder He's Misstra Know It All (Motown)
Al Jarreau Boogie Down (Warner)
George Benson This Masquerade (Warner)
Airtracks
All the new releases in pop and rock from Europe and the USA
Les dernières nouveautés de musique pop et rock d'Europe et des USA
Coldplay Viva la Vida (Parlophone)
Alanis Morissette Citizen Of The Planet (Maverick)
Peter Gabriel Down To Earth (Disney)
Big Blue Ball Big Blue Ball (Real World)
Duffy Warwick Avenue (Polydor)
Paul Carrack Ain't No Love In The Heart Of The City (Absolute)
Old 97's Color Of A Lonely Heart Is Blue (New West)
Lisa Doby Where R U? (Fiona)
Goldfrapp Happiness (Warner)
Verve Love is noise (EMI)
Sam Sparro Black & Gold (Universal)
KT Tunstall If Only (EMI)
Tristan Prettyman Madly (Virgin)
John Mayer Say (Columbia)
Classical Portrait
Featuring some of the works from Belgian composer Henry Vieuxtemps (1820-1881)
Une présentation d'oeuvres du compositeur belge Henry Vieuxtemps (1820-1881)
Vieuxtemps Violin Concertos No.2 In F Sharp
Minor, Op. 19: Allegro (Naxos)
Vieuxtemps Violin Concertos No.2 In F Sharp
Minor, Op. 19: Andante (Naxos)
Vieuxtemps Violin Concertos No.2 In F Sharp
Minor, Op. 19: Rondo (Naxos)
Ruggiero Ricci Rêverie (Dynamic)
Thomas Selditz & Vladimir Stoupel
Elegie for Viola & Piano, Op. 30: Andante Con Moto (Sudite)
Alexander Markov, Lawrence Renes & Monte-Carlo Philharmonic Orchestra
Violin Concerto No. 4 in D Minor, Op. 31: I. Andante Teldec; Violin Concerto No. 4 in D Minor, Op. 31: II. Adagio Religioso Teldec; Violin Concerto No. 4 in D Minor, Op. 31: III. Scherzo Vivace Teldec; Violin Concerto No. 4 in D Minor, Op. 31: IV. Finale Marziale – Andante (Teldec)
PROFILE
Elton John
Rock Classics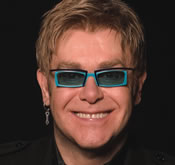 With his flamboyant outfits, extravagant spending and numerous hit records, Elton John needs no introduction. Officially the 49th best recording artist ever, Elton first found fame with his eponymous 1970 album. He went on to attain superstar status with classic LPs such as Goodbye Yellow Brick Road and Captain Fantastic and the Brown Dirt Cowboy. Although 1997's 'Candle in the Wind' was the biggest-selling solo single of all time, many of Elton's other hits have come from collaborations. Indeed he's worked with such a diverse stable of talent as John Lennon, 2Pac and the 1970 England World Cup squad. He was knighted in 1998, for both his services to music and his tireless work for AIDS charities.
Avec ses tenues flamboyantes, ses dépenses extravagantes et ses innombrables hits, Elton John n'a plus besoin d'être présenté. Officiellement, le 49ème meilleur artiste de la scène musicale, Elton a bâti sa réputation avec son album éponyme en 1970. Il a ensuite atteint le statut de superstar avec des LP devenus des classiques comme Goodbye Yellow Brick Road et Captain Fantastic and the Brown Dirt Cowboy. Bien que 'Candle in the Wind' en 1997 fut la meilleure vente d'un single en solo de tous les temps, Elton a remporté de nombreux autres succès grâce à des collaborations. En effet, il a enregistré aux côtés d'une incroyable variété de talents, tels que John Lennon, 2Pac et 1970 England World Cup squad. Il a été consacré Chevalier Commandeur de l'Empire Britannique en 1998, à la fois pour ses services rendus au monde de la musique et pour son engagement infatigable dans des associations caritatives pour le SIDA.
Jessica Kilroy
Radio Waves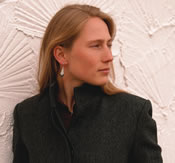 Folk singer Jessica Kilroy first picked up a guitar at just 13. Her big break came in 1999 when she appeared as a guest on The Heidi Show, and a year later four of her songs featured on the soundtrack for independent film Finding Out. She went on to release her first solo album Before Dawn in 2003. The album caught the attention of blues legends like Guy Davis and Skip Ewing who said her voice was "honest and pure, like nothing I've ever heard before", and drew comparisons with the likes of Emmy Lou Harris. Four years on, she released her second album Big Dreams, a masterful fusion of folk, Americana and gospel. Since then she has performed with some of the biggest names in bluegrass, including Darrell Scott, John Lowell, Tom Chapin, Steam Powered Airplane, the Snake Handlers, the Wilders and Thomas Sneed. She is currently touring America.
La chanteuse de folk Jessica Kilroy a pris sa pr(EMI)ère guitare en main à l'âge de 13 ans. Elle s'est fait remarquer en 1999 lors de son apparition comme 'guest star' durant "The Heidi Show", et l'année suivante quatre morceaux de sa composition figuraient sur la bande son du film indépendant Finding Out. Elle sortit son pr(EMI)er album solo Before Dawn en 2003. Ce dernier a retenu l'attention de légendes du blues comme Guy Davis et Skip Ewing qui a dit que sa voix était "pure et honnête, ne ressemblant à aucune voix entendue jusqu'alors", et il la compara à celle d'Emmy Lou Harris. Quatre années plus tard, elle lança son second album Big Dreams, une puissante fusion de folk, d'Americana et de gospel. Depuis lors, elle a joué avec les plus grands noms de la musique country (bluegrass), dont Darrell Scott, John Lowell, Tom Chapin, Steam Powered Airplane, the Snake Handlers, the Wilders et Thomas Sneed. À l'heure actuelle, elle est en tournée aux USA.