What to See: Our Video Picks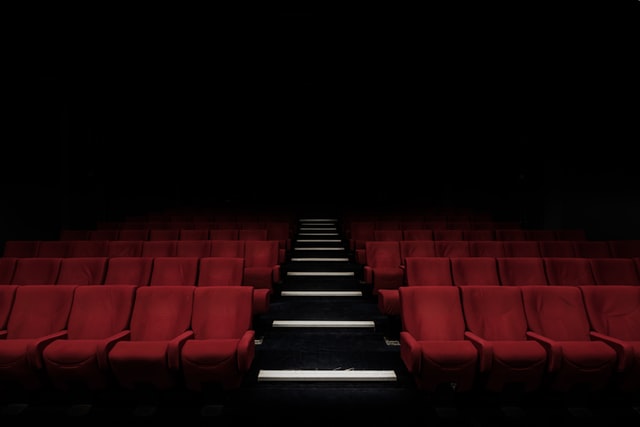 The Forbidden Kingdom
Action 105 mins
Cert PG-13
Director Rob Minkoff
Cast Jackie Chan, Jet Li, Michael Angarano
While browsing in a Chinatown pawnshop, Jason Tripitikas is sent hurtling back in time to ancient China. With the help of wise kung fu master Lu, Jason must free the fabled Monkey King warrior.
Alors qu'il déambule dans un magasin de prêt sur gages à Chinatown, Jason Tripitikas est renvoyé brusquement dans l'époque de l'ancienne Chine. Avec l'aide d'un maître du kung fu, Lu, Jason doit libérer le légendaire Roi Singe, qui a été emprisonné par le puissant Jade Warlord.
The Chronicles Of Narnia: Prince Caspian
Action/Adventure 144 mins
Cert PG
Director Andrew Adamson
Cast William Moseley, Georgie Henley, Anna Popplewell
CS Lewis's timeless fantasy series continues as the Pevensie siblings are again magically transported to Narnia. Their mission: to help rightful heir Prince Caspian reclaim Narnia from evil King Miraz.
La série des histoires fantastiques et intemporelles de CS Lewis continue. Les quatre enfants Pevensie sont à nouveau transportés par magie dans le Royaume de Narnia. Leur mission: aider le jeune héritier Prince Caspian à reprendre le trône de Narnia des griffes du Roi Miraz.
Forgetting Sarah Marshall
Comedy 111 mins
Cert R
Director Nicholas Stoller
Cast Jason Segel, Kristen Bell, Mila Kunis, Russell Brand
When struggling musician Peter Bretter is dumped by his TV star girlfriend, Sarah Marshall, he flies to Oahu to forget her. But as luck would have it he winds up in the same hotel as his ex and her new rockstar boyfriend.
Peter Bretter est musicien, il va de galère en galère… Largué par sa petite amie, Sarah Marshall, star du petit écran, il se rend à Hawaï pour l'oublier. Mais il descend dans le même hôtel que son ex, accompagnée de son nouvel ami anglais, chanteur de rock à succès. Un fiasco romantique!
Iron Man
Action 125 mins
Cert PG-13
Director Jon Favreau
Cast Robert Downey Jnr, Terrence Howard, Gwyneth Paltrow
Billionaire inventor Tony Stark escapes his kidnappers by building a high-tech suit of armour. He then uses the prototype for his new superhero identity as the fearless crime-busting Iron Man.
L'inventeur milliardaire Tony Stark échappe à ses kidnappeurs en construisant une armure high-tech. Il utilise ensuite le prototype pour créer son nouvel héros, Iron Man, qui fait régner la justice et protège les innocents. Downey est ingénieux, malin et drôle dans ce film d'action passionnant.
Be Kind Rewind
Comedy 100 mins
Cert PG-13
Director Michel Gondry
Cast Jack Black, Danny Glover, Mia Farrow
Lovable loser Jerry inadvertently erases all the tapes in his best friend's video rental store. To rectify his mistake he devises a cunning plan to satisfy the store's few remaining customers by recreating and refilming every movie they decide to rent.
Lorsque l'adorable Jerry, un peu loser, efface par inadvertance toutes les cassettes du vidéoclub de son meilleur ami, il met au point un plan pour satisfaire la demande des quelques plus fidèles clients en réalisant des remakes des films effacés.
Hancock
Action 92 mins
Cert PG-13
Director Peter Berg
Cast Will Smith, Charlize Theron, Jason Bateman
John Hancock is a troubled superhero who saves countless lives, but also leaves jaw-dropping damage in his wake. When a PR executive vows to remake Hancock's image, both face their greatest challenge yet.
John Hancock est un super héros irascible, gros buveur, qui sauve d'innombrables vies dans le pays, mais laissant des dégâts monstrueux au passage. Lorsqu'un spécialiste des relations publiques propose à Hancock de travailler son image, tous deux se lancent dans l'un de leurs plus grands défis. Un humour inouï !
Then She Found Me
Romance 100 mins
Cert R
Director Helen Hunt
Cast Helen Hunt, Colin Firth, Bette Midler, Matthew Broderick
Schoolteacher April Epner hits a midlife crisis when her husband leaves, her adoptive mother dies and her biological mother resurfacs in her life. When she begins dating the father of one of her students life just gets more complicated.
April Epner, enseignante, traverse sa crise de l'âge mûr lorsque coup sur coup son mari la quitte, sa mère adoptive décède et sa mère biologique débarque dans sa vie, sans crier gare. Lorsqu'elle commence à sortir avec le père d'une de ses étudiantes, tout se complique encore un peu plus.
Penelope
Comedy Drama 103 mins
Cert PG-13
Director Mark Palansky
Cast Christina Ricci, James McAvoy, Reese Witherspoon
Penelope hides away, afflicted by a curse that can only be broken by true love. She is wooed by a string of suitors, until they discover her secret. But when drifter Max poses as a suitor, he unexpectedly falls for her…
Pénélope vit recluse, touchée par un sort qui peut seulement être brisé par un amour vrai. Une série de prétendants font la cour à Pénélope – jusqu'à ce qu'ils découvrent son secret ! Lorsque Max, jeune homme à la dérive, pose sa candidature comme prétendant potentiel, l'imposteur tombe inopinément amoureux de Pénélope…
Sex And The City –The Movie
Comedy 145 mins
Cert R
Director Michael Patrick King
Cast Sarah Jessica Parker, Kristin Davis, Kim Cattrall, Cynthia Nixon
Fashion icon Carrie Bradshaw is back, her famously sardonic wit sharper than ever. Carrie is joined by friends Samantha, Charlotte and Miranda as they juggle careers, friendships and men – along with motherhood and marriage!
L'icône de la mode Carrie Bradshaw est de retour et son fameux esprit sardonique est plus vif que jamais. Carrie est rejointe par ses amies d'enfance, Samantha, Charlotte et Miranda qui jonglent entre carrière, amour, amitié ou encore maternité et mariage !
Man On Fire
Thriller 123 mins
Cert R
Director Tony Scott
Cast Denzel Washington, Christopher Walken, Dakota Fanning
World-weary ex-CIA agent John Creasey goes to Mexico City as bodyguard to nine-year-old Pita. Just as she starts getting under his skin, she is kidnapped. With ruthless efficiency, Creasey sets out to find those responsible and to bring her back.
Fatigué de la vie, l'ancien agent de la CIA John Creasey se rend à Mexico comme garde du corps de la petite Pita, neuf ans. Alors qu'elle parvient à percer ses défenses, elle est kidnappée. Sans relâche, Creasey se lance à la recherche des responsables se jurant de ramener sa protégée.
The Good German
Drama/Thriller 108 mins
Cert R
Director Steven Soderbergh
Cast George Clooney, Cate Blanchett, Tobey Maguire
In the ruins of post-World War II Berlin, US army correspondent Jake Geismar becomes entangled with former lover Lena Brandt, who's desperately trying to escape the city. Jake is intent on uncovering her secret.
Dans les ruines de l'après guerre mondiale à Berlin: le correspondant de guerre américain Jake Geismar se retrouve impliqué dans une affaire avec Lena Brandt, avec laquelle il a eu une liaison dans le passé. Cette dernière tente désespérément de fuir Berlin. Jake a l'intention de découvrir son secret.
Taking Lives
Action 103 mins
Cert R
Director DJ Caruso
Cast Angelina Jolie, Ethan Hawke, Kiefer Sutherland
Crack FBI profiler Illeana Scott is summoned to Montreal when a gruesome series of murders leaves the local police baffled. Scott soon realises the murderer is assuming his victims' identities. The noose tightens when the murderer is witnessed in action.
Illeana Scott, profiler du FBI, est appelée par la police locale à Montréal pour tenter de résoudre une série de meurtres sordides. Rapidement, la méthode de Scott basée sur l'instinct, lui permet de présumer que le meurtrier usurpe l'identité de ses victimes.
In America
Drama 104 mins
Cert PG-13
Director Jim Sheridan
Cast Samantha Morton, Paddy Considine, Sarah and Emma Bolger
With their two young daughters in tow, Johnny and Sarah emigrate illegally from Ireland to New York City in the 1980s. Through ingenuity and sheer strength of will they eventually carve out their own modest American Dream. Enchanting story-telling!
Accompagnés de leurs deux petites filles, Johnny et Sarah émigrent illégalement dans les années 1980, d'Irlande à New York. À force d'ingéniosité et de volonté à toute épreuve, ils parviennent à se modeler leur modeste 'American Dream'. Un conte de fée enchanteur !
Sideways
Comedy/Drama 124 mins
Cert R
Director Alexander Payne
Cast Paul Giamatti, Thomas Haden Church, Virginia Madsen
Lifelong friends Miles and Jack tour California's lush wine country on the eve of Jack's wedding. Bookish Miles admonishes Jack for his boorish womanising, until Miles falls for waitress Maya.
Miles et Jack, des amis de longue date, décident de faire la route des vins, alors que Jack est sur le point de se marier. L'écrivain Miles fait des remontrances à Jack pour son côté détestable de coureur de jupons – jusqu'à ce que Miles tombe amoureux de Maya, une sommelière…
Picture Perfect
Romance 100 mins
Cert PG-13
Director Glenn Gordon Caron
Cast Jennifer Aniston, Jay Mohr, Olympia Dukakis
Kate Mosley gets passed over for a promotion at work due to her lack of a partner. To help advance her carreer she invents a fictional fiancé. But soon everyone wants to meet the lucky groom-to-be.
Kate Mosley est devancée pour une promotion dans son agence de publicité, dû au fait qu'elle n'a pas de 'moitié'. Lorsque accidentellement une photo tombe entre ses mains, elle s'invente un fiancé imaginaire, Nick, pour faire avancer sa carrière. Mais, bien vite tout le monde veut rencontrer l'heureux prétendant.
Fever Pitch
Romance 102 mins
Cert PG-13
Director Peter & Bobby Farrelly
Cast Drew Barrymore, Jimmy Fallon, Lenny Clarke
Lindsey, a fast-track businesswoman, falls for Ben, a nerdy maths teacher. But, after an idyllic winter together, the baseball season begins. Ben morphs into a die-hard Boston Red Sox fan whose passion for the game leaves little room for romance.
Lindsey, une femme d'affaire dynamique tombe amoureuse de Ben, un charmant prof de maths. Mais après un hiver idyllique en amoureux, la saison du baseball démarre. Ben se transforme en fan pur et dur du Boston Red Sox et sa passion laisse peu de place à la vie de couple.
National Treasure
Action/Adventure 122 mins
Cert PG
Director Jon Turteltaub
Cast Nicolas Cage, Harvey Keitel, Diane Kruger
Benjamin Franklin Gates is a historian, whose family was entrusted with the protection of a fabled ancient treasure by America's founding fathers. Now he must decipher occult riddles in a race against a mercenary temple looter.
L'aventurier-historien Benjamin Franklin Gates, dont la famille protège depuis des générations un trésor mythique, une tâche confiée par les Pères Fondateurs de l'Amérique, doit déchiffrer des indices occultes dans une course contre un mercenaire, pilleur de temple.
Failure To Launch
Romance 95 mins
Cert PG-13
Director Tom Dey
Cast Sarah Jessica Parker, Kathy Bates, Matthew McConaughey
Tripp, a handsome thirty-something, still lives at home, prompting his exasperated parents to hire Paula, an expert in getting young men suffering from 'Peter Pan Syndrome' to leave home. Naturally, nothing goes according to plan.
Tripp, un élégant trentenaire, vit toujours chez ses parents, les exaspérant au point qu'ils engagent Paula, une experte capable de guérir les jeunes hommes du syndrome de 'Peter Pan', et de leur faire quitter le domicile parental. Bien entendu, rien ne fonctionne selon le plan.
Kung Fu Panda
Animation 90 mins
Cert G
Directors Mark Osborne and John Stevenson
Voices Jack Black, Dustin Hoffman, Angelina Jolie
The pudgy panda Po is working in the family noodle shop when he's unexpectedly chosen to study kung fu alongside his idols. But can Po really become a kung fu master and stop the 'unbeatable' snow leopard Tai Lung?
Le costaud panda Po est serveur dans le restaurant de nouilles familial, lorsqu'il est choisi contre toute attente pour apprendre le kung fu auprès de ses idoles, les légendaires cinq Cyclones. Mais Po peut-il exceller dans les arts martiaux et arrêter Tai Lung, l''invincible' léopard des neiges ?
Flawless
Crime/Drama 100 mins
Cert PG-13
Director Michael Radford
Cast Demi Moore, Michael Caine, Lambert Wilson
In 1960s England, London Diamond Corporation executive Laura Quinn grows bitter as less-qualified men are promoted above her. In retaliation she joins a janitor in an ingenious plan to steal a hefty sum of gems.
Dans les années 1960 à Londres, Laura Quinn, cadre dans la Diamond Corporation, devient de plus en plus amère lorsque des hommes moins qualifiés reçoivent de l'avancement à sa place. Avec un gardien plus âgé, elle échafaude un plan ingénieux pour voler une somme importante en diamants.
Indiana Jones And The Kingdom Of The Crystal Skull
Adventure 122 mins
Cert PG-13
Director Steven Spielberg
Cast Harrison Ford, Cate Blanchett, Shia LaBeouf, Ray Winstone
Indy is back! During the Cold War, our hero barely escapes a close scrape with Soviet agents. Back home, he meets young rebel Mutt who offers to help Indy find the legendary Crystal Skull of Akator.
Indy est de retour ! Durant la Guerre froide, notre héros échappe de justesse à des agents soviétiques. De retour, il rencontre la jeune rebelle Mutt, qui lui propose de retrouver le légendaire Crâne de Cristal d'Akator. Mais lorsqu'ils se préparent à partir au Pérou, les Soviétiques sont sur leur piste.