Nile: The Source of the Smile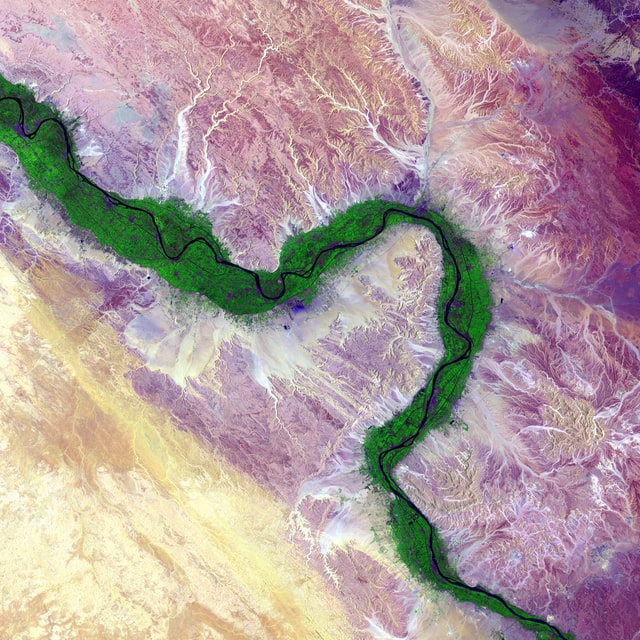 Uganda is home to one of the greatest kayaking rivers in the world. Sam Rich picked up his paddle and tested the waters on the White Nile.
The taxi that drove us down to the shores of the Nile at Jinja (about an hour east of Kampala) was filled with a sense of apprehension. In a rare moment of boyish enthusiasm I had decided to try my hand at kayaking down some rapids on the world's longest river – and talked my friend Sara into coming along for the ride.
Careening down the dirt road we gazed numbly out at the thick forests and patches of banana plantations passing us by in a blur. A quick glance at Sara revealed that we both shared the same unspoken thought: was sitting on top of a plastic canoe, hurtling along through fast-flowing, turbulent water really going to be fun?
Bright clusters of Ugandan schoolchildren in pink and yellow uniforms strolled by on the road, men pushed bicycles laden with produce up hills and women waved from wooden market stalls.
Thirty minutes later we stood on the side of a valley looking at the swirling mass of the Nile below us, gazing nervously at the crests of white foam writhing between rather sharp-looking rocks. Sara looked at me and said: "What have you got us into?"
There we were, a couple of thirtysomethings – the kind of people who count cardigans and slippers as old friends and regard roller skates and ladders with suspicion – in Jinja, the self-proclaimed East African capital of 'extreme' sports. This is a town where people come to spend good money to throw themselves off a crane into a river with an elastic band strapped to their legs (apparently bungee jumping is fun).
They also come here to raft some of the biggest rapids in the world, squealing with delight when they capsize. Crucially, these same people are also typically under the age of 25.
That morning, kayaking along the Nile had seemed like such a fun idea. Now here we were, watching with baited breath while 100m below us a huge raft full of innocent victims approached a massive squall of white water. Our guide and professional kayak instructor Jared Taylor (from Kayak the Nile), showed up just in time to quash any thought we might have had of heading back to our hotel.
Jared's bright eyes and young face confirmed our worst fears. We confessed immediately that we weren't nearly as extreme as we used to be and pleaded with him to let us hang out by the hotel pool instead. Jared did his best to alleviate our fears, telling us that he often took families out and had even taken a couple of four-year-olds down the Nile the previous week. Part of me wanted to believe him and part of me thought he was mad.
He persevered, calm but intent, telling us it was perfectly safe and that we'd be wearing lifejackets and helmets. And anyway, we weren't going on the real rapids. Instead, he was taking us on the 'family route' where the water was slow and barely even frothed into white water.
When we still looked sceptical, he told us we'd finish up by skirting the shores of Lake Victoria to the source of the Nile where a cold beer would await. Suddenly kayaking didn't sound so bad after all.
An hour later we were merrily paddling down a particularly tranquil stretch of river. Jared pointed out the great white egrets and jet-black cormorants preening themselves on the shore while eagles soared overhead. We were in kayaks that looked more like giant surfboards than boats. And our legs weren't trapped inside, so even if we did capsize, we didn't have to worry about getting stuck under the boat. Instead, we simply perched atop our sturdy vessels, which were so wide and stable you could walk up and down them – or at least that's what Jared said.
Inevitably, and just as were settling into the gentle pace of our kayaking venture, we could sense the unmistakable sound of churning water as we approached some rapids. Jared carefully explained what course to take and, with little time to think, we paddled our way through the swirling waters while the kayak rocked gently from side to side without ever even looking like it might turn over. I was almost disappointed.
Having negotiated our first swell of white water, we stopped for a rest and a bite to eat on a small island in the middle of the river. From here, in southern Uganda, the White Nile winds its way through various lakes and swamps into Sudan, and then on to Khartoum, where it meets the Blue Nile coming from Ethiopia. From there, the Nile heads up through the ancient cities of Aswan and Luxor in Egypt to the capital Cairo and, after travelling 6,400km, filters out into the Mediterranean.
When it was time to take to the water again, to my surprise, I found myself jumping eagerly into my kayak and paddling off downstream. I waved encouraging to Sara, who looked at me smiling disdainfully and yelled: "Hey, Sam, you've got your helmet on the wrong way round."
Undeterred by her mocking, I paddled on as we headed round the shore of Lake Victoria to the arbitrary spot that marks the source of the Nile and the end of our day's kayaking. It was reputedly here that the explorer John Speke sat in 1862 and proclaimed that he had discovered the source of the Nile.
As the day was drawing to a close – and in honour of my discovery of a new-found love for kayaking – it only seemed fitting that we should pull up at one of several bars on the lake shore and order a round of Nile Specials, otherwise known as The Source of the Smile.
A drink or two later and, fired up by the excitement of the day, I couldn't help leaning across to Jared and asking: "So Jared, what were you saying earlier about that other trip with the real rapids…"
Wet 'n' wild
If you fancy getting your feet wet why not try…
■ Surfing in Dakar, Senegal
■ Big game fishing in Banjul, The Gambia greenies
■ Visiting the waterfalls at Kalandula, Angola addicted
■ Scuba diving in Mombasa, Kenya buccaneer
Need to know
Sam travelled with Kayak the Nile, which offers a range of rafting adventures, from two-hour sunset trips around Lake Victoria to 10-day Nile kayaking and white water rafting safaris. Fly with Brussels Airlines and your kayak will be transported for free. To help visitors offset the carbon from their flight, Kayak the Nile has started a tree-planting scheme whereby it is working with locals to reforest the banks of the Nile.
La source du sourire
L'Ouganda abrite les plus fantastiques rivières du monde pour la pratique du kayak. Sam Rich a pris ses rames en main pour tester les eaux du Nil Blanc.
Dans le taxi qui nous conduit vers les rives du Nil à Jinja (environ une heure à l'est de Kampala), j'ai le cœur serré et comme un sentiment d'appréhension. Dans un rare moment d'enthousiasme exalté, j'avais décidé de m'essayer au kayak, en descendant les rapides sur l'une des plus longues rivières du monde. J'en avais fait part à mon amie Sara que j'avais réussi à convaincre à m'accompagner.
Sous les cahots du véhicule, en descendant le long de la route poussiéreuse, nous regardons, ébahis, les forêts denses et les parcelles de plantations de bananes, défilant dans un nuage de fumée. Un coup d'œil rapide en direction de Sara me révèle que nous partageons tous deux en silence la même impression: se lancer à toute vitesse dans les flots, au milieu des tourbillons violents, à bord d'un canoë en plastique, allait-il être une expérience amusante?
Des écoliers ougandais, en uniformes éclatants roses et jaunes, vont en rangs serrés dans les rues, des hommes en bicyclette tirent des remorques pleines à craquer et des femmes nous saluent de leurs échoppes.
Trente minutes plus tard, nous arrivons au bord de la vallée, observant les remous du Nil en contrebas, inspectant nerveusement les crêtes de mousse blanche en formation entre des rochers escarpés. Sara me dévisage et me dit : "Dans quel plan infernal nous as-tu fourrés ?"
Nous étions arrivés jusqu'ici, un couple de trentenaires – le genre qui entretient une relation d'amitié avec ses cardigans et ses pantoufles et se méfie des patins à roulettes et des échelles – à Jinja, la capitale autoproclamée des sports 'extrêmes' de l'est-africain. C'est une ville où les gens viennent débourser des sommes importantes pour se jeter d'une grue dans la rivière, les jambes attachées à un élastique (il paraît que le saut à l'élastique, c'est génial).
Ils se rendent également à cet endroit pour dompter les plus grands rapides du globe, poussant des hauts cris de ravissement lorsqu'ils chavirent. Mais ce qu'il ne faut pas oublier, c'est que ces mêmes personnes ont souvent moins de 25 ans.
Ce matin-là, un raid en kayak le long du Nil semblait une idée tellement drôle. Maintenant, plus moyen de reculer, tandis qu'en respirant bruyamment, nous regardons 100m plus bas un grand raft plein de victimes innocentes en train d'approcher une gigantesque rafale d'eau. Notre guide et notre instructeur de kayak, Jared Taylor (de Kayak the Nile), sont arrivés juste à temps pour couper court à toute envie que nous aurions pu manifester de rentrer à l'hôtel.
Les yeux pétillants de Jared et son visage jeune confirmèrent nos pires craintes. Immédiatement, nous confessâmes que nous étions tout sauf attirés par l'action extrême, l'implorant de nous laisser plutôt passer l'après-midi au bord de la piscine. Jared fit de son mieux pour écarter nos peurs, nous expliquant que bien souvent il sortait avec des familles et même qu'il avait fait une descente du Nil avec des enfants de quatre ans, la semaine précédente. Une partie de moi-même voulait le croire, une autre pensait qu'il devait être fou.
Il persévéra, calme mais ferme, nous disant que cette expédition était tout à fait sans danger et que nous porterions un gilet de sauvetage et un casque. De toute façon, nous n'allions pas plonger dans les vrais rapides. Au lieu de cela, il allait emprunter la 'route familiale', où le courant est lent et écumant à peine dans les eaux vives.
Comme nous restions toujours sceptiques, il continua en nous expliquant que nous finirions par border les rives du Lac Victoria jusqu'à la source du Nil, et que là une bière froide nous attendrait. Tout à coup, le kayak ne paraissait pas si mal après tout.
Une heure plus tard, nous étions en train de pagayer gaiement sur un bras tranquille de la rivière. Jared nous désigna les superbes hérons blancs et les cormorans noirs de jais se lissant les plumes sur les rives, tandis que des aigles planaient au-dessus de nos têtes. Nous étions installés dans des kayaks qui ressemblaient plus à de géantes planches à voile qu'à des bateaux. Comme nos jambes n'étaient pas calées à l'intérieur, en cas de chavirement, nous ne devions pas craindre de rester coincés sous l'embarcation. Nous étions simplement perchés sur notre robuste kayak, tellement large et stable que l'on pouvait parcourir la coque de long en large – tout au moins c'est ce que Jared prétendait.
Et puis, tout comme nous nous habituions au rythme confortable de notre aventure, l'inévitable arriva. Nous pouvions entendre le bruit manifeste d'eaux mouvementées, tout en approchant des rapides. Jared nous expliqua clairement la direction à prendre et sans avoir le temps de réfléchir, nous nous lançâmes à travers les eaux tournoyantes. Le kayak se balança doucement de part et d'autre, sans même donner l'impression d'être susceptible de se retourner. C'était presque décevant.
Après avoir négocié notre premier déferlement de flots, nous nous sommes arrêtés pour nous reposer et pour manger un morceau sur une petite île, au milieu de la rivière. À partir de là, dans le sud de l'Ouganda, le Nil Blanc poursuit sa route à travers différents lacs et marécages vers le Soudan, ensuite en direction de Khartoum, où il rencontre le Nil Bleu, originaire d'Éthiopie. Depuis ce point de confluence, le Nil se dirige vers les anciennes cités d'Assouan et de Louxor en Égypte et la capitale, Le Caire. Après un voyage de 6 400km, il se jette dans la Méditerranée.
Au moment de repartir, je me surpris à sauter joyeusement dans mon kayak et à pagayer en aval. Je fis un signe d'encouragement à Sara, qui me répondit par un sourire dédaigneux et cria : "Sam, tu as mis ton casque à l'envers !"
En dépit de ses moqueries, je continuai mon chemin tout en suivant la direction des rivages du lac Victoria jusqu'au lieu qui, arbitrairement, marque la source du Nil et la fin de notre excursion en kayak. On dit que c'est ici que l'explorateur John Speke s'est assis en 1862 et proclama avoir découvert la source du Nil.
Comme la journée tirait à sa fin – et en l'honneur de la découverte de ma nouvelle passion pour le kayak – il me paraissait approprié de nous attabler à l'un des nombreux bars bordant le lac et de commander une tournée de la spécialité du Nil, connue sous le nom de La Source du Sourire.
Après un ou deux verres, lessivé par l'excitation de la journée, je ne pus m'empêcher de me pencher vers Jared et de lui demander : "Alors Jared, que disais-tu plus tôt, à propos de cet autre circuit dans les vrais rapides…"
Informations utiles
Sam a voyagé avec Kayak the Nile, qui propose une gamme d'aventures en raft, depuis des tours de deux heures au coucher du soleil autour du Lac Victoria jusqu'à des safaris de 10 jours sur le Nil. Volez avec Brussels Airlines et votre kayak sera transporté gratuitement. Pour permettre aux visiteurs de compenser le montant de carbone de leur vol, Kayak the Nile a lancé un programme de plantations, développé en collaboration avec les populations locales pour reboiser les rives du Nil.
De bron van de glimlach
Door Oeganda loopt de rivier de Witte Nijl, één van de beste ter wereld om te kajakken. Met de peddel in de hand testte Sam Rich het water.
Die ochtend nog leek kajakken op de Nijl me een leuk idee. Nu zat ik daar in Jinja met open mond te kijken hoe honderd meter lager een immense raft vol onschuldige slachtoffers een muur van wild water naderde. Jared Taylor, onze gids en professionele kajakinstructeur (van de organisatie Kayak the Nile), daagde net op tijd op om ons gerust te stellen: er stonden geen echte stroomversnellingen op ons programma. We namen het traject voor gezinnen.
Een uurtje later peddelden we vrolijk over een bijzonder rustig stukje van de rivier, waar Jared ons attent maakte op prachtige zilverreigers, gitzwarte aalscholvers en arenden die boven ons hoofd zweefden.
Net toen we gewend waren geraakt aan het rustige tempo van onze kajak, hoorden we het onmiskenbare geluid van kolkend water. We naderden stroomversnellingen! Jared legde zorgvuldig uit hoe we moesten varen. Zijn uitleg was nauwelijks tot ons doorgedrongen toen we er al aan het doorpeddelen waren. De kajak hield moeiteloos stand.
Tegen het einde van de dag zetten we koers naar de oever van het Victoriameer, naar de plaats waar de Nijl ontspringt. Onze kajakdag zat erop. Na een drankje of twee op een barkruk aan de oever kon ik het niet laten om bij Jared te polsen naar die andere tocht, met de echte stroomversnellingen… "