Kampala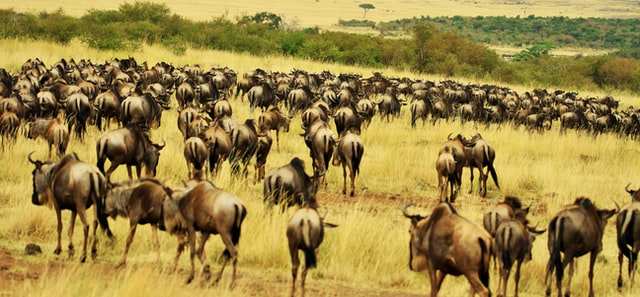 Population (Uganda): 31,368,000
Currency: Ugandan shilling
Average temp. (Jul-Aug): 20ºC
Country code for Ivory Coast: +256
GETTING AROUND
International flights arrive at Entebbe International Airport, 40km south of the capital. A taxi into town costs around UGX 50,000 (€20). There's no public transport into the city. Alternatively, take a taxi to Entebbe for UGX 10,000 (€4), then a minibus into Kampala for less than €1.
EAT OUT
Khana Khazana (20 Acacia Avenue, Kololo) serves some of the best Indian curries in Kampala. But if you're in the mood for Italian fare, check out the restaurant at Mamba Point (22 Akii Bua Road), where you can tuck into filetto di manzo al gorgonzola – succulent beef fillet cooked in gorgonzola cheese, sweet peppers and cream. Mamba Point also boasts a great pizzeria.
DRINK UP
The refurbished Equator Bar (formerly the Rhino Pub at the Sheraton Kampala Hotel, Ternan Avenue) might have lost its noisy party atmosphere, but this has been replaced with a laid-back lounge setting ideal for a quiet drink. For a livelier pub experience, head down to Mateo's Bar above the Nandos restaurant on Kampala Road.
BEST WATERSIDE SPOT
If you've got a day to spare, head out to Jinja (an hour's drive from the city) and picnic above the world-famous Bujagali Falls. Alternatively, visit the Speke Resort in Munyonyo on the shores of Lake Victoria, where boat rides and fishing expeditions can be arranged. The resort also boasts an Olympic-size swimming pool, an equestrian centre and five-star accommodation.
SE DÉPLACER
Les vols internationaux arrivent à l'aéroport international d'Entebbe, à 40km au sud de la capitale. Les taxis vers la ville coûtent environ 50 000 UGX (€20). On ne trouve pas de transports publics depuis l'aéroport. Comme alternative, prenez un taxi destination Entebbe (€4), ensuite un minibus vers Kampala pour moins d'€1.
OÙ MANGER ?
Khana Khazana (20 Avenue Acacia, Kololo) sert les meilleurs currys indiens de Kampala. Mais si vous avez plutôt envie de cuisine italienne, allez au Mamba Point (22 rue Akii Bua), où vous pourrez vous régaler de leur spécialité, le filetto di manzo al gorgonzola – un succulent filet de boeuf cuit dans du fromage gorgonzola, avec des piments doux et de la crème. Mamba Point est également l'une des meilleures pizzerias de la ville.
BOIRE UN VERRE
Le Bar Equator rénové (anciennement le Pub Rhino à l'hôtel Sheraton Kampala, Avenue Ternan) a peut-être perdu son côté bruyant, mais celui-ci a été remplacé par une atmosphère lounge détendue, idéale pour un verre au calme. Si vous voulez tenter une expérience de pub plus vivante, dirigezvous vers le Bar Mateo's, au-dessus du restaurant Nandos sur la rue Kampala.
LES PLUS BEAUX ENDROITS DU RIVAGE
Si vous avez une journée de libre, allez jusque Jinja (une heure de route de la ville) et pique-niquez au-dessus des chutes mondialement connues de Bujagali. Autre option, visitez le Speke Resort à Munyonyo sur les rives du lac Victoria, d'où peuvent être organisés des tours en bateau et des expéditions de pêche. Le complexe offre également une piscine de taille olympique, un centre équestre et un confort 5-étoiles.
HOE GERAAK JE ER?
De internationale vluchten landen op de internationale luchthaven van Entebbe, 40 km ten zuiden van de hoofdstad. Een taxi naar de stad kost ongeveer UGX 50 000 (€20). U kunt ook een taxi naar Entebbe nemen voor UGX 10 000 (€4) en dan op een minibus naar Kampala stappen voor een rit die minder dan €1 kost.
UIT ETEN
Khana Khazana (Acacia Ave 20, Kololo) serveert een van de beste Indische curry's in Kampala. Toch eerder zin in Italiaans? Doe je dan in Mamba Point (Akii Bua Road 22) te goed aan de bejubelde 'filetto di manzo al gorgonzola', een sappige runderfilet gebakken in gorgonzola, paprika en room. Mamba Point zou ook de beste pizzeria in de stad zijn.
EEN DRANKJE
De opgeknapte Equator Bar (vroeger de Rhino Pub in het Sheraton Kampala Hotel, Ternan Ave) heeft zijn lawaaierige imago van zich afgeschud en vervangen door een relaxte loungesetting waar het aangenaam vertoeven is. Voor een meer dynamische caféervaring moet je in Mateo's Bar boven het restaurant Nandos op Kampala Road zijn.
HET BESTE AAN HET WATER
Als je een dagje de tijd hebt, kun je in Jinja (op een uur rijden van de stad) picknicken boven de wereldberoemde Bujagali Falls. Of bezoek het Speke Resort in Munyonyo op de oever van het Victoriameer, waar je boottochten en visuitstappen kunt reserveren.